In August and September 2023 I did a three week long dive trip to the Philippines with my friend John. We spent the first week at Anilao staying at Buceo Anilao Dive Resort and the next two weeks at Sabang (Puerto Galera). We stayed at Capt'n Greggs and dived with them as well.
There are a dozen or more dive sites located within 10 minutes run from the resort.
Unfortunately we had a Super Typhoon hit the northern Philippines when we were at Anilao and lost some days diving there. We were also delayed a day in getting to Sabang.
Shark Cave/The Atoll is located about one kilometre to the east of the resort. A GPS mark for the dive spot is 13° 31' 18.926"N 120° 59' 37.770"E (using WGS84 as the datum).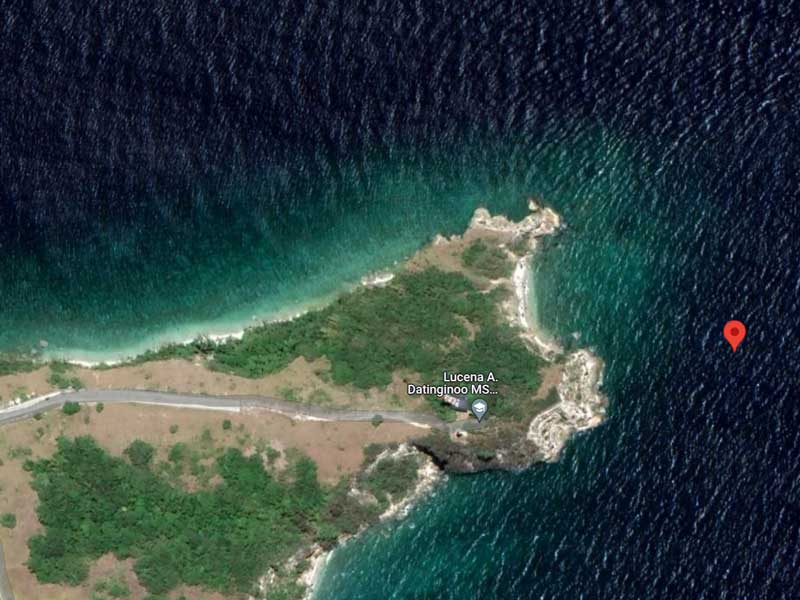 A satellite photo from Google Earth that shows the location of the dive site at right, Sabang is off to the left of the photo
The site is to the east of a headland that is locally known as Lighthouse Head. All dives at Sabang are done as live drops and pickups. Depending on currents, the actual drop site could be different to what we did. The dive drops you about 50 metres off the shore.
| | |
| --- | --- |
| | |
| One of the nudibranchs I saw | Another nudibranch |
We drop to the bottom and drop to the bottom at 18 metres. We head north across a sandy bottom that has some coral bits on it. The bottom slopes deeper gently to the east. We get a bit deeper as we go north, till after about 7 minutes we come to the Shark Cave.
This is a small overhang rather that a proper cave, but there were no sharks (not sure what sort is meant). From here we head north-east and a bit deeper to 26 metres and then to The Atoll. This is a mesa-like rock that comes up from 28 plus meters to about 24 metres. There is another smaller rock too. Both are very colourful, with lots of gorgonias, sea whips and sponges.
| | |
| --- | --- |
| | |
| A gogonia outside the Shark Cave | The Atoll |
From here we cross back towards the Shark Cave and then swim at 24 metres for 10 minutes before starting a gradual ascent. We are heading to the south-west back towards the headland. We end up in 8 metres before doing an ascent up a SMB line.
We see a few nudibranchs, some tropical fish, but not much else. Despite this, it was an enjoyable dive. Water temperature was 28C in September and the visibility about 25 metres.
We also did this dive starting to the north of the site and going to The Atoll first and then to the Shark Cave and then following the same route shallower. The difference was the tide was running in an opposite direction.
MORE PHOTOS
| | |
| --- | --- |
| | |
| Yet one nudibranch | A gorgonia on the reef |
| | |
| Very colourful flatworm | Seawhip goby |