Over the 2015 Australia Day long weekend we decided that we would take Catlypso out for a few days. We invited along some diving friends. The following is what we did.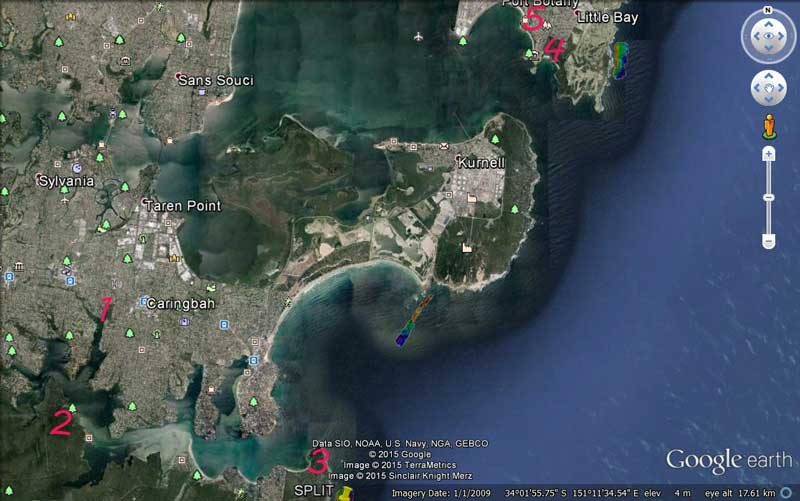 A satellite photo of the southern Sydney coast. Below "1" is our mooring, above "2" is Dark Bay, down
and to the right is Warumbul, at left of "3" is Jibbon Beach. These are all in Port Hacking.
Below "4" is Little Congwong Beach and below "5" is where we moored in Frenchmans Bay. This is Botany Bay.
Friday 23 January 2015 - Yowie Bay to Port Hacking
Michael leaves home at 1530 and takes Veto and all our gear to the boat ramp. Using the small dinghy, he goes out to Catlypso and puts all the food items in the fridges. He launches Thunderbird 2 (our tender) and tows the small dinghy back to the boat ramp. He deflates it and puts it in the Prado.
He also puts the new 7 inch pitch prop on the outboard, replacing the 9 inch one and adds 10 litres of 2 stroke mix to the tank, filling it. He returns to Catlypso and packs all the other stuff he has taken out away.
| | |
| --- | --- |
| | |
| Sunrise looking east towards Lilli Pilli, Port Hacking | Looking out of Dark Bay, Port Hacking |
Kelly had to work today, so she arrives a little before 1900 and Michael collects her from the wharf. At 1905 we depart the mooring and motor the short distance to Dark Bay. The public mooring here is empty, so we grab it (the RMYC one is taken). Even though the engines have been on for only 15 minutes, the water in the hot water tanks is already fully hot. It has been a very hot and sticky afternoon, so Michael has a shower, he feels much better now.
We have a beer and wine and some high class nibblies (Chicken Twisties!). Kelly then cooks a great meal of pumpkin gnocchi. The wind has been a very strong north-easterly (sea breeze) but drops later to 10 knots. We go to bed at 2240.
Saturday 24 January 2015 - Port Hacking to Botany Bay
Michael gets up just after the 7 am ABC Radio News and puts Thunderbird 2 back in the water. We tend to raise it on the davits overnight so that if we have to move quickly for any reason, we do not have to consider it in the equation (eg running over it or its rope). At 0750 he heads off and runs the few kilometres back to the wharf. He takes Veto and the recycling with him.
At the wharf are our diving buddies, Ron and Donna and also Nancy. Readers of our web pages would know that we do a lot of four wheel driving with Ron and Donna. They have a mountain of gear, we thought they were only coming for two nights! He heads back to Catlypso but still cannot plane with this load, only doing about 6 knots. We had hoped that the 7 inch pitch would get it up on the plane with four people on board.
Michael arrives back with our guests
Donna, Ron and Nancy on the bow at Jibbon Beach.
Mark's Seawind 1160 is in front of us
He arrives back at 0825 and Ron, Donna and Nancy settle into their cabins. We head off at 0915 and motor to Jibbon Beach which is at the mouth of Port Hacking. At 1000 get the last RMYC mooring which also happens to be next to the mooring that Reality II is tied to. This is a Seawind 1160 Lite which is owned by another dive buddy, Mark. He only got this in August 2014, replacing his Seawind 1000.
Tied up to it is Dave C's power boat. Dave, Graham, Peter F, Ahmad and Eda have been out diving and are having morning tea on the yacht. We swim over and join them. The water here is really warm, probably 22ÂșC, but down about 1.5 metres it is at least 3ÂșC colder. We head back to Catlypso and at 1100 we leave the mooring and motor out into Bate Bay.
| | |
| --- | --- |
| | |
| Sailing up towards Botany Bay | Ron at the helm while Donna relaxes |
Once out a bit we pull out the new genoa and then raise the main sail. The wind is 14 kt north-easterly so we head about 105 degrees which is basically straight out to sea. We are doing 7.3 kts. At noon we tack and head back towards Cape Baily. It will take us quite a few tacks to make Botany Bay (which is not that far away) as the wind is probably the worst possible direction for this trip. At 1225 we tack again, this time we head almost east. The autopilot is working correctly, so Michael's changes to the settings have fixed the problem we had last trip.
At 1250 we tack again and at 1317 once more. At 1335 we tack and head towards the inside of the northern headland of Botany Bay. Unfortunately there is a strong current from the north so we drift south and have to tack two more times before we can safely make it into Botany Bay. The wind increases to 17 knots as we enter the bay but we are then protected by the inner headland (Henry Head). We drop the sails and motor.
We anchor at 1445 a fair way off Little Congwong Beach (Little Congie as we called it as kids), a nude beach. We have lunch and a swim as it is over 30ÂșC. The water here is freezing, feels like 17ÂșC. At 1600 we motor around Bare Island to Frenchmans Bay at La Perouse. This beach was named this as the French sailors in Laperouse's expedition in 1788 camped here before they sailed off into the Pacific and all died.
| | |
| --- | --- |
| | |
| Here we are anchored off Little Congie Beach at La Perouse | Passing by our favourite dive site, Bare Island in Botany Bay |
At 1615 we moor on a vacant mooring owned by a boat club at the northern end of the beach. This is a protected spot from the now very strong north-easterly wind. Kelly and Nancy take Veto to the beach for a wee etc. We also put up the rear curtain shade to protect us from the sun. At 1700 we have drinks in the 20+ kt winds and then Ron heats up some steamed dim sims for an entree. Very nice.
At 1820 my sister Janelle and her husband, Karl arrive on the beach. With them are their kids, Joshua and Isabelle and Karl's Dad, Geoff. They have been painting their rental unit today so have come for a few sundowners. I pick them up from the beach. Karl cooks the kids some sausages on the barbecue while we all have a drink and chat. At 1940 they leave and at 2000 we have dinner, veal schnitzel and mash potato. At 2100 the wind drops but there is a huge lightning storm way off to the south and west. It is not coming near us thankfully.
We go to bed at 2230. It is very calm during the night.
Sunday 25 January 2015 - Botany Bay to Port Hacking
We were woken fairly early by planes taking off from Sydney Airport. The two main runways go out into the bay and the ones from the third runway often turn east and head out through the heads once in the air. Everyone stayed in bed though and I listened to the ABC Radio News using the HF radio (this is right next to our cabin and much easier to hear than the AM/FM radio). Michael then took Veto to the beach.
It is still very calm at 0830 but also very warm. Today is expected to get to 35ÂșC and we are soon sweating. We have a swim, the water is a few degrees warmer than yesterday. Michael adds 20 litres of water to the port tank and 40 litres to the starboard tank that we are mostly using.
| | |
| --- | --- |
| | |
| Catlypso at right moored in Frenchmans Bay | The rear sun/rain protector on Catlypso |
At 1015 Michael's sister Cathie arrives with her husband's brother Rue and his wife Trish. Rue and Trish are visiting from Ireland. We have morning tea with them and when they leave, we head off. At 1115 we motor out to the main channel and put up the main sail. We motor sail as there is still little wind. Once outside the bay, we unfurl the screecher. We are doing 6 kts in a 8 to 10 kt north-easterly. We are heading about 140Âș.
At 1240 we jibe and are now heading towards Oak Park which is at the entrance to Port Hacking. We are doing 7.5 kts in a 11 kt breeze. Funnily, there was earlier about 0.5 kt current from the north on the first leg but when we got out further, the current disappeared. Normally it is stronger from the north out wider.
At 1315 we enter Port Hacking and drop the sails. There are more boats at Jibbon Beach than I have ever seen before, well over 100 I reckon. We motor up the river, there are so many idiots out on the water today (as you will see later) so it is a fairly stressful run. We head to Gooseberry Bay in South West Arm, but where we were going to anchor there is a twit in a jet boat doing "wheelies" in and around the other boats. No consideration at all for others.
We motor over to Grahams Point which is near the Weemalah Cottage in Royal National Park. We anchor right off the shore in about 8 metres. The wind is from the west here and it is at least 35ÂșC. A short time later the north-easter reaches here and our stern is now only 10 metres off the shore. We have a swim, nice and warm. Michael gives the waterline a clean, especially the outside of the starboard bull which has a lot of dirt above the waterline, probably from one of the big storms we have had over the past month.
| | |
| --- | --- |
| | |
| Kelly, Cathie, Michael, Trish and Rue at Frenchmans Bay | Sailing towards Port Hacking, Jibbon Point at left |
All of the crew except Michael go for a nanna-nap. When they get up at 1700, Michael takes Thunderbird 2 to South West Arm to see how many boats are there. A very strong southerly change is expected about 1830, so we need to find a spot that is a bit more protected. South West Arm is full, so he goes over to Gooseberry Bay but the best spots are still taken.
He then goes to the bay at Warumbul Picnic Area. The skipper of a tinny leaving tells him that it is 5 metres deep just inside the bay. He heads back to Catlypso and a decision is made to move to that spot. We anchor as if the southerly has hit, that is, we are pretty close in at the moment. As expected, the wind turns us around and we face into the north-easterly.
At 1825 the southerly hits, very mild at first. We notice at the same time that one of the two public moorings to the west is now vacant. This is maybe not as protected as where we are, but it is a solid mooring. We decide to move there. We quickly pull up the anchor and motor over. As we do this, the wind increases to 25 knots. By now, all the boats anchored over off Lilli Pilli who have obviously not taken any notice of the forecast are streaming towards us and some protection. We arrive at the mooring before any of them have a chance to get it.
We hook onto the mooring. There is a large cruiser next to us (Tranquility Base, very nice looking) and they haul up their anchor and reset a bit further out. This has put them in front of us, but hopefully all will be okay. The boats still keep coming in, at least 20 large ones and many small runabouts. The temperature has dropped at least 10ÂșC.
| | |
| --- | --- |
| | |
| Catlypso anchored at Warumbul | Our roast pork dinner |
We had just started sundowners when we moved, so we have a drink and some nice cheese and a hot Hungarian salami. Kelly has already started cooking dinner, roast pork and vegies. We end up eating at 2045. After this we have a bit of entertainment.
A wakeboarding boat runs aground trying to pass the wrong side of the channel marker about 30 metres from us. We fear that we may witness a tragedy as one of the passengers gets in the water at the stern and pulls the boat backwards. They then run aground again as the skipper goes forward rather than reverse back out the way he came. This happens two more times till he finally gets into deeper water.
At 2215 in identical circumstances, a large cruiser runs aground. They eventually get free but then run aground again. The second time they get free, they run over the rope holding their tender and cut it. This floats away towards the shore. While attempting to get it they almost hit the cardinal marker pole. A person jumps off the boat and swims over and then pushes it back into the channel where they are both retrieved.
Finally, we notice a boat that is stuck in the one spot for ages. It is near a channel marker. It takes them about 30 minutes to get free. This why I never take my dive boat out on Australia Day (which is tomorrow but today will be like that day due to the good weather), too many idiots.
Later, we decide to hold a delayed 2015 World Uno Championships which Ron, Donna, Kelly and I normally play on New Year's Eve when out camping. I end up winning with six games to Ron's five. We go to bed at 0040.
Monday 26 January 2015 - Port Hacking
Today is Australia Day, which commemorates the day the British colony was founded in Port Jackson (Sydney Harbour) in 1788. We get up late due to the very early (or is that late) hour we went to bed this morning. The weather is also still very crap. Michael takes Veto to shore for a pee and the wind is still at least 15 kts from the south and it is also drizzling slightly. He comes back and we all have breakfast.
It is only 20ÂșC and will end up being the coldest Australia Day for 50 years. With not much else to do, Kelly decides to clean out the anchor well while Michael starts writing up this blog. All the others laze around, later Ron and Donna do a spot of fishing. They hook a few but all escape.
| | |
| --- | --- |
| | |
| Sailing towards Port Hacking, Jibbon Point at left | Catlypso anchored at Warumbul |
We also remove the seat at the starboard bow so that it can be used as a template to make another one. This is because we lost the port side one when sailing back from Queensland last June. Two pulleys are also removed, one from each bow. We are not sure what they are for, but they often rattle at night. We can put back later if we need them.
At 1230 Michael puts on the barbecue but it soon blows out. We figure out that if the lid is closed and the flame is on high, it must have some sort of safety cutoff. We have had this problem before, but we have not been able to work it out. We are cooking lamb loin chops, American ribs with smoky BBQ sauce, sausages and Scotch fillet steak. Kelly makes a beetroot, feta, walnut and basil salad and a rocket, roasted nectarine and Camembert salad. We have a glass of good Australian sparkling wine (left over from last night). What a great feed!
Our Australian flag blowing in the breeze
Ron, Nancy and Kelly at the dining table
for our Australia Day lunch
We pack everything up and clean the boat. At 1510 we leave the mooring and motor over to Yowie Bay where we are back on our mooring by 1525. Michael ferries everyone to shore and collects the small tender (after reinflating it - it was in the back of the Prado). Finally he takes Thunderbird 2 back to Catlypso with another 40 litres of water which he adds to the port tank. He comes back in the small one and we head home.
SUMMARY:
This was a very enjoyable short trip. We sailed about 33 nautical miles and did a lot of tacking and one jibe. We now think we have worked out the best procedure for tacking.
Distance covered: 33 nautical miles approx (sailing only)
Engine hours: 7.5 hours (whole weekend)
Diesel used: 13 litres approx
Average fuel consumption: 1.73 litres per engine hour
Water used: 170 litres (Michael added more later), about 14 litres a person a day, we were not frugal at all