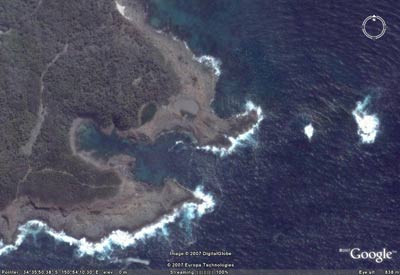 A satellite shot of Bass Point showing Bass Point Island on a rough day - the white water on the right is the island

There are many excellent boat dive sites in the Shellharbour area, however, most divers tend only to dive the shore sites. Located only 105 kilometres south of the centre of Sydney (no more than one and a half hours drive from most spots), this is an area that can easily be visited for one or two dives on the one day and still return home before nightfall.

To the immediate east of the Bass Point Reserve there is a small rocky islet called Bass Point Island. There are a number of different dives you can do around this island. All are called Lous Reef. It is about 4 kilometres from the boat ramp at Shellharbour Harbour to the site. On the northern side at 34° 35' 51"S 150° 54' 22"E (using AUS66 as datum - see my GPS page for details or you may not find) there is a mooring (at July 2001). This is in about 23 metres. The sand here is 26 metres and the reef runs right up to the island. The reef near the sand is a gently sloping series of rocks, with excellent sponge and gorgonia life. Closer to the island there are some vertical walls.

A recommended dive is to head to the east from the mooring along the sand and return shallower at the bottom of the wall. Go past the mooring and the reef runs for another 25 metres before turning north. There is a vertical wall here and the deeper reef is not as wide.

Come back to the mooring and go south into the shallower water (10 to 12 metres). There are a lot of small cracks that runs north-south and you will find a lot of sweep, one-spot pullers and in Winter, Port Jackson sharks) in the cracks and holes. You may also see huge schools of yellowtail, ladder-finned pomfret and silver drummer in this area.

Overall the fishlife here is fantastic, with huge schools of one-spot pullers, old wife, lots of black reef leatherjackets and six-spined leatherjackets. In the shallower area there are some large bream and sometimes, huge schools of large drummer.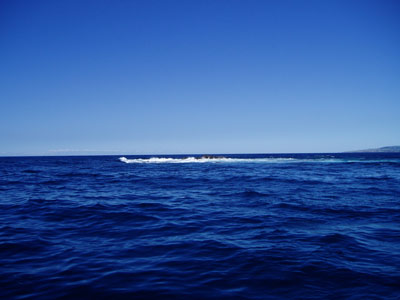 Bass Point Island from the north

You can do quite long dives here, starting off deeper and ending up in the shallows.