After the entry of Japan into World War II, the Royal Australian Navy decided that there was a need for a class of vessel to be used for local tasks, including convoy escort, local patrols and submarine hunting. In September 1942, the first of 35 Fairmile B motor launches was laid down.

The Fairmile was 112 feet long, 17.1 (or 18' 4") feet wide and had a displacement of 75 tons. Powered by two Hall Scott Defender petrol engines each of 650 hp, the ships were capable of 20 knots. Range was 840 miles at 12 knots. Armaments included one two pounder Mk XIV gun, one 20 mm Oerlikon, one 4 barrel .303 inch Vickers machine gun, two .303 inch Lewis machine guns and one Y gun. They carried 14 (or 16) depth charges from two depth chargers, two .303 Lewis machine guns that were portable, three rifles and 24 grenades. During the War most had the two pounder replaced by a single 40 mm Bofors and an additional two 0.5 inch Browning machine guns. Two 20 mm Oerlikons replaced the Lewis and Vickers machine guns. The ships had a crew of 16.

The 35 ships were numbered ML (Motor Launch) 424 to 431 and ML 801 to 827 and were built from 1942 till April 1944. Four were built in Brisbane (ML 815, ML 816, ML 826 and ML 827) by Norman Wright at Bulimba and 31 in Sydney, 11 in one shipyard and 20 in another. The 20 built in Sydney by Green Point Naval Boatyard (ML 801 to ML 812) were built on prefabricated hulls sent from the United Kingdom. The hull was constructed out of timber planks, with a copper sheafing over it (at least below the waterline). The 11 built in Sydney (ML813, ML814, ML817 to ML825) were built by the famous firm of Las Halvorsen and Sons Pty Ltd at their Ryde boatyard on the Parramatta River. These were built of hoop pine which warps and rots fairly easily. They wanted to use Oregon pine which was available but the Royal Australian Navy would not approve this change. However, ML 823 was built of Oregan as may have been the two that followed. The planking was laid diagonally on the hull, with calico between layers.
A photo of ML 815, identical to ML 805
A photo of ships in Watsons Bay, Sydney
ML 805 is far right
From the bow the ships consisted of: forward stores, chain locker, Officer's mess, galley, engine room, fuel tanks, officer's cabins and wardroom, toilets and wash areas, pantry, magazine, bosun's store and stern compartment.
As well as the original roles, the Fairmiles were used during the War for troop transport, air-sea rescue, boom defence, special operations, coastal and island patrols as well as attacking maritime and shore tasks.
The Fairmiles had a reputation as not been really great handling ships. They rolled in side on swells, in following seas they wanted to broach and they leaked like sieves (see comments later). They leaked due to the design, with water coming in from the decks as well as through the hull. This may have just been the hoop pine hulled ones.
None of the Fairmiles was lost as a result of enemy action but one, ML 827, was lost on 20 November 1944 when it capsized while being towed and on 13 August 1944, ML 430 was badly damaged when accidently fired upon and hit by 819 when in New Guinea. She sank the next morning.
Twenty eight of the Fairmiles served outside Australia, mostly in New Guinea, northern Australia and some Pacific Islands. Apparently there were some problems with the original petrol engines and the cost of replacing them after the War was so high, the remaining 33 ships were disposed of in 1947-8.
A photo of ML 805 at a wharf
This is ML 805 travelling along the Yarra River,
Melbourne, in about 1946
Fairmile ML 805 was built by Green Point Naval Boatyard on one of the UK hulls. It had twin Hall-Scott defender petrol engines. ML 805 served in New Guinea under the command of Lieutenant E. H. W. Stuart, RANVR. With ML 802 she assisted in landings at Wilde Bay, New Britain. In late July 1945 it became known to the Intelligence staff of the Royal Australian Army's 6th Division that the Japanese on Muschu Island off Wewak in New Guinea were willing to surrender. On 1 August 1945 ML 805 was fitted with broadcasting equipment and that night she approached (with ML 809) the island, broadcasting news and invitations for the Japanese to surrender. These sorties continued unsuccessfully until 17 August 1945.
On this night, two days after the formal Japanese surrender, the two boats flew white flags and announced the surrender. A small party of Japanese surrender in what was the first actual encounter after the War between Allied and Japanese troops in the South West Pacific. Army intelligence officers went ashore and a conference occurred.
On 10 September 1945, Rear-Admiral S. Sato (or Sata?), commanding officer of Kairiru and Muschu Islands, New Guinea, surrendered the Japanese forces on the islands to Major-General H. C. H. Robertson, commander of 6th Division on board the ML 805.
| | |
| --- | --- |
| | |
| Rear-Admiral S. Sato aboard ML 805 | The signing of the surrender on board ML 805 |
Three days later another surrender was signed by General Adachi on shore, using the wardroom table of ML 805.
As indicated above, the Fairmiles were disposed of at the end of the War. Of the 33, 10 (with two Army target towing ships of similar design) were sold and started operating as tourist boats in the Whitsunday area of Queensland. Of these, nine ended up being used by a company called Roylen based at Mackay which acquired them from 1948 till the mid to late 1960s. Roylen was owned by Tom McLean. The ships were renamed TSMV Roylen xxxx. Some of the names were Sandra, Roylen, Roylen2, GT and Ajax The boats were refitted with two 150hp Hercules diesels and modifications made, including new wheelhouses/bridges, extra points of access and bulkheads.
I have yet to find out the history of ML 805 from the end of the War till the early 1950s. I am not sure how Roylen ended up with ML 805, but in the Sydney Morning Herald of Tuesday 27 October 1953 (page 12) had an advertisement advising that ML 805 would be sold by auction at noon on 28 October 1953. The owner, Frederick Rex Walker, appears to have lost a court case (I assume that Lorna Mary Deane had sued him for money or similar) and the District Court had ordered Walker's possessions (that is, ML 805) to be sold. The boat was moored at Salt Pan Creek, Northbridge, Sydney.
Roylen IMF, the bridge is top and dining room bottom
Photo by William Legge
Brampton Island Wharf, 1972 - Roylen IMF at left
and Roylen Sandra right at
Photo by William Legge
Again, I am not sure what ML 805 did from 1953 till the 1960s. In the 1960s, ML 805 was one of the boats sold to Roylen and it was renamed TSMV Roylen Petaj. I was told that the name came from the name of Tom McLean's daughter, Peta, and Ajax. However, this is incorrect as he did not have a daughter with this name. The first part came from the name of his fourth grandchild, Peter McLean (Roylen IMB came from Ian, Mark and Fitzroy, his first three grandchildren). The ship was used for a variety of tourist purposes, including as a dive charter boat. Other modifications appear to have been made, either at this time or later. An aluminium sun-protection roof was installed along the boat from the bridge to the stern.
Prince Charles was a guest on the boat from 15 to 18 July 1966. The royal suite was said by Graeme Andersen (who worked on her for a couple of years) as being decked out in rich polished indian teak and red velour or something. William Legge advised me that he had been told that the suite was specially refurbished for Prince Charles and later, there was a premium to stay in the royal suite.
Mr Andersen worked "on the old girl for a couple of years doing five day cruises and month long charters as firstly a galley boy at the age of seventeen and then graduating to deckhand/barman/tourguide". He also told me that he had been "beam on in 25 to 30ft swells on her (very scary)".
Roylen IMF, looking towards the stern along the starboard side
Photo by William Legge
Bills Bar in Roylen IMF
Photo by William Legge
At 4:30 pm on Thursday 28 October 1971, a Japanese tuna fishing boat, the 250 ton Koyo Maru, hit Crab Reef 120 miles (192 kilometres) north-east of Mackay. The TSMV Roylen Petaj stood by while the boat was refloated early the next morning. Within six miles (8.5 kilometres), the Koyo Maru had run aground again, this time on an unnamed reef. The ship was badly holed. At midday on Friday 29 October 1971, the 24 crew abandoned ship and were taken aboard the Roylen Petaj. They arrived back in Mackay on the evening of Saturday 30 October 1971.
William Legge, who worked for four months as a barman on Roylen Petaj (four trips) and Roylen IMF. said that at that time there were only five of the Fairmiles still working, with two more laid up further up the river at Mackay for spares. He thought that McLean only purchased seven of the Fairmiles, this may have been correct, but I have been told they purchased nine in total.
By 1986 all but one of the boats had been sold by Roylen. In 1979 the Roylen Petaj was purchased by Bruce and Patricia Jennings. They renamed it TSMV Jennings/Petaj. They used it for regular trips from Cairns/Port Douglas to Lizard Island.
Bruce Jenning's daughter, Kym, advised me that from August 1986 through to Christmas 1986 the boat was chartered out to someone to be used for collecting trochus shells. One of the divers working on the boat was Kris Stoddart who emailed me in August 2005 advising of this. Twenty six people started out on this adventure and quite a few came and went during that short time. They free dived for shells from the Swains in the south up as far as Portland Roads in the north. For a period of time the ship was based at Forbes Island with the only visitors being customs vessels and planes or meeting up with motherships for supplies. Kris advised that the Fairmiles were a quick vessel but that the Petaj could really get a roll going in some nasty conditions. During this time the boat ran aground one night negotiating a tight channel and they woke up the next morning to a couple of inches of the salt water in the cabin. Kris also confirmed to me that Prince Charles stayed on board in the stateroom at one time.
In 1984 Graham Johnston started up a dive operation called Ausdive ("The Friendly Professionals"). Johnston says that Petaj had a good skipper/engineer (Tony Doreian) then and for the next few years. The boat was also used as a mother ship during the Marlin season and Doreian caught one over 800lb from the ship's tender. Later someone called Peter was the skipper, he finished perhaps in 1991.
In about June 1988, Ausdive started using Petaj for overnight trips. In December 1988, Johnston sold Ausdive to Jennings as he was off to England to marry his wife. Johnston told me in August 2006 that Ausdive was a thriving business when he sold it. Jennings leased a pool and classrooms off Johnston and Johnston could see that business was falling away as he could see the numbers passing through these locations. Johnston's son, Peter, worked as an instructor for him. Johnston said he evicted Jennings from his premises after the First Gulf War (this would be 1991) and he carried on for a while.
Kym Jennings says that Ausdive (when owned by her father) was the first company to put in moorings so that they would not need to use anchors, thus avoiding damage to the reef. Apparently there was about seven to nine sites. Ausdive paid for these moorings and they were used by several other dive companies for free.
It has been said to me that it was possible that Pro Dive Cairns used the boat around this time but Kym Jennings denies this. In fact, she said that her father found out that the Petaj and the Pro Dive boat Stella were moored together at times for "outrageous parties". This was stopped by Jennings and the Manager/Owner of Pro Dive. The instructors involved were severely dealt with.
Vince Crowley (now of Medicine Hat, Alberta, Canada) worked on the boat in 1991 as deck hand, kitchen hand and helped with diving and was a "basic jack of all trades". He was working there when Jennings was evicted from the pool and classrooms. He told me that the boat was in decline but was a good ship. The skipper now was Barry (not sure of surname) but Peter Johnston had quit as an instructor. Ausdive was also in decline but managed to keep going through Bruce's ingenuity. Vince said he could remember a couple of times having problems taking on water, usually when at dock for extended time, but one time taking on a lot of water on the trip back from the reef. Emergency repairs were required while docked at the Cairns wharf.
In late 1992 the ship was still in use by Ausdive as a dive charter boat operating out of Cairns. A guy called Andries (not sure of his surname) started work on the boat which was still skippered by Barry. Andries told me in 2005 that the paintwork at this time was dull, with rust stains in places and the rails could have used a coat of varnish. When he went on board the first time he was a paying passenger and he thought she looked clean enough and seemed to be running okay. After the three day trip he was offered a job as a dive instructor.
However, he soon learnt that the boat was in need of quite a bit of maintenance and it was only the skipper's efforts and ingenuity that kept her going. When not out at the reef, the Petaj was moored in a creek arm in the industrial part of the wharf area (behind North Queensland Electricity Board). The vessel took quite a bit of water, so much so that if she wasn't being used for a couple of days, the skipper had to stay on board to run the bilge pumps every 12 hours so she wouldn't take too much water. The compressor was on its last legs and needed to be looked at weekly.
However, Kym Jennings says that "the vessel was always in good condition and working order - vessel was maintained on a regular basis".
The mid-section of the Roylen Petaj, looking towards the stern
The bridge of the Petaj from the bow
Photo from Hi-8 video
Andries stayed on the boat for a few months but decided to leave so he could travel to Melbourne for Summer. After he left, the cook, hostess and both deckhands left within a short time. In September 1993 the boat was still owned and used by Ausdive but by 1994 Ausdive appears to have gone bust. A friend of Andries found the Petaj in the creek behind Townsville resting on the bottom. It is possible that Prodive Cairns had again used the boat for a short period after Ausdive had gone under. Johnston ended up back with the name Ausdive.
I am not sure of what happened then but in 1994 the Roylen Petaj ended up in the Solomon Islands, but using the name TSMV Petaj (I think). The boat was used as a mother ship for the Indian Pacific Seafood Company owned by Ray and Atina Marks. The Deloris, a fishing boat owned by John McQuade, was also taken from Australia to the Solomons. I am not yet sure of the arrangements between Bruce Jennings and this company, but it appears there was a lot of problems. I have seen the certificate of registration for the boat (3360QC) which shows Indian Pacific Reefs as the owner. This was issued on 12 September 1994. I have asked Bruce Jennings daughter, Kym, to clarify this for me but she appears to have decided not to reply to me and is emailing other people on this matter making strange claims about me.
It seems that the Petaj was used for the next few years in the Solomons. In about 1997 it appears that the Indian Pacific Seafood Company may have reneged on any agreement for the use of the ship (if this actually existed - not sure about this yet - see above comments). It is also possible that they took action to dispose of the Petaj without any legal authority (again, I had hoped to clarify this but without the assistance of Kym Jennings I cannot).
In 1997 Petaj was partly submerged in Noro Port, New Georgia, Solomon Islands. It was blocking shipping from tying up at one of the wharves. It had apparently been like this for a while when a decision was made (not sure by who, but probably the port authority) to refloat the ship and sink it in deep water off New Georgia.
Danny Kennedy, owner of Adventure Sports - Dive Gizo dive operation in Gizo, Solomon Islands, heard that the boat was to be sunk. It is only a couple of hours run in a boat from Gizo to Noro. Danny and his wife Kerrie went to Noro to examine the ship. They decided to purchase the boat for SI$2,000. I am not sure who he purchased it from, but Kym Jennings says her father still owned it and it was not purchased from him. She claims that it was worth A$300,000 in 1992 which is a bit high when you consider the comments I have received from people who saw it in 1994. Danny refloated the boat and towed it from Noro to Gizo.
The ship was cleaned up along the way and permission sought from the relevant authorities to sink the boat in Gizo Harbour. Note that this fact is also disputed by Kym Jennings who, as I have indicated, will not answer my questions on this matter.
This approval was granted and the scuttling began in front of Danny's dive shop, with half the population of Gizo watching. However, the authorities had a change of mind about the sinking and sent the Police to order Danny to halt the sinking. He informed them that it was too late and that the boat was far too gone to be saved. Nothing further came of this about turn. Kym Jennings has implied to me that the attempt to stop the sinking was because the boat had been stolen from her father. Bruce Jennings died in about 1998 aged 70 from a sudden heart attack.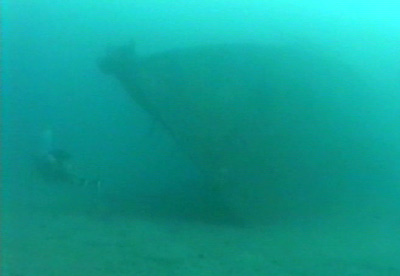 The bow of the Petaj showing the list to starboard
Photo from Hi-8 video

Today the boat lies about 20 metres off Adventure Sports' wharf, in front of the PT-109 Restaurant/bar. Note that the following was written before the wreck was destroyed by the tsunami that hit Gizo in 2008. A mooring buoy shows the wreck's location. It is a simple matter to drop off the wharf and sink to the bottom before heading north. The wreck lies stern to shore, with the depth here being 12 metres. The twin props are visible as are the rudders. The boat is intact, with a moderate list to starboard. As you swim along the hull you see that the copper sheafing is corroded in spots, exposing the timber underneath. In addition, the above waterline hull is paint covered timber. At the bow the depth is 14 metres and there are large numbers of batfish living under the port side.

The bow of the boat used to make a good photo.

As you swim along the deck you see the strange modifications to the bridge and the sun protection roof. You can drop slightly into the engine room (look for the firefish resident here) before returning to the stern.

To the west of the Petaj is another hull, a trimaran type thing. It is quite strange, I am not sure of its exact configuration.

As well as the two wrecks, there is some excellent fishlife to be seen on this dive. As well as the batfish and firefish, there are schools of trevally circling the wrecks. On the sand there are quite a few anemones with resident clownfish. Also look carefully on the sand and you will see pipefish, including some pregnant males (in spring).

A good dive, worth 15 to 20 minutes or so after your normal dives. Keep some air from the second dive, say 60 to 70 bar.

Note that Kym Jennings claims that her and her late father are still the owners of the ship. She started emailing all and sundry about this page but refused to answer questions I put to her about what contracts there might have been for the boat to go to the Solomons and other claims she has made.

Dives:

References: