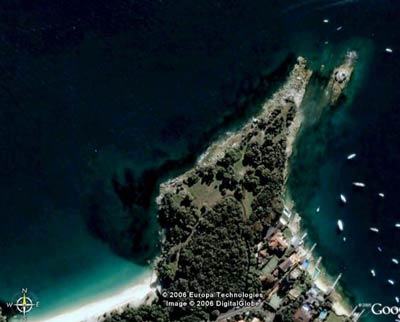 Bottle and Glass Point - the entry point is the right side of the beach - note the reef clearly visible off the shore

The southern side of Sydney Harbour has many more accessible dive sites than the northern side. This is many because a lot of the northern side is (or at least was till recently) under the control of the defence forces. This severely limited access and even today where some of these areas have returned to civilian control, there is no way to access most bits.

Nielsen Park Beach is one of two really good beaches on the southern side. The other, Camp Cove, has two dive sites (Camp Coveand Green Point). Nielsen Park is part of Sydney Harbour National Park. I have dived both ends of the beach and while not the greatest dive sites, they are worth a go when the seas are too rough to dive the open ocean or places like Bare Island. They are also not too bad as a night dive.

The eastern end of the beach is called Bottle and Glass Point (it is also known as Vaucluse Point) and the western end is Steel Point. Travel to Greycliffe Avenue, Vaucluse, via Vaucluse Road. Park near the corner with Coolong Road. The aim is to enter the water from the eastern end of Nielsen Park Beach. Note that in Summer it is almost impossible to get a parking spot here, even early in the evening.

Gear up and walk through the park to the beach. Enter the water and drop to the bottom. Head north for about 40 metres following the reef edge. The reef now turns to the north-east and stays this way for quite a long time. The reef is composed of an almost solid section of reef with some small rocks. There is a bit of sponge life and a lot of kelp. The depth here is only about 5 to 8 metres (from memory - it is a long time since I dived here).

When you reach the end of the reef and it turns sharply to the right, head back to your entry point. If the net at Neilsen Park is in place (it is removed during Winter), examine it for sea horses.

An alternative would be to follow the reef to the east till you round the point (underwater it is far to the east of the land point - see the photo above) and then back to the south-south-west and then south.

This will bring you back to the end of Coolong Road. You can exit here and walk the short distance back to the car.

On this dive you will see the normal sealife for Sydney Harbour. This includes luderick, yellowtail, sweep, one-spot pullers, seapike, flathead and more. Worth a dive every couple of years.