For the first part of this trip, click here.

Day 5 - Thursday 30 December 2010 - Jingelic to Stacey Bridge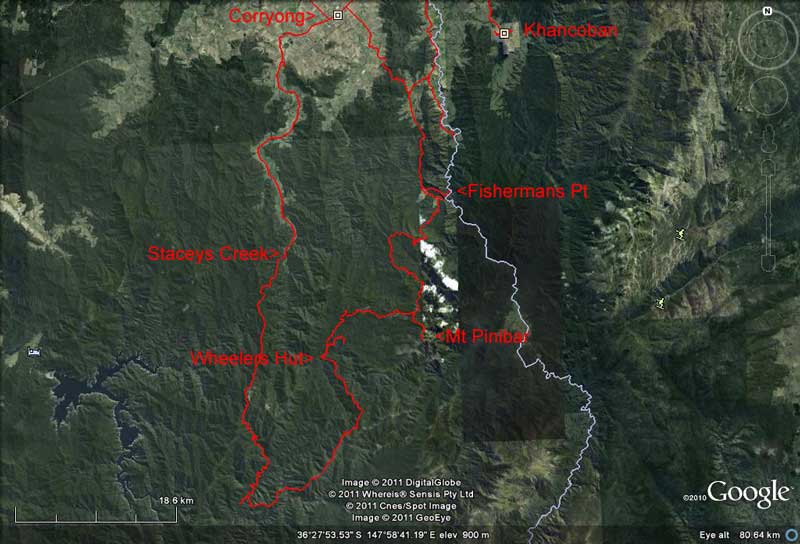 The southern part of our trip, mostly corresponding to Part 2
Weather: Fine, 11.9ÂșC minimum
It was another cooler night but warms up soon, 15ÂșC when we get up at 8:20 am. We have breakfast and read some more of our books. As I normally never have time to read books at home, I tend to plough through a number of books when on diving or camping holidays.
On this trip I have three books to read. The first is True Spirit by Jessica Watson. This is the story of her Round the World Solo sailing trip. Pretty good. The second book I start is Ronnie, the autobiography of Ronnie Wood of the "Rolling Stones". This is a great read but I do not finish it before switching to the next book (which Kelly has just finished) as it is of great interest to me and I want to read it before I go back to work. This third book is Honeymoon Dive which is about Gabe Watson and the death of his wife Tina Watson while diving on the wreck of the SS Yongala in Queensland. As soon as I read this I formed the conclusion that he did not murder her, he was just a hopeless diver who abandoned his panicking wife. In February 2012 I would end up travelling to Birmingham, Alabama in the USA to appear as the defence expert witness on diving in his murder trial. He was found not guilty by the judge. Strange how reading this book led to me getting involved like that! Click here to read all about this.
We pack up and leave by 9:55 am. Last night we reassessed our trip and decided to head south into the northern part of the High Country to spend the next three or four nights. Our plan is to check out two camping areas south of Walwa and stay there if possible. We drive back to Walwa and after another short toilet and newspaper stop, we head out of town on the Shelley Walwa Road and then the Cudgewa Bluff Road.
This road climbs into the Burrowa-Pine Mountain National Park and then out the other side (becoming Cudgewa North Road) to Cudgewa North. As suspected, the first of the camping areas, Hinces Creek Camping Area is in the national park so we cannot stop here as we have our dog Veto with us. We have a quick look at it and find a group from the Macarthur 4WD Club leaving on a day trip. We could not have stayed here anyway as they have taken all the spots. It looks like a nice spot, with space for about five or six cars, toilets, tables and fireplaces.
We try to go out another way but find the creek up high. The members tell us they came through it yesterday okay but as there is no real need for us to go that way, we turn around. It is now 10:47 am and we have taken 27 minutes to get here from Walwa.
We head towards Bluff Falls (or Creek) Camping Area which is shown on our map as being well outside the national park. On the way we pass a 10 year old boy driving a large tractor on the road. He is moving it from one part of his family's property to another.
As suspected, the Bluff Creek Camping Area is also in the national park and the map is totally wrong. It is a much bigger place, with some day use areas as well. There are a lot of cars here, but only one person is camped. The rest appear to have walked to the waterfall.
This spot also has toilets, tables and very good barbecues. Each camping spot is an individual bay. We have morning tea before leaving at 11:20 am.
| | |
| --- | --- |
| | |
| Bluff Falls Camping Area | The McNamara Bridge camp site |
We go to Corryong as we need to refuel and get some bread and milk and a couple of other things. We have trouble finding the petrol station till we sight one down a side street. This is located in a hardware store, with most of the bowsers inside the drive through part of the store. Very old fashioned. Even more so, a person comes and fills the car for us. We take 126 litres at the reasonable price of $1.394 a litre. We have averaged 14.5 litres per 100 kilometres since leaving Sydney.
The supermarket is well stocked and is busy. At 12:30 pm we head west out of town towards Colac Colac. We have decided to try a number of camping areas along the Benambra Corryong Road. Colac Colac is a locality, with only a caravan park. The Benambra Corryong Road starts here and runs south to Benambra.
About three kilometres along this road is the Nariel Recreation Reserve. This is home of the Australian Folk Festival which was first held here in 1962. In fact, it is on at the moment and there are hundreds of tents, campervans and caravans in the reserve. We drive in and have a look. If you like this sort of music, it is probably a great place to be.
We continue south and at 1:00 pm we stop at McNamaras Bridge. This is shown as a camping area on our map and there is space for two or three vehicles. It is located on the right side of the road as you approach the bridge. The site has no facilities but there is a very nice access to the Nariel Creek here. We decide to have lunch but not stay the night.
We leave at 1:30 pm and ten minutes later we stop at Carmodys Camping Area. This is located on the right side of the road. The area is large and next to the creek, but the grass is too long. Ten more minutes brings us to Stacey Bridge Camping Reserve. This is more like it!
The camping area is located both sides of the road. The left side has creek frontage for the whole of the area. There are quite a few cars here, but there is still plenty of space. We look at a couple of spots towards the end before crossing over the road to the other side.
| | |
| --- | --- |
| | |
| The creek and bridge at Stacey Bridge | Stacey Bridge Camping Area |
Here there are a couple of places near the creek and a lot of large flat spots that are more suitable for caravans. We pick a spot near the bushfire brigade access ramp to the creek (for drawing water out during fires). There are some other cars here but they are day trippers swimming in the creek and will soon leave.
We decide to stay the night but for the moment, we leave the car parked in the shade rather than the exact spot where we want to camp. As we have not been driving much the past four days, I have been putting up our solar panel as soon as we stop. I redid the cable for this before this trip so that I can move it a good distance from the car if needed. I set it up to catch the full rays of the sun.
More people come for a swim in the creek and a few more cars arrive to camp. We set up our table and chairs and then go for a swim. This is a great spot. The creek has rapids and then, under the bridge, it is deep, well over my head. I try to swim upstream to some other rapids but do not make it.
The groups that arrive have inner tubes and they take turns rafting down from the far end of the camping area. After our swim, we read some more but need to have a few more swims to cool down. It is very warm, at least 31ÂșC.
Later I move the car to our preferred spot, and use the wheel ramps to level the right side of the car up. At 5:30 pm we head down to the creek and have drinks and nibblies here. Excellent!
Kelly is cooking masaman beef curry and I steam some rice. A very nice meal. After dinner we go for a walk up a track at the back of the camping area. It leads to the main road and we walk back along it to our site. I start a fire as it has now cooled down a bit.
We sit and watch the stars, seeing 15 satellites and 7 shooting stars. I decide to cook some scones, so I make up the dough while heating the camp oven. I end up burning the bottoms, but they are a nice dessert (as well as some for morning tea tomorrow).
We go to bed at about 10 pm.
Weather: Fine, max 31ÂșC Arrived: Staceys Bridge Time: 1:50 pm Distance: 104 kilometres
Day 6 - Friday 31 December 2010 - Staceys Bridge to Wheelers Creek Hut
Weather: Fine, 11.3ÂșC minimum
Another cool night and we are up early, 8 am, as the sun has started shining on the tent and it is getting warm. Kelly has a early morning swim in the creek (she also did yesterday, I am too much of a wimp!). It is already 15.7ÂșC by 8:35 am and when we leave at 9:30 am it is 20ÂșC.
We have decided to travel via Wheelers Creek Logging Road and when we arrive there 15 minutes later (14 kilometres) we find that there is a sign saying that the road is closed between here and Wheelers Creek Hut due to flood damage. Plan B comes into place, we will try to go down Wild boar Track and then over Mt Sassafras (1587 metres) to Paddy Joys Track to Wheelers Hut.
However, when we get to Wild Boar at 10 am we find some road barriers across the track indicating it is closed. There is no indication why it is closed. Plan C is being formulated. Kelly suggests trying Pheasants Creek Track. This is further south.
| | |
| --- | --- |
| | |
| The unnamed camping area at Gibbo River | The extremely steep descent on Pheasant Creek Track to Buenba Creek |
At 10:45 am we arrive at an unnamed camping area on the right side of the road. This is about 46 kilometres from Staceys Bridge. It is located right on the Gibbo River. There are a couple of spots, probably space for five cars. It is quite nice, with grass and excellent access to the river for swimming. There is even a tiny waterfall. We have morning tea here.
At 11:05 am we back track to Pheasants Creek Track which is 1.5 kilometres back up the road. Right from the start this is a steep track. Low range and second gear and we head off. It is 585 metres as we leave the main road and head up. We climb to 1,050 metres over the next 2.6 kilometres, averaging 12km/h. For the next 3.8 kilometres we follow a ridge, keeping between 950 and 1,100 metres.
At 11:35 am we start a very steep descent. This is first and second gear low range. We drop from 1,050 metres to 695 metres over 1.4 kilometres. We average 7 km/h. at the bottom is the Buenba Creek. This is really flowing. There is a small camp site just before you cross the creek. The water comes up to the middle of the headlights as we cross.
It is another even steeper climb up from the creek. The track climbs from 695 metres to over 1,300 metres over the next 2.5 kilometres. Our average speed is 12 km/h. the track continues to climb, but more gradually. I change to high range and use first and second gears.
| | |
| --- | --- |
| | |
| Crossing Buenba Creek | The intersection of Buenba Road and Pheasant Creek Track |
About one kilometre on I notice that the engine temperature has risen dramatically. As we have been going though quite long grass, I assume that some of the fluffy flowers have blocked the radiator. It is now very hot outside, 33ÂșC. I stop and the radiator is boiling, but the overflow container is full. Hell, this has never happened before. I restart the engine and let it idle. The temperature drops almost immediately back to almost normal.
We continue on, climbing to over 1,500 metres. For the next 7.3 kilometres we stay between 1,400 and 1,550 metres. The temperature stays just above normal. At 12:40 pm we reach the Buenba Road. We have been on this road before, back in late December 2007. We stop here and I check the radiator. There is now no water in the overflow container so I put about 1.5 litres in to fill it.
We have covered 15 kilometres over the past 74 minutes, an average of 12 km/h (including the short stop to check the engine temperature). This track has been one of the steepest tracks we have ever travelled on. We leave at 12:50 pm and head north on Buenba Road.
Five kilometres along we come to Wheelers Creek Logging Road and signs to Corryong and Benambra (back where we have come from). At 1:20 pm we arrive at Wheelers Creek Hut and Camping Area. This is 17 kilometres along from Pheasants Creek Track. The bridge across the creek is blocked off and the road closed. They are building a new bridge, but it seems to have stalled and no work appears to have been done for months (we base this on the site as well as the old bridge timbers which are stacked alongside the road with a sign dated about 6 months before saying they are owned by a school at Corryong). However, there is an easy creek crossing to the left. Is this why the road was closed back at Benambra Road?
| | |
| --- | --- |
| | |
| The Cattlemans Creek Camping Area | The Paddy Joys Camping Area |
We go into the camping area and there are a couple of spots in front of the hut (more about this later) and another large spot below this. Further down the track we see a caravan and some tents. We drive down but as we approach, we see that there is no more room there. We head back to the hut. Kelly says she wants to look at two other camping areas nearby. We decide to have lunch while we make a decision as to what to do.
While having lunch, I walk up to the track to the caravan to speak to the bloke camped there. Jules tells me that there were five cars camped here last night and they all left by heading north. He says there are snakes around as well.
After lunch, we cross the creek and drive up the hill. A hundred metres or so up there is a barrier across the road. There is nothing on our side but on the other it says the road is closed. This is clearly not correct, as the road is open, just not to 2WD vehicles. We move the barrier and drive on, as the five cars must have done yesterday. A bit further up where the Cattleman Creek Track comes off Wheelers Logging Road, Wheelers is blocked with a substantial Armco barrier across the road. We head down Cattleman Creek Track and another 100 metres is Cattleman Creek Camping Area. This is not bad, but not as good as Wheelers. Kelly thinks that both spots are too far from the creek. It is still over 30ÂșC, so she wants to be able to have a swim.
We head back towards the bridge and cross the creek again. We go past the exit to Wheelers and about 450 metres along is Paddy Joy Track. This has no sign saying it is shut (remember, the other end, Wild Boar Track was closed). We come to the Paddy Joy Camping Area which is 600 metres along. The Camping Area is at the intersection of Paddy Joy Creek and Wheelers Creek. It is a small area, good for a couple of cars.
| | |
| --- | --- |
| | |
| Wheelers Creek and the unfinished bridge, you cross the creek here | Veto testing the waters of Wheelers Creek |
An executive decision is made to go back to Wheelers Creek. We get back there at 2:25 pm. We park near the bridge and go for a swim. As usual, it is cold but once you are in, it is not too bad. There is a deeper spot under the bridge but mostly we sit in the shallower rapids.
After the swim I move the car to the area in front of the hut. We decide we will camp here and I will move the car to the right spot once it is in shade. We set up our chairs on the hut's verandah and read some more. The hut consists of a timber slab structure, built in 1976 for forestry workers. It has a pot-bellied stove and two double bunks. In front of the hut there is a table and chairs and there is a toilet behind the hut.
| | |
| --- | --- |
| | |
| Wheelers Hut and where we camped | New Year's Eve dinner at Wheelers Hut |
A couple of Nissan Patrols come in and look around before leaving. We later find out they went to Paddy Joy. About 4:30 pm a family (father Trevor and his wife, son Kim (?), daughter and her husband Phil and the five grandchildren) come in three cars. They are from Yass and Canberra. They set up camp below us.
They tell us that they have come via Wild Boar and Paddy Joy Tracks. They said that there was no sign blocking the track when they got there, but they could see the sign off in the bush. The track was recently graded and in perfect condition. When I got home, the forestry web site said the track was to be opened on 24 December 2010. What happened to that?
At 5 pm I start the fire, as we are having a roast dinner tonight and need good coals. There is a lot of timber at this spot, so I do not need to use the timber I collected a few days ago. We have another couple of swims during the afternoon.
At 5:30 pm we have drinks and nibblies. This is nice. I put the roast beef on at about 7:30 pm or so. We do not want to eat till late as we are staying up till midnight. The meat and vegies are done about 8:50 pm and we start eating at 9 pm, accompanied by a couple of glasses of a very nice New Zealand Sparkling Sauvignon Blanc.
| | |
| --- | --- |
| | |
| Enjoying some sparkling wine near midnight, New Year's Eve | A natural light shot at Wheelers Hut |
As soon as the roast comes off, I put on my apple crusty pudding which takes at least an hour to properly cook. After dinner we watch the stars. Even though we only have a limited view of the sky and there are a few clouds drifting past, we see 14 satellites and 4 shooting stars.
At 10:30 pm we open the second bottle of sparkling and have the apple pudding. Almost perfect, should have been on another 10 minutes (I took it off at 10 pm). We play a few games of Uno when the clouds cover the sky for a while. A bit of fun! We celebrate the New Year at midnight and go to bed at 12:30 am.
Weather: Fine, max of 32ÂșC Arrived: Wheelers Creek Camping AreaTime: 2:25 pm Distance: 88 kilometres
Day 3 - Saturday 1 January 2011 - Wheelers Creek to Fishermans Track
Weather: Minimum of 14.5ÂșC and overcast
It was really warm last night so we had to take off some of the bed coverings and open the windows to keep cool. Despite the late night, we are up at 8:20 am as our neighbours are up and making a little noise. I make some pancakes for breakfast and we have with blueberries and cream.
We leave at 9:55 am with Kelly driving. We cross Wheeler Creek again and go past the road signs to Cattleman Creek Track. We have decided to take the Shady Creek Upper Track which we know the other group who camped at Wheelers has taken. We told them we might do this. Kelly decides to let me do the driving as it is a pretty steep track. Although it has a gate on it, the gate is open.
We can hear them on the UHF radio ahead of us. We catch them when the Mitsubishi Triton becomes stranded on series of ruts. It has lost the use of low range as the gearbox is stuck in high range 4WD. While they snatch it backwards, we hear the lead car announce that the bridge is missing at Shady Creek which is just below them. I walk down and sure enough, the bridge has been washed away.
There is no way we can get across here. It turns out that there were signs across the track back near the start and the other group had moved them aside after their experience yesterday (and for that fact, earlier today) when signs claiming the road was closed and there was nothing wrong with it at all. We turn around and head back. It was 3.5 kilometres from Cattlemans to where I had to turn around.
Once back at Cattleman Creek Track, we have conference and decide to try Shady Creek Lower Track. However, once we get there we see it has a gate across it. We then decide to try another route. The plan is to go to Mount Pinnibar. The others want to go to Tom Groggin and cross the Murray River into NSW there. We will head north from this location.
Just over 6.2 kilometres along we turn right into Dunstons Logging Road. We follow this and it changes to Dead Finish Track (at least on my GPS). After 7.7 kilometres we turn right onto Pinnibar Jeep Track. However, it may also be called Link Track, my topographical map and the map we got from Corryong is not clear. Certainly the track now does not follow exactly the track on the GPS, at times we are 250 metres off the GPS track. In addition, the start of the Pinnibar Jeep Track appears to have been moved or closed off and you now access via another track. This is 2.1 kilometres from the start of the Dead Finish Track.
It is 4.5 kilometres to Mt Pinnibar from here. Luckily, there are a few signs to Mt Pinnibar along the way, so you should not get lost. When we reach the top at noon we are amazed to find that it is very windy, with very strong and cold breeze from the south-west. It is only 17ÂșC and the wind chill makes it feel about 13ÂșC. Even worse, there is a very fine drizzle.
There are quite a few other vehicles here over the short time we are stopped. We have morning tea and take in the 360Âș views from the 1770 metre summit. At 12:30 pm we say good-bye to the other three cars as they descend to the Murray River at Tom Groggin. Hope they got across okay.
We backtrack along Pinnibar Jeep Track and turn right. This track is shown as Playgrounds Track and then Mt Tempest Logging Road but from memory, the signs call it Walkers Logging Road. After 14.4 kilometres we come to Gibsons Gap (23 km/h). The altitude has been around 1100 metres since dropping back from Mt Pinnibar. This is the intersection of five tracks and there is supposed to be a hut here.
| | |
| --- | --- |
| | |
| Mount Pinnibar Summit looking to NSW | Lunch at Gibsons Gap |
We decide to stop for lunch (it is now 1:20 pm). We look around but cannot find any sign of a hut. We decide to take Mount Baldy Track and Kelly decides to drive. This is relatively steep, requiring first and second gear but no 4WD. It takes 27 minutes to travel the eight kilometres to Surveyors Creek Track (17 km/h). The track has gone up and down about 200 metres over this time.
We are only on Surveyors Creek Track for less than one kilometre before turning right onto Barlows Break Track. This leads down towards the Murray River. Over the next 5.4 kilometres we drop from 860 metres to 400 metres. This track had plenty of fallen trees, although we are lucky that someone has cut them up. This track requires second and third low range. Near the bottom we come out into open ground and need to follow some faint wheel tracks to get to the main road. This is called Bunroy Road and we were on the other end of this on 27 December 2011.
Our plan is to get to a spot called Fishermans that a bloke at the Tintildra Hotel told us about four days ago. It is not clear on our maps where it is actually located. Our first attempt fails as Bunroy Road comes to an end in a carpark. It appears there used to be access past here but it is closed.
We turn around and head the other direction on Bunroy Road. Our topographical map shows that the land around the private property is all state forest, so we assume that the camping area is in state forest as well. A short distance along we come to a stone hut. This is called Bunroy Hut and is privately owned. Just past here we turn onto Indi River Track.
A few hundred metres up the track is a sign saying that it is national park 4.2 kilometres along. A bit further up we come to Packsaddle Gap and Fishermans Track. We take Fishermans Track and head down to the Murray River (first and second gear low range).
| | |
| --- | --- |
| | |
| Our camp site at Fishermans | The Murray River next to the camp site |
There is a small cleared area and a track off to the right. We take this but 30 metres along we see it goes nowhere. Kelly backs up. As we have not seen any sign saying we are in national park and our topographical map shows it is state forest, we decide to camp here. It is now 3:15 pm.
This is a very small site, only capable of hold two cars at the most. We set up camp and decide to have a swim as it is now very warm, 32ÂșC. We walk to the end of the track and there is a very easy entry into the river. It is flowing very strongly here so we do not go out far. It drops to about 1.5 metres and we have to be careful that we do not go too far as if we got swept downstream, it would be very difficult to get out of the water and even harder to walk back through the bush.
We spend the rest of the afternoon reading and swimming. This is a very nice place. As I am making pizza for dinner, I make the dough and place it on the car's bonnet to rise (in a bowl of course). Kelly and I chop up the various things we are having on the pizzas and get it all ready. I start the fire at 5 pm to get some coals.
| | |
| --- | --- |
| | |
| Me having a swim in the Murray River at Fishermans | The rapids just up from the swimming spot |
We have drinks and nibblies and I start making the pizzas. I am making two garlic and cheese pizzas as entrees and one chicken, ham and pineapple with BBQ sauce and two separate salami, ham, cabanossi pizzas, one hot and one not so hot. We cook them in our camp oven, so what I do is put aluminium foil into the cake tin we have that fits the oven and then roll out the dough (using a beer can) and place in the foil. I then remove it and do the next one. The toppings are added later.
To cook, I heat the oven by sitting it on the open flame and then, drop the pizza into the cake tin. A few hot coals on the top and away it goes. It takes about three minutes to cook the garlic and cheese ones and about 7 to 10 minutes for the full pizzas (they are pretty thick with topping). We end up with plenty of pizza left over for lunch tomorrow.
As usual, after dinner we read and watch the stars (less satellites and shooting stars tonight). We go to bed early at 9:30 pm and straight to sleep.
Weather: Mostly fine, maximum of 32ÂșC Arrived: Fishermans Camping AreaTime: 3:15 pm Distance: 71 kilometres
Day 8 - Sunday 2 January 2011 - Fishermans Camping Area to Wee Jasper
Weather: Minimum of 19.2ÂșC and fine
It was overcast last night and even rained a couple of times about 4 am. The rain did not last long and when we got up at 8:30 am, there was no real trace of the rain. It was very warm overnight, we only needed a sheet on the bed. We have breakfast and then another swim. It is already almost 22ÂșC at 9 am.
We pack up and leave at 10:05 am. It is now almost 27ÂșC. We climb up out of the valley and encounter a Parks Victoria officer. We have to stop as the track is so narrow. I am amazed to find that where we camped the night is national park. This is a bit of a problem as we have Veto in the car and he hears her bark. Luckily, he accepts our explanation that our map is not clear on the status of the camping area and we did not see the park sign that he says is back near the intersection. Sure enough, as we leave we look and there is a sign, but as you come up the hill it is hidden behind some bush until the last moment and if you are not looking that way at the exact moment you pass, you would not notice it.
We head back to Bunroy Road and turn right. We go back towards Indi Bridge where we spent our first night and then on past Towong (second night) to Tintildra. We stop at the pub and have another beer and also make use of their toilets. We have decide to stay somewhere in NSW. We will check out a lot to places and if we find one we really like, we will stop there. Otherwise, we plan to camp at Wee Jasper.
| | |
| --- | --- |
| | |
| The Paddys River Camping Area | Paddys River next to the camping area |
It is 31.6ÂșC as we leave Tintildra at 11:47 am. We cross over the Murray River for the eighth and last time and travel via Tooma towards Tumbarumba. At 12:20 pm we arrive at Paddys River Camping Area. This is located a few hundred metres towards Tumbarumba from the intersection with Elliot Way. This is a very nice spot, but it is full of caravans and motorhomes and way too crowded for us. Paddy River flows past the whole length of the camping area and would be a nice place to cool off on a hot day like today. There are toilets, shelter sheds and tables.
We go another 3.5 kilometres towards Tumbarumba and turn left for Paddys Falls Camping Area. It is 1.8 kilometres to the falls. There is a large car parking area and some covered tables and BBQs. However, there is not a great deal of flat land and the bit that is has a very rocky and hard base. You may have problem putting tent pegs into the ground.
The falls are quite good. They are not high, but there is certainly a lot of water flowing over them. There are walking tracks down to the bottom as well. Would be a reasonable place to stay in a caravan, motorhome or roof-top tent. We are back on the way at 12:55 pm.
| | |
| --- | --- |
| | |
| The really flowing Paddys Falls | The creek-side section of Henry Angel Camping Area |
Another 5.4 kilometres towards Tumbarumba is Henry Angel Camping Area. This is on the Hume and Hovel Walking Track. This is on Burra Creek. This is even better than Paddys River Camping Area, with a lot more spaces and some really nice shelter sheds and electric barbecues. As it is 1:05 pm, we decide to have lunch here in the shelter shed (there may even be power here to recharge batteries etc).
We leave at 1:25 pm and go via Tumbarumba to Mannus Lake. This is located to the south-west of the town. Our camping guide says there is a place here to camp. A couple of problems with this. First, there is no lake. We wonder what happened to it? Signs show that there is a boat ramp but there is no water, just a few stagnant pools in the creek. A Google search when I got home showed that early on 16 October 2010, a large part of the dam wall was washed away. Another bit of damage from the rain on 15 October. The second problem is that the camping areas here are not real good. There is one right as you turn off the main road but it is so small you could only fit one or two small tents. The second one at the "lake" is not suitable for roof top tents or vans.
We head back to Tumbarumba and then north via Batlow to Tumut. There are a couple of other camping areas listed in our book. Both are totally unsuited for all but emergency stays, as they are very poor quality rest areas on the side of the road. On is called White Gate and was even supposed to have toilets (it does not nor does it ever look like it did).
We pass through Tumut at 3 pm and head towards Wee Jasper. It is now 35.7ÂșC. the road starts off pretty good but it gets much narrower towards Wee Jasper. Twenty six kilometres from Tumut we cross Brungle Creek (called Brungle Creek No 2 as it is the second bridge) and pull over for a toilet stop. You could camp here but Kelly decides that is out of the question when she encounters a brown snake!
| | |
| --- | --- |
| | |
| Our camp site at Billy Grace next to Wee Jasper Creek | Wee Jasper Creek |
We continue on and at Wee Jasper we head first to Careys Reserve. This is out towards the caves which are called Careys Caves. However, this spot has very limited flat areas and all are occupied by fishers. There is no spot we could put our car except right near a vehicle that has a couple of very large dogs. I do not think so. In the quiet season this could be a nice spot as it is right on the edge of the water.
Lake Burrinjuck dams the waters (primarily) of the Murrumbidgee River. This river starts up near Yarrangobilly Caves in Kosciuszko National Park and travels in a huge loop to the ACT and then through the dam out west. When I was last here (in 2002 I think) there was so little water in the dam, all water sports were impossible.
We head back towards Wee Jasper village and then go south to Billy Grace Reserve. This is much larger and has hundreds of sites. Near the entrance there is only one vehicle camped. We go right to the end (on the Goodradigbee River) but this is extremely crowded. It is really hot now so most of the kids and a lot of the adults are in the river. About 20 adults have their chairs sitting in the river and they are having drinks.
It is now 5 pm and we head back to the start of the reserve and decide to camp next to the Wee Jasper Creek. There are quite a few spots here. While there are toilets and showers at the river end, up here there is only a long-drop toilet. We set up camp and I go for a swim in the creek. Much warmer than the places we have been swimming in over the past week.
| | |
| --- | --- |
| | |
| Me reading a book, a beer beside me and Veto resting in Kelly's chair | Another angle of the campsite at Wee Jasper Creek |
After this we walk to the office to pay our fees but it is not open. While there is a box to put your money in, there are no envelopes to write on to show who the money is from nor is there any indication of the fee. Oh well, looks like we get to camp for free. Walking back to the car, a Shetland pony that is walking free scares Veto. She stands still and shakes. She has never seen something like this and it is so much bigger than her. Kelly has to pick her up and carry her well past the pony.
We have drinks and nibblies and then Kelly cooks our dinner. We are having lamb shoulder and pasta. No fires are permitted in the reserves from 1 November till 31 March, so Kelly cooks it in our wok on the stove rather than on the barbecue as we normally do. As usual, it is excellent.
We go to bed about 9:30 pm and read for 30 minutes.
Weather: Fine, maximum of 36ÂșC Arrived: Billy Grace Reserve, Wee Jasper Time: 5:00 pm Distance: 283 kilometres
Day 9 - Monday 3 January 2011 - Wee Jasper to Sydney
Weather: Minimum of 18.0ÂșC and overcast
We are up early at 8 am as we want to leave early for the drive home. We have breakfast and leave at 9 am.
We drive through Wee Jasper village and I note that the general store has closed down. I seem to recall someone telling me this. A pity, this makes it a lot harder for campers and locals without access to fresh milk and bread etc.
| | |
| --- | --- |
| | |
| Parts of Lake Burrenjuck near Wee Jasper | This is the Murrumbidgee River flowing into Lake Burrenjuck |
We cross the Goodradigbee River, really the extreme upper end of Burrinjuck Dam. We are heading to Yass where we will join the Hume Highway. Just before Yass, it starts to rain and then hail. Luckily, the hail is tiny and almost sleet, it splatters on the windscreen when it hits, although on the road it is bouncing.
We pass through Yass at 10:05 am and get on the Hume to head north to Sydney. At 10:35 am we take the Gunning exit. I have never been there so we decide to have a look as well as have morning tea. There is an excellent free camping area in Barbour Park which is next to Meadow Creek. This is at the northern end of the town.
There are toilets here (and cold showers) and a swimming pool (which does not open till 11 am). We stop and use the facilities. It would be a nice place to stop for the night (you can stay two nights). We are back on the road at 10:50 am.
At 11:40 am I have to stop as the external car aerial mounted on the bulbar has fallen over. When I stop, I see that the plastic bit has come unglued and worked its way up. I push it back in, but realise I will probably need to do this again as the vibrations will make it come out once more. The temperature has dropped to 15ÂșC and there is a very light drizzle or perhaps even a heavy mist.
There is not a great deal of traffic on the highway and we make good time, arriving home at 1:30 pm (average 80 km/h from Wee Jasper).
The next day I refuel the car. We used 138 litres at $1.139 a litre. We have averaged 16.4 litres per 100 kilometres since leaving Corryong. This included two days of four wheel driving, a couple of which had lots of low range work.
Weather: Misty, maximum of 20ÂșC Arrived: Kirrawee Time: 1:30 pm Distance: 341 kilometres
Summary:
Another great short break, visiting an area of NSW/Victoria that we had mostly never seen before. It was great to see so much water in all the rivers, creeks and dams, but the damage to a lot of the infrastructure showed how rapid the rain had fallen back in October 2010. You could do a great deal of this trip without a four wheel drive, certainly the first five nights and the last night.
The total cost of the trip apart from food and drink was $327.18 for fuel. All the camping was free, but we should have paid at Wee Jasper. Our fuel economy over the 1,659 kilometres was 15.5 litres per 100 kilometres, pretty good considering the heavy 4WDriving done in one part and the fact that something like close to 900 kilometres was at freeway speeds.
We have decided that we will need to return again to explore some of the other spots that we found out about on the trip as well as to do the section of the Murray River from Jingelic to Echuca as originally planned.