Over the Christmas 2009 to New Year 2010 period Kelly and I went camping with our friends Ron and Donna. One of the spots we visited was Coolah Tops National Park. On that trip ( click here to read about it click here) it rained heavily every day and by the time we got to Coolah Tops, we had had enough so we ended up cutting the trip short and heading home after only one night.

For Easter 2011, we decided to return to Coolah Tops National Park and spend a couple of nights here. As Anzac Day fell on Easter Monday, it also meant that we had an extra long Easter break and we added another day at the start to make it even longer. The plan was to spend five nights and six days away.

On the trip were Ron and Donna in a Toyota Prado 120 series and Paul and Catherine in a 1999 Toyota Prado (same as ours but automatic).

ROUTE MAP
Our route as recorded by our GPS using OziExplorer and uploaded to Google Earth
GPS TRACKS
You can download the Google Earth track of this trip by clicking here and looking at it in Google Earth.
You can download the OziExplorer track of this trip by clicking here and looking at it in OziExplorer.
Day 1 - Thursday 21 April 2011 - Sydney to Dunns Swamp
We left home at 7:00 am and while it was a bit overcast, it did not rain on us. Travelling via the M5 and M& to the M4, we headed towards the Blue Mountains. We stopped at Blaxland McDonalds for breakfast at 8:05 am. A few minutes after we arrived, Ron and Donna pulled into the car park. Paul and Catherine could not get today off work so they will meet us tomorrow.
At 8:25 am we are back on the road and as we cross the Blue Mountains we see that the road is a bit wet. We can see rain around but we get none. We stop at Lithgow at 9:45 am to visit the Woolies to get some last minute supplies. We head off again at 10:00 am.
We head up the Castlereagh Highway just west of Lithgow and stop at Capertee for morning tea. There is a nice rest area here. It is a bit cool as there is a wind blowing, but sunny most of the time. We arrive at 10:35 am and leave at 11:00 am. We are heading for Glen Davis and the road is straight opposite the rest area.
A panoramic photograph of Capertee Valley as you approach Glen Davis
It is 52 kilometres to Glen Davis and we drop from 800 metres at Capertee into the Capertee Valley. The valley is alleged to be the largest canyon in the world. The altitude at Glen Davis is about 275 metres so you can see it is a fair drop, but it is a gradual one.
The drive in is spectacular! You pass the Gardens of Stone National Park on the right and Airly Mountain on the left (A great camping site on private property). The walls of the valley are quite shear in some places and there are some really amazing rock formations. The valley itself is very green and looks like a nice farming area.
| | |
| --- | --- |
| | |
| An historic photograph of Glen Davis | The Glen Davis Refinery looking towards the west |
Glen Davis was an oil shale mine and refinery established in 1937. Similar to nearby Newnes (which you used to be able drive to direct from Glen Davis), shale was mined and kerosene, oil and petrol recovered from the shale at the refinery. It does not appear from GoogleMaps that much remains of the refinery and nothing is visible from the public land. You cannot visit the refinery ruins except on guided tours (I think each Saturday at 2 pm $5) as they are on private property.
The town appears to have been really well designed, with roads centred on a main street that lead to a park. Most roads were placed in a horseshoe shape around this park. All of the roads are still visible. Some of the buildings remain, including some houses, the hotel and some shops. There are no facilities as such here (no fuel, food etc). At one time there were 2,500 residents but now only a handful appear to live here. The refinery closed in 1952 and a lot of the buildings were transported elsewhere.
| | |
| --- | --- |
| | |
| The camping area at Glen Davis | The now closed Glen Davis general Store |
We pull up at the camping area. This is quite nice and is located in what was the central park of the town. There are nice toilets and even hot showers, all for a donation. We walk down the main street which comes off the middle of the park and look at the old general store. This has a nice display of bottles in one window and old medical equipment in another two windows.
We drive around but there is not all that much to be seen. As mentioned, the refinery ruins are on private property and cannot been normally seen. The hotel is now the Glen Davis Boutique Hotel and looks like a nice place to stay. This is the most substantial building in the town. After the mine and refinery closed, the hotel became a Marist Brothers' retreat and you can still see evidence of this on the building, statues and a cross.
| | |
| --- | --- |
| | |
| Some of the old bottles in the window of the store | The Glen Alice Cemetery is huge but sparsely populated |
We depart at 12:00 and head towards Glen Alice which is only about 13 kilometres away. I have not been able to find out much about Glen Alice, but I think it also may have been an oil shale mine town. The area was settled in 1825 by Dr James Inns who named his property Glen Alice. Today there is very little left, a cemetery, a small church and a small public school being the main buildings.
We have a look at the huge cemetery (earliest burials date back to 1845 it seems) and the church. This is very interesting as it is built of timber and covered with pressed metal panels that look like sandstone. Kelly picked this well before we approached the church as we have seen pressed steel panels used in old buildings before when in outback NSW. However, this is the first time I have seen on the outside of a building.
| | |
| --- | --- |
| | |
| The church at Glen Davis | A close-up of a window in the church |
The first church was built in the 1860s but appears to have burnt down in the 1870s. On 3 June 1874 a new church was dedicated. It was built of timber slabs that are believed to have come from horse stables or the stockyards which were located on the site of the church. It was originally a Presbyterian Church but was also used by the Church of England and the Methodists. In 1965 the church was renovated (presumably this was when the pressed steel panels were added) and became a non-denominational church. It is still used by the Uniting Church and the Anglicans on alternate Sundays.
We only spend about 15 minutes here in total before heading on. We drive towards Rylstone and about 13 kilometres up the road we stop and cut some timber for our fire tonight. At 1:10 pm we stop at the side of the road for lunch in the only cleared area we have seen for quite a while. We leave at 1:30 pm and arrive at Rylstone at 1:45 pm. Rylstone is a nice looking little town and we decide to have a beer in the Rylstone Hotel (which has the Lady Bushranger restaurant). Nice pub.
At 2:15 pm we head out towards Dunns Swamp which is east of Rylstone. It is in Wollemi National Park. The name "swamp" does not really do justice to the place as it is really a lake behind a dam. The Kandos Weir was built in the 1920s damming the Cudgegong River to provide water for the Kandos Cement works which are 25 kilometres away. Today the dam provides a wonderful playground for kayakers and fishers.
| | |
| --- | --- |
| | |
| Our campsite at Dunns Swamp | Another view from the top of the adjacent pagoda |
We arrive at Dunns Swamp at 2:40 pm. The place is really crowded as it is the middle of the NSW school holidays. We drive around the many sections of the large camping area. At one spot I notice that there are a couple of cars that appear to be either leaving or arriving. We cannot find any suitable spots (remember we both have roof top tents) as we need to be able to park next to a campsite. There are some vacant sites, but these are only suitable for large tents.
I decide to head back to the spot I noticed earlier and sure enough, the people have left and there is space for two or even three roof top tent vehicles. It is about 3:00 pm when we pull in and set up camp. We have a fire place as well as a great table. We are right next to some of the distinctive pagodas. These rocks are the predominant geological features in this whole area.
After setting up camp, we go for a short walk to the dam and then along the water's edge. There are lots of families camped here. There are plenty of toilets and timber is provided for cooking.
| | |
| --- | --- |
| | |
| Kelly in one of the gullies created by the pagodas | A view from the top of a pagoda showing the gullies |
I climb the pagoda nearest to us to take a photo of the camp site. The kids are having a great time here, climbing the pagodas and playing the gaps between them. We read for the rest of the afternoon. Just before sunset, a couple arrive and ask if they can camp near us. Of course we say yes, there is plenty of room. We later chat to them and find out that back in South Africa they had a roof top tent on a Land Rover and when on a trip, the car caught fire (due to an electrical fault) and totally destroyed the car and tent.
| | |
| --- | --- |
| | |
| Dunns Swamp | Almost sunset at Dunns Swamp |
Donna is cooking dinner tonight, Mexican tacos. We leave it all up to her and she produces a great meal. It is pretty cool so we are rugged up with beanies and jumpers and sit next to the fire. We watch the stars for a while and see only one shooting star. However, a lot of aircraft pass overhead, some heading for Newcastle and the rest away from Sydney. It is a nice relaxing evening.
We hit bed at 9:30 pm or so and read for 30 minutes before sleeping.
Weather: Mostly sunny, max 23ÂșC Arrived: Dunns Swamp Time: 2:40 pm Distance: 327 kilometres
Day 2 - Friday 22 April 2011 - Dunns Swamp to Goulburn River National Park
Weather: Fine, 5.6ÂșC minimum
It was quite cold last night as it is about 665 metres here. We get up at 8 am and have breakfast.
We decide to do a walk before we leave so at 8:45 am start walking to the Kandos Weir. It is a nice walk which follows the edge of the water for a while but then moves a bit away. The track is a bit undulating, but apart from a section where you climb a ladder and stairs, it is an easy walk. About 900 metres along there is an off shoot from the track to the left that leads to the top of some of the pagodas. This is a bit steep and requires some climbing over/up rocks but it is not too hard. The view from here is fantastic. You look over Dunns Swamp towards the north and east. Well worth the effort.
A panoramic photograph of Dunns Swamp from the top of the pagoda walk lookout
We continue on the walk to the weir and come to the ladders and steps. This is quite steep in one section but it is only for a short distance. There is a seat at the top to relax and enjoy the views over the water. A bit further on we see a swamp wallaby. The signs showing the distance to the weir and nearby Long Cave are wrong in some spots. For example, at one spot it says it is 900 metres to the cave and 800 metres to the weir. About 400 metres on it says it is 400 metres to the weir but still 800 metres to the cave! Before this there is another error where two lots of signs that have distances that are inconsistent with the next one.
The weir is a small dam with a curved wall. You cannot walk out onto it for more than a few metres, but you can see how deep the gorge must have been before the weir was constructed. It is an easy walk back to the camping area.
| | |
| --- | --- |
| | |
| Another view from the pagoda lookout, this time away from the water | Kelly on the Kandos Weir which dams Dunns Swamp |
We get back to the cars and pack up. We leave at 11:10 am. Our plan is to travel via Nullo Mountain and then direct to Goulburn River National Park. We take the Nullo Mountain Road and this climbs from about 700 to 1100 metres. It turns out that there is no real mountain that we can see and it is a plateau. We have some great views to the east and north-east at 1100 metres but further on is just bush. We turn around once we come to a large very prosperous looking property.
Back on the lower valley floor, we take Coxs Creek Road. We stop right at the intersection and have morning tea. As we are running a bit late, I phone Paul and Catherine and find they are already in Mudgee. I tell them that they will get to Goulburn River National Park before us so they should grab a spot for all of us.
After morning tea we continue along Coxs Creek Road heads west towards Rylstone. Along here we stop and cut more wood for our fire tonight. We come out just north of the town and turn right onto the Bylong Valley Way. This is another quite spectacular road, with the road following the Crowee River gorge for a lot of its length.
| | |
| --- | --- |
| | |
| The view from Nullo Mountain towards the east | Lunch in the park at Wollar |
We arrive at Bylong, a small town with a general store and a few houses. There is a nice rest area in the middle of town and we stop for a toilet break for 10 minutes at 1:15 pm.
Just north of the town we turn onto the Wollar Road. This follows the Ulan to Sandy Hollow rail line that services the coal mines further up the valley. It is a reasonably good dirt road which also parallels the Goulburn River for a great part of its length. At 1:50 pm we stop at Wollar. There is a small park with a bus shelter and a toilet at the intersection of the two roads that basically comprise the town. There is a service station opposite, this appears to be the only operating business as the general store building is closed up.
We have lunch here and then head off at 2:20 pm. We take the Ulan Wollar Road (Barigan Street) north out of town. The directions to Goulburn River National Park are well sign-posted in town. Just over 2.5 kilometres out of town is another sign that shows the road to take (this is not named on my maps but may be called Mogo Road). You cross over the rail line and follow this road through private property to the national park.
It is not far to the boundary of the park, but there are lots of in-holdings and you cross in and out of the park all the way. The first camping area is called Spring Valley Camping Area. This is not bad, but is not right on the river. It is only a bit over one kilometre to Big River Camping Area (this is 19 kilometres from the main road) where we arrive at 2:55 pm.
The NPWS web site says that access to this second camping area is "4WD only" but this is not correct. The road between the two camping areas is no worse than the road in and can easily be traversed by a normal car. It also says that both camping areas are not suitable for caravans or trailers, but this is also incorrect. There are plenty of both here.
Big River Camping Area is located right along the Goulburn River. It is about 10 or 15 metres up from the river to the flatter area of the camping area. The camping area is quite long, perhaps about 750 metres but not real wide. There is a lot of flat land close to the river and some a bit further up the hill. There are a lot of people here, but Paul has grabbed a nice spot for himself with river views. We set up camp near him.
Our campsite at Big River Camping Area
in Goulburn River National Park
Down on the Goulburn River below the camping area
There are a couple of toilets and some fireplaces here and there. We also have a wooden stool. There are probably spaces for about 50 tents. We go for a walk and there are some steps down to the river. There are a lot of kids swimming in the river. The water is quite nice, if it was a bit warmer (air temperature) I would have had a swim myself.
I walk through the whole camping area before returning to the cars. I set up our shower tent so we can have a hot shower before dinner. Of course we have lots of water with the river next to us so we can be extravagant.
After reading for a while (I am trying to finish off Ronnie Woods' autobiography which I started at Christmas) I heat up the water using the Twine shower. It is great to be able to use almost 10 litres in showering. Ron and Donna also have hot showers using our setup (Kelly decides to have one in the morning) and Paul and Catherine use their own setup.
As today is Good Friday, we are having non-meat dinners. I cook up some salt and pepper squid for entrees (which we all share) and Catherine makes some excellent Thai lemon prawns. Donna makes some garlic prawns.
After a good break, Kelly makes her creamy garlic prawns and I do some boiled rice. What a great meal, but this is only the start! Kelly has decided to make sticky date pudding for dessert. She has made the batter earlier in the evening and well after we have finished our main meal, she puts them on the fire in the camp oven.
We have the sticky date pudding with caramel sauce (which Kelly made as well) and double thick cream. A magnificent end to a great meal.
We sit around the fire and watch the stars, they are so bright.
Tonight is cool but it is not as cold as last night. We go to bed at 10 pm and are immediately asleep.
Weather: Fine, max of 25ÂșC Arrived: Big River Camping Area, Goulburn River National Park Time: 2:55 pm Distance: 170 kilometres
Day 3 - Saturday 23 April 2011 - Big River Camping Area to Coolah Tops National Park
Weather: minimum of 4.1ÂșC and fine
It was even colder last night but it did not seem as cool to me. We are up at 8 am when it is 6.9ÂșC. I normally wake just before 7 am and listen to the 7 am ABC Radio news and then fall asleep, awakening again before the main 7:45 ABC Radio news and then getting out of bed.
We have breakfast and then leave at 10:00 am. As we are not in any rush on this trip, we have late starts each morning. We are on holiday and are trying to relax. By the time we leave it is 18ÂșC. We are heading to Coolah first and travel via the Ulan coal mine and the locality of Turill.
At the Golden Highway we turn left and a few kilometres along we turn right for Coolah. Just before we turn, Ron radios that there is a tortoise on the road. Kelly and I have time to stop (we are at the rear) and I rescue it off the east bound carriageway. Stupid thing, it was lucky not to get run over. I put it in the creek next to the road on the side it appeared to be trying to get to.
| | |
| --- | --- |
| | |
| Kelly with Lucky the Golden Highway tortoise! | Stopped for lunch on the way into Coolah Tops National Park |
On the way into Coolah we stop and cut some wood for our fire. There is a huge amount of fallen timber in Coolah Tops National Park but of course you are not permitted to use a chainsaw there so it is more convenient to gather it before we get there.
We arrive in Coolah at 11:50 am. I need to get some fuel as I have calculated that I will not have enough to get back to Sydney without refuelling at some stage. There are two petrol stations in Coolah, one at either end of the town. The western one is called Black Stump Petrol Station and has fuel two cents a litre cheaper than the other one. However, it does not have gas so Paul needs to go to the other one which does. I put in 82.1 litres at $1.519 a litre = $124.77 - 13.3 litres/100 km.
We do not need to buy anything but Ron and Donna do. They just make it as the supermarket closes at noon. We go to the Coolah Valley Hotel (the "top pub" - at the higher end of the main street) and have a beer. We leave at 12:45 pm and head out to Coolah Tops National Park.
It is about 34 kilometres to the main part of the park. The road heads towards Pandora Pass (which we crossed in late 2009). This gives access to the Liverpool Plains. About six kilometres before the pass, the road to the national park comes off and heads east.
This road climbs fairly steeply, from about 680 metres to over 900 metres. The road then follows a ridge. We stop at a spot which has some nice views. It is 1:10 pm and we have lunch here. It is a nice 22ÂșC and sunny. We leave at 1:35 pm. Just before we enter the national park we see that there is a lot of fallen timber that we could have cut. I plan to come back here tomorrow to get more if we need it.
Once in the park the former open paddock change to heavily timbered forests. There is so much timber on the ground, but it seems there has not been a bushfire here for well over 20 years, perhaps even 30 years or more.
| | |
| --- | --- |
| | |
| The view of Norfolk Falls from the viewing platform | Looking into the gorge from above Norfolk Falls |
We have decided to look at some features and other camping areas before deciding where to camp. We take the first road to the right which leads to Norfolk Falls. We arrive here at 1:50 pm. There is a short walk to the falls and we head off (Kelly stays at the car as she has a cold and the climb to altitude is causing her sinus pain).
It is an easy walk down and a little harder back, but even an unfit person should not have a problem. It is not far to the falls, only one kilometre return. There is a viewing platform off to the side which gives good views of the falls and you can also go to the top of the falls. A pity we did not come here last trip, the waterfall would have been amazing to see considering how much it rained.
From here we head back to the main road (Forest Road) and turned right. We pass by Pinnacle Road (which we will probably come back to) and two kilometres along we turn right into Hildegarde Road. This leads to a few interesting places. The first is the Pines Camping Area which comes right off the left side of the road on a bit over a kilometre down the road.
This is quite a nice spot, with lots of flat places to camp in its 175 metres length. There are also toilets and fireplaces. It is pretty full, but there are a couple of places we could camp. Our plan is to check out the other places before deciding where to camp tonight.
| | |
| --- | --- |
| | |
| The front of Bracken Hut | The rear of Bracken Hut |
We continue along Hildegarde Road. Another kilometre down there is another track to the left. This leads to a couple of huts. The first one is off to the left through a gate (no idea if it is locked or not, we did not check it). The second hut is at the end of the track (before a gate which says private property - although all my maps show no private property inside the park).
This hut is called Bracken Hut. It is a small hut that you can apparently stay in, although there is no mention of this in the brochure for the park. There is a mention on the web site that you can rent this hut for $22 a night, although its description as a "farm cottage" is not quite accurate. It is very basic. There are some people staying here and another bloke opening up a camper trailer. A NPWS field officer comes along and speaks to him, so it must be permitted as he left.
From here we continued down the road towards the end of the track. There is a picnic area shown here in the brochure but it is not mentioned at all on the NPWS web site. However, the signs pointing to the area say that it is a camping area. This is called Bald Hill Creek Falls. It is a small area and already one or two cars are here. We decide that we will look elsewhere.
| | |
| --- | --- |
| | |
| A section of Coxs Creek Camping Area | The Barracks Camping Area |
| Photos taken late December 2009 | |
We head back to Forest Road and then turn into Pinnacle Road. This leads to the major features of the park, the two largest camping areas as well as a great lookout and more. We decide to first look at the best camping area in the park, the Barracks Camping Area. This is less than a kilometre along the road and has a small shelter as well as a toilet and some fireplaces. It is not large, but would hold at least 15 cars. There are some spots under the pine trees, but we decide to have a look elsewhere.
Two hundred metres back is a track that leads to Coxs Creek Sawmill. This is the site of a sawmill built in 1952 as Bone Creek Sawmill. There were also some timber cottages built here at the same time for employees. The sawmill burnt down in 1959. Today there are some remains, a boiler, a truck and more.
| | |
| --- | --- |
| | |
| The old boiler at the sawmill | This is a Chevolet truck amongst other junk at the sawmill |
| Photos taken late December 2009 | |
There are four separate cleared areas here where you can camp. We are in luck that the largest area is vacant. I continue along the track and to see if there is anything else and come to the Coxs Creek Camping Area itself. This track is not the main access, that is a few hundred metres back up Pinnacle Road. This camping area is full, so Kelly radios the others to take the spot at the sawmill.
There is at least one fireplace as well as a couple of rough fireplaces. There is no toilet, but it is a short walk to the Barracks or Coxs Creek Camping Areas where there is one. This is a pretty nice spot, so we find places for our cars and open up the roof top tents. It is now 3:10 pm.
I read the paper for a while before we start the fire. Kelly and Catherine get the fire going early as we are all having roast dinners tonight and need a lot of coals for the three camp ovens. We set up the shower tents and most of us have a nice hot shower. It really is great at the end of the day to get rid of the dust.
We start drinks early (before 5 pm) and have some nibblies. it is quite cool once the sun has gone down and we need to put on our beanies and jumpers quite early. I do some garlic bread for Kelly and I as an entree. Ron is cooking roast pork and we are doing a roast chicken. We both have vegies as well. Ron puts the pork on first as it is quite a big bit. Our chicken takes a bit over an hour compared to the 90 minutes for the pork. We are sharing the meat, so we need to time them to be ready at the same time. Catherine and Paul are vegetarians so they a looking after themselves.
We end up having roast pork with apple sauce, roast chicken with gravy, roast potatoes, pumpkin and carrots. Brilliant! We often say that they should have a MasterChef based around bush cooking, we reckon we would win it hands down. Later, Catherine cooks some bananas with chocolate and then a lemon pudding (again, made in the camp oven). The pudding was especially good, even more so considering it was her first attempt at it. She then made some cheese scones for morning tea tomorrow.
For the rest of the night we look at the stars, sometimes with our binoculars, with Ron guiding us in which star is which. Some of the stars that you think are single stars (eg Orion's belt sword) are actually multiple stars.
During the evening we hear mopoke (boobook) owls calling and later, once in bed, I hear a powerful owl. As usual, we go to bed at 10 pm. It is a very cool 8ÂșC.
Weather: Fine, maximum of 22ÂșC Arrived: Coolah Tops National ParkTime: 3:10 pm Distance: 164 kilometres
Day 4 - Sunday 24 April 2011 - Coolah Tops National Park
Weather: minimum of 7.1ÂșC and fine
Unusually, the temperature only dropped another 0.9ÂșC from when we went to bed till the minimum at about 5 am. This was quite a warm night considering we are camped at 1060 metres and it was a clear night. The early morning quiet is broken by hordes of white cockatoos. They are screeching all over the place. It really is a most-Australian sound. We get up at 8 am and it is 8.6ÂșC. We are pretty well shaded so it takes a while for the camping area to warm up.
We have breakfast and make a generally slow start to the morning. We decide that we will drive to the northern end of the park first and then to the eastern end. Before we leave, we position our chairs, tables and shower tents to make it obvious we are camping here.
At 10:40 am we leave and drive out to the end of Pinnacle Road, arriving at 10:50 am. This is a spot called Bundella Lookout. There is another small camping area just before the end of the road, off to the left. It is called Rocky Creek Falls. Again, this is not on the web site or in the brochure.

A panoramic photograph of Kelly at the Pinnacles Lookout
The end of the road would be a perfect spot to camp. There are large cleared areas and it would be an amazing camping area. However, there are large signs saying "no Camping". At the end of the road there is a picnic area as well as two lookouts. The first is called Bundella Lookout. This is an easy walk across the flat cleared area. There are views to the north over the Liverpool Plains.
The better lookout is called the Pinnacles Lookout. This is a bit longer walk (perhaps 600 metres each way) but is flat. The last bit goes out on a ridge that has steep drop-offs either side. At the end, there are views of at least 270Âș to the south, west, north and east. This a truly spectacular spot as the height is about 1050 metres and the land below about 500 metres.
As we sit here, a large eagle flies past at eye level. I am not sure if it was a wedge-tail as it only flew past once close and then went right over to the vertical cliff to the east. We spend a bit of time here admiring the view.
| | |
| --- | --- |
| | |
| Kelly and I at the Pinnacles Lookout | Looking back at the ridge at The Pinnacles Lookout |
Back at the car we have morning tea (including the scones Catherine made last night) before heading off again. We leave at noon and head back down the Pinnacles Road to Forest Road. We turn left and head all the way out to the end. It takes 52 minutes to travel the 31 kilometres (35.6 km/h) out to Breeza Lookout.
As we go we see signs saying "Third Ramp", "Fourth Ramp" etc. We have no idea what this means and still cannot figure it out, although I suspect that they are places where logs were rolled onto trucks via some sort of earth ramp. However, as far as we can see, there is nothing left to indicate this.
| | |
| --- | --- |
| | |
| The view from Bundella Lookout | Stopped on Forest Road at a spot near the cliff face |
Beeza Lookout is so named as it looks out towards Breeza (not sure if this is a town or just a locality). It has quite good views to the north, but the rest is obstructed by the tall trees. There is a picnic table here and some people having lunch. When they leave, we have lunch. We leave at 1:30 pm and head back towards our campsite. It is now a bit cloudy and the strong wind is quite cool.
Just over one kilometre back up the road a track comes off to the left (south). This is Gemini Road and is a loop that comes back onto Forest Road after 3.4 kilometres. It is an easy drive, although two wheel drive vehicles will need to take care. After 2.5 kilometres we come to Cattle Creek. Adjacent to the creek are the Cattle Creek huts.
| | |
| --- | --- |
| | |
| The view from Breeza Lookout | The Breeza Lookout Picnic Area |
The closest one to the road is called Snows Hut. This was built in 1963 by forestry worker, Donald "Snow" Pengelly (presumably Pengelly Crossing where the road crosses Coxs Creek next to the Barracks Camping Area is also named after him). It is in reasonable condition and two cars with roof-top tents could camp here.
| | |
| --- | --- |
| | |
| Snows Hut | The Prado in front of Snows Hut |
We do not stay long and a few hundred metres up the road we stop at the the Giant Snow Gums Walk. There is a small car park here and a table. The walk is flat and only 1.2 kilometres. It loops around to the south back towards Cattle Creek before heading north and back to the car park. It passes dozens of snow gums, which here grow much higher than those in the high country further to the south. These ones are said to be the biggest in Australia. A nice walk.
It is now 2:20 pm and we still have to get wood for our fire tonight. We plan to do this outside the park as we want to cut it into small pieces. We decide not to drive around Talbragar Road which is a four wheel drive track and goes too another waterfall, Talbragar River Falls. We figure it will take quite a while to do (it is probably over 10 kilometres at least) and we want to be back at camp before 4 pm.
| | |
| --- | --- |
| | |
| Kelly is dwarfed by the giant snow gum | A mushroom at the base of a snow gum |
We exit the park and I cut some fallen timber to give us enough for cooking and heating tonight. We arrive back at Coxs Creek Sawmill at 3:20 pm. There is now no-one else camped here as the other vehicles have left.
We relax and read for a while before starting the fire for dinner. Tonight we are all having a barbecue, so we do not need heaps of coals like last night. However, I am cooking a apple crumble dessert (two actually, fits better in the camp oven) so I prepare this early. We have a shower (Kelly has been having hers in the morning) and then drinks and nibblies. Kelly and I cook some nice sirloin steaks and sausages with some onions and capsicum.
After dinner, I put the desserts on. This dessert takes at least one hour to cook so I need to put on straight after we have finished dinner. I check it a few times and it is progressing well, it needs to cook long and slow to make sure the apples are very soft. It is finally finished about 8:30 pm and we have with some thickened cream. Very nice as usual.
Most of the others go to bed at 9 pm but I stay up with Paul talking till about 10 pm. Again, the stars are very bright here.
Weather: Fine, maximum of 20ÂșC Arrived: Coolah Tops National Park Time: 2:20 pm Distance: 84 kilometres
Day 5 - Monday 25 April 2011 - Coolah Tops National Park to Merriwa River
Weather: minimum of 7.3ÂșC and fine
This morning is very similar to yesterday and the temperature the same. We have breakfast and pack up with a plan to leave at 10 am. While we are doing this, a LandCruiser comes in. This turns out to be Bruce Cook and his wife who used to be members of the Jeep Club of NSW (which we were also members of). He saw us yesterday out at Bundella Lookout but did not get a chance to say hi. Funny thing is that on 31 December 2007 we ran into them near the Murray River at Tom Groggin in Victoria.
| | |
| --- | --- |
| | |
| Our campsite at Coxs Creek Sawmill | The beer garden of the Royal Hotel, Merriwa |
We leave at 10 am and stop to cut some wood at the same place as yesterday. We are back on the road at 10:20 am and drive to Coolah. Donna wants need to get some more honey from the place she purchased some on Saturday. The Anzac Day march is on when we arrive and the main street and some others are blocked off. We manage to find our way to the supermarket. We also buy a couple of things but they are out of bread, the hardware section is closed, there are no Sydney Morning Heralds and the supermarket closes at 11 am, about two minutes after we arrive. The others miss out on the supermarket totally.
We leave at 11:15 am and head for Merriwa. We travel via Cassilis and the Golden Highway. We originally only plan to stop at Merriwa to get bread and some gas canisters but nothing is open. We go to the Royal Hotel for a beer and decide to have lunch in the beer garden. I have a nice chicken burger and Kelly barramundi and chips. The beer goes down well as we sit in the sun.
We leave at 1:30 pm. We go to the picnic area on the western side of town and fill up with water (there is virtually none at Coolah Tops National Park). We head off and take the road south just outside town. We are staying tonight on a private property owned by the family of one of our diving buddies. It is on the Merriwa River.
We see that there is a vineyard on the way and we decide to stop there. It is called Stone Hill Vineyard and the owner, Len, is a character. Italian born, he never stops talking. We taste quite a few wines and we all end up buying some. Kelly and I get a Semillon, two merlots and two ports for $56.
We finally leave at 2:55 pm. It is not far to the property and we get there at 3:15 pm. We spend some time deciding on where to camp as there is long grass and a bastard of a cactus that goes right through running shoe soles! Ron and I decide to camp next to the house and Paul a bit below us on a flat rock. It is 3:45 pm by the time we are in place.
Camped at the house on the Merriwa River
We have the key to the house so we open it up. It is a small two roomed hut really, with a nice verandah. We do not plan to sleep inside, but it will be handy for preparing dinner.
Tonight I am cooking dinner for everyone. I will be making pizzas, so Ron starts the fire. I have made pizzas on all our trips since 2003 when we are away for more than two or three nights. Kelly and I have a wood fired pizza oven in our backyard so we have a bit of experience now in cooking them in the pizza oven and using a camp oven.
I make up two lots of pizza dough. Kelly is cutting up all the toppings. We have two types of salami, chicken, mince, cabanossi, capsicum, tomato, onion and pineapple to choose from. Once the dough is made, I sit and read for a while on the verandah.
Once the dough has risen, I get a beer and return inside to make the bases. To do this, I cut the dough into eight pieces. Using a Coke can, I roll each piece into a base the size that will fit in our camp oven. It actually will sit on aluminium foil inside a cake tin, so I line the tin with foil, oil and flour it and put the base in. Then I take it out and put aside. Once I have made all eight, I take two and make garlic, herb and cheese pizzas. These will be our entree. Click here to see a full description of how to make pizza in a camp oven.
I make my pizza up and then call the others inside to make theirs. Paul and Catherine being vegetarians use their own toppings.
We have been keeping the fire going and I now take the camp oven and start heating it. Once it has heated sufficiently (about 30 minutes on the fire), I load the first garlic pizza into the camp oven. This takes only three minutes to cook as it is quite thin. I put the second one on as soon as the first comes out. These are consumed quickly!
We have planned it so that I cook one pizza per couple and they share it and then once everyone is done, we do each couple's second pizza. However, as I am cooking, Kelly has a whole one and I leave mine till second last. Ron then cooks the last one for Catherine and Paul as he has been watching what I do. All of the pizzas come out perfectly!
Kelly and I have our pizzas with some nice Australian sparkling wine. It is a very warm night and I do not even put on a beanie or jumper. At the fire it was too hot and I had to roll up my sleeves. We are now only at 200 metres, so the temperature is much higher at about 18ÂșC.
Paul and I decide to try the port we have just bought. It goes down well, perhaps a bit too well as we drink half a bottle. We go to bed at 10 pm so I am told.
Weather: Fine, maximum of 24ÂșC Arrived: Merriwa RiverTime: 3:15 pm Distance: 145 kilometres
Day 6 - Tuesday 26 April 2011 - Merriwa River to Sydney
Weather: minimum of 15.4ÂșC and mostly fine
Kelly and I are going home but the others are spending one more night away. They have not yet decided where they will camp, but probably away from the coast as rain is forecast for Sydney and the coastline for the better part of the next week.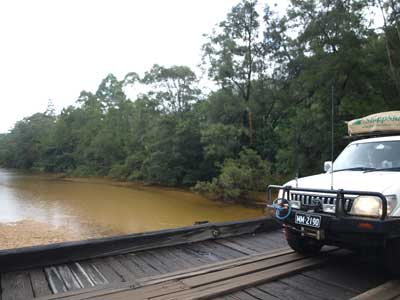 Crossing the Colo River
We leave at 9:50 am and head back to Merriwa. We are going to travel home via the Putty Road as we have not been that way for a long time. As we get closer to Merriwa I decide to change from the main fuel tank to the sub-tank. This is 69 litres compared to the main's 90 litres. I normally do not do this till the main is quarter empty but today I do at half. Bugger, the car has no power. I switch back to the main and all is okay. I try the switch a couple of times and notice that the yellow light that signifies the sub-tank is being used is blinking.
Something is wrong, the sub-tank fuel pump appears to be faulty. How lucky is this? If I had done this as I normally do (1/4 of a tank) then we would probably be on the Putty Road and miles from anywhere with very little fuel. We stop at Merriwa and top up the main tank (46.5 litres at $1.549 = $72.00 - average of 15.5 litres per 100 kilometres since Coolah).
We leave at 10:35 am and at Denman stop for morning tea (11:30 am). It has been raining now since just before Merriwa. It is cool now, only 16ÂșC and windy. We are back on the road at 11:30 am. We are still on the Golden Highway but a couple of kilometres out of Warkworth we take a road that joins the Putty Road near Bulga.
The Putty Road is quite windy in spots, and it is not a place where we can sit on 90 km/h for long. It is a very scenic route, but not many places to stop. A few kilometres before the turn off to Putty village, we stop in a roadside rest area for lunch. It has rained quite heavily along the road, at times we had to slow considerably to see ahead.
It is 1:00 pm and Kelly and I cook toasted sandwiches (in a jaffle iron) for lunch. This is not a great rest area, no toilets and old and poorly maintained facilities. Even the sign is old, referring to the Commissioner for Main Roads (has not existed since 1989). It starts to rain again as we head off at 1:20 pm.
I have not been along the whole length of the Putty Road for probably 20 years and on the southern section for about 10 years. I see lots of familiar places where I fought bushfires over the years.
As a child Kelly used to go camping on the Colo River so we decide to divert to have a look at the camping area. The place she mostly stay at was the Upper Colo Reserve run by Hawkesbury Council. Once we cross the Colo River we take the Upper Colo Road and follow the signs. We get to the reserve and find a nice camping area. There are toilets, fireplaces, electric BBQs and cold showers. The cost is $6 per adult a night (which you have to pay prior to arriving).
We only stop for a minute and then head off back to the Putty Road. We travel home via Windsor, the M7 and M5 and get back home at 4:40 pm.
We have had a great six days away, with some good friends and been to some new places. If we get a chance, we will certainly be back to Dunns Swamp and Coolah Tops National Park again.
Weather: Raining, maximum of 19ÂșC Arrived: KareelaTime: 4:40 pm Distance: 405 kilometres
Summary
Distance: 1,285 kilometres

Camping: $10
Fuel: $282
Economy: 14.4 litres/100 km
Plus food.