For the previous part of this trip, click here.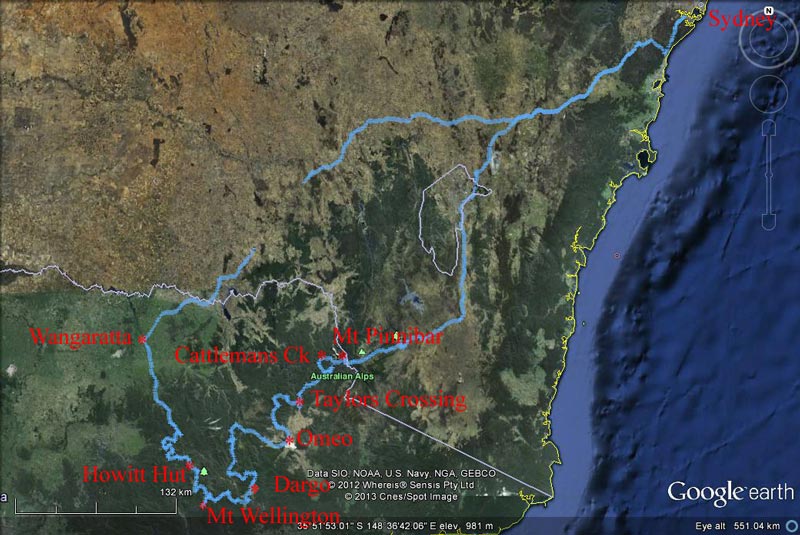 Our route as recorded by our GPS using OziExplorer and uploaded to Google Earth
Day 7 - Friday 28 December 2012 - Millers Hut to Collins Flat, Dargo River
Weather: minimum of 8.0ÂșC and overcast
As mentioned, it rained during the night, but as far as we can recall, none fell apart from just after we went to bed. We get up at 7:30 am as it is a slow trip back out. We do not have a lot of travel today. My planning for today is not too good as it will turn out, as the roads that I thought were going to be pretty good turn out to be quite hard 4WD tracks. More about this later.
After breakfast, we pack up and go to depart. However, Kelly cannot find her prescription sunglasses. We search everywhere, but cannot find them. She has to wear her normal glasses which make it very glary.
| | |
| --- | --- |
| | |
| Mt Wellington is totally covered in fog/cloud | The fog/cloud rolls in over Mt Wellington |
We depart at 8:45 am and back track to Mount Wellington. There is cloud and fog on it today and at times you cannot see far at all. We only stop for a couple of minutes to take some photographs. Back at the Moroka Range Track, we decide to turn right as our guide book shows you can go this way and then cut back to the Moroka Road. We leave this intersection at 9:40 am.
At 10:25 am (eight kilometres from the intersection) we turn left at Valencia Track/Old Moroka Road (which goes to the right). Another kilometre along we turn left again (Moroka Range Track goes right or straight ahead). These tracks have been pretty good as the track follows the ridge.
| | |
| --- | --- |
| | |
| Moroka Hut | A close-up of the timbers of Moroka Hut |
We have never seen the track that is shown in the book as going back to Moroka Road and the only one on the GPS that comes close is really overgrown. This latest track ends after less than a kilometre at Moroka Hut. We decide to walk the short distance to it. It is 10:35 am and we have come 19 kilometres in 100 minutes of driving.
The whole area around the hut is blocked to vehicles and it is easy to see why. it must get very soft when wet as there are huge ruts all over the place. We walk the 300 metres to the hut. This is really nice, a pity you cannot drive right to it as it would be a great place to camp. You can also walk to the hut from the Moroka Road apparently. We walk back to the cars and have morning tea. We leave at 11:05 am.
| | |
| --- | --- |
| | |
| Moroka Range Track | Horseyard Flats Hut |
We go back to the Moroka Range Track and turn left. Another two kilometres brings us out onto Moroka Road. As mentioned yesterday, this road is a pretty good 2WD road so we make good time.
From the intersection it is five kilometres to Horseyard Flats Camping Area. We were originally going to camp here but I decided instead to spend last night at Millers Hut. This is a large camping area with plenty of grassy areas and some toilets. There is also a shitty old hut (from the outside) but which is much nicer inside. We leave at 11:30 am.
Horseyard Flats Camping Area
East Pinnacles fire tower and view to north-east
Four kilometres along we turn into Billy Goat Bluff Track (all the names of tracks around here are confusing, books and maps do not necessarily match what is on the actual signs - if they exist). Another five kilometres and we turn into what now appears to be called Pinnacles Road. Just before this there is an intersection with Castle Hill Track on the right, Billy Goat Bluff Track to the left. The Pinnacles Road goes straight ahead.
It is a further 1.5 kilometres to the lookout. We arrive here at 11:50 am. It is a short but steep walk to the end where there is a fire tower right on the edge of the cliff. There are magnificent views out over the Wonnangatta Valley and the Crooked River. You can see a very long way and there are some good diagrams that help identify the various landscape features.

A panoramic photograph from East Pinnacle fire tower
Back at the parking area there are tables and BBQs and there is a toilet on the way to the fire tower. There is also a nice camping spot about 100 metres back. We depart at 12:25 pm and head back to the intersection and turn left into Castle Hill Track.
Well, this track is a lot worse than I thought it would be. I was expecting a 2WD road or at the very least, a reasonable 4WD track. Looks like we are going to take a lot longer today than I planned.
| | |
| --- | --- |
| | |
| Kelly and Michael at East Pinnacles fire tower | A section of Castlehill Track |
After 30 minutes we have covered eight kilometres and arrive at a spot called Jump Up Hill. Here we come to Junction Spur Track where we turn left. It is a steep rocky descent from 1275 metres to 1070 metres over the next 800 metres of track. The track follows the ridge and gradually descends more to 890 metres at a helipad. We reach here at 1:30 pm and decide to stop for lunch. There are views back to the East Pinnacles.
Along this whole section of track there are a number of places that have good views. We leave the helipad at 1:50 pm and continue to descend to Castleburn Creek South Branch. We reach this at 2:05 pm (2.6 kilometres from helipad). We are now at 410 metres. We follow the creek for about one kilometre, crossing it a number of times. Just before leaving the creek valley, we turn left into Traill Track.
The track climbs again to Dingo Hill, gaining 360 metres in about 1.5 kilometres. At the top there is another intersection with no signs. We turn right at McCarthys Spur Track (which goes left) and are still on Traill Track. This follows the ridge line and has been recently graded. We sit on about 20 to 30 km/h.
The track again descends steeply and at 2:45 pm we arrive at Dargo Road (altitude 220 metres). We turn left and head on the tar road the 18 kilometres to Dargo where we arrive at 3:05 pm.
| | |
| --- | --- |
| | |
| The helipad on Castlehill Track | The Dargo Hotel |
Dargo is a tiny little town, with not much more than a pub and a general store. We need to get some supplies, but first we go to the pub for a beer. The Dargo Hotel is surrounded by 4WDs and is doing a roaring business. We have a couple of middies and while we are doing this, Kelly and Donna disappear to the store to get some bread and other things. They come back and we all finish off our second beer.
There is no place in the centre of town to dispose of rubbish (we have seven days' worth) nor get any fresh drinking water. We drive to the community hall and find some garbage bins. They are overflowing already, but we need to get rid of what we have, so we add to the pile. They have a waste disposal centre but it is only open three days a week. We cannot get water.
At 3:55 pm we head north out of town on the Dargo High Plains Road. At the Upper Dargo Road (5.7 kilometres) we turn right. This follows the Dargo River. All along this section of road there are numerous camping areas. These camping areas include Two Mile Creek, Italian Flat, Jimmy Iverson's, Ollies Jump Up, Black Flat and Collins Flat Camping Areas. All the camping areas look nice, but they are very full.
Our plan is to camp at Collins Flat Camping Area which is the last one. I figure that it is less likely to have a big crowd at it. We arrive there at 4:40 pm (24 kilometres from Dargo). It is a nice location. There is a group right on the river near a ford and another car near this and some more to the south (really outside the main area). We find a spot towards the southern end and near the river and set up camp. Guess what, Kelly finds her sunglasses in the roof-top tent. She went there for a "nanna nap" yesterday afternoon and must have left them there. She is a lot happier now.
| | |
| --- | --- |
| | |
| Collins Flat Camping Area | The Dargo River at the camping area |
A lot of cars come in over the next hour, but most leave. Three set up near us (why, there are so many other good spots they could take) and more back towards the ford. Later a couple in 120 series Prado set up between us and the road. We see them tomorrow on Mount Blue Rag.
Tonight is pizza night, so I start a fire straight away. Once it is going, I make the pizza dough and let it rise. Kelly and I then go for a swim/wash. The water is almost warm compared to what we have experienced the past week (I need to get myself a cheap thermometer to record the water temperature).
After this, Kelly started making her sticky date pudding mix (she did the dates while I was doing the dough). I start cutting up the meats and vegies and then roll out the pizza bases. We end up with one each as well as a garlic one and an extra for Kelly and me for lunch tomorrow.
While this is going on, we are having a beer/wine and some nibblies (well off-cuts from the salami etc). For more information on making pizzas in the bush, use the search facility on my web site to find the details.
I make up my pizza and the garlic one and Kelly, Ron and Donna make theirs. Kelly then makes our lunch one. I put the garlic one on and it is done in about four minutes. I then cook each person's pizza, average about five minutes each and then mine and the lunch one. No shop makes better pizzas than our bush pizzas!
After a break, Kelly puts on her sticky date puddings. This takes about 30 minutes. We have them with double cream and butterscotch sauce (that she makes). Excellent. It is much warmer tonight due to the lower altitude of 300 metres and the overcast sky. We go to bed at 10:30 pm.
Weather: Fine, maximum of 25ÂșC but mostly 17ÂșC Arrived: Collins Flat Time: 4:40 pm Distance: 107 kilometres
Day 8 - Saturday 29 December 2012 - Collins Flat to Big River Platypus Hole, Alpine National Park
Weather: minimum of 8.5ÂșC and overcast
Today we have the longest distance to travel of all days apart from the first and last days. Luckily, a lot of this will be on tar roads so this will cut down our travel time. As such, we get up early as I am not sure of how long this all will take, especially as the first part will be very slow.
We are up at 7:30 am and depart by 8:35 am. Our maps show that we follow a track along Dargo River but there is a gate on this road. There is, however, a track that heads up the hill. We take this and discover that this must have been put in to go around the private property that the gated road traversed. A few minutes later we start up Matheson Spur Track, with Kelly driving. Around here somewhere is Harrisons Cut. This is a diversion in the Dargo River to reduce the water flow to make gold mining easier. All along the river and over the hills are places where gold mining was carried out from the 1850s and 1860s. However, we see no sign of it.
| | |
| --- | --- |
| | |
| Downey Road | The site of Grant township |
It is a steep climb in low second along a good graded track. We climb from 300 metres to 800 metres. At 9:05 am we come to Mount Ewen Spur Track, seven kilometres along. This is called Downey Road to the right. We go left at first as Downey Road is not shown on our GPS maps. However, we realise this is wrong and turn back. This is a really good track and we make good time. At 9:18 am we come to the Dargo High Plains Road. We turn left. Eight kilometres along we come to McMillan Road where we turn right. This leads to Grant and Talbotville.
About four kilometres along is Grant Historic Area. This was the location of Grant township which once had 2,000 people living there. It basically closed down in 1903, but some residents stayed till 1916. There is really nothing to see of the 15 hotels, a church, courthouse, police station and more and all the houses that were there at one time.
There is a camping area here as well. We do not stay long as there is not a great deal to see. I should also add that back a bit there is the Grant Cemetery. We did not stop there as Kelly and I did back in 2007 and there was little to see of interest. We head off again at 9:55 am.
There are a couple of ways to get down to the Crooked River and Talbotville. One is a long and hard way, but worth doing as there is plenty to see. The other is the more direct route. However, as Kelly and I did the longer route back in 2007 and we are on a limited timeframe, we take the direct route.
About one kilometre on there is a helipad which has nice views to the north. Another four kilometres on the two routes separate. The right hand one is signposted Bulltown Spur Track and the left one is a continuation of McMillan Road. We take the left hand one. Just over five kilometres down the steepish track is the Talbotville Cemetery, but we do not even see signs of it.
A few hundred metres past here is an intersection. This is basically the location of Talbotville. Today there is a large camping area here and the place is full of people. We camped here in 2007 and had a great time, but beware that there are sometimes a lot of kids riding trail bikes around and raising dust that will enter your tent if you are camped close to the roads. The river here is really nice and there are some deeper holes.
| | |
| --- | --- |
| | |
| Talbotville Camping Area | Brewery Track |
We stop only for a few minutes and leave at 10:25 am. There are two ways out of the valley in the direction we are going. One is the Brewery Creek Road which is the easier route and goes up the western side of the river. We head to the north and then cross the river three times and take South Basalt Knob Track. This runs up a ridge to the north and is much steeper. There are a couple of helipads where you can stop and look at the views (and give your car a rest). It is low range all the way, with second gear used a lot.
As we start the ascent, we come across a three cars coming down. They tell us while one made it, the others could not get up. We think that as they are utes with road tyres this is their problem. Kelly is still driving. We have to wait in one spot while a Land Rover comes down and then we head up. It is low range first gear.
Straight away it is clear that the track is in far worse condition than when we did it five years ago. It is very steep (that has not changed) but the soil has been washed away and it has lots of large rocky steeps. We get about one quarter of the way up this steep section and Kelly gets stuck on a rock shelf. I have to take over and I get up over this on the third attempt. However, the next one is even worse. I can see this taking us hours and causing damage to the cars and possibly more. It is not worth it.
I decide to abandon the attempt and after a lot of careful work, I manage to turn around and descend back to the bottom. So much for that. We return to Talbotville and have morning tea. It is now 11:00 am
We leave at 11:20 am and take the Brewery Creek Road. This is a good track and we use high second and third. It takes us 45 minutes to travel the 17 kilometres from Talbotville to the intersection with South Basalt Knob Track. Here the road becomes Ritchie Road. The altitude is about 1500 metres. After 16 kilometres you come to an intersection where Ritchie Road goes off to the right and North Basalt Knob Track continues to the left. At this intersection, there is a bright red railway truck. It was obviously a sheep or cattle truck as there is an overhead hopper that drops grain inside. It is now sunny. We only stop for a few minutes and leave at 12:27 pm.
| | |
| --- | --- |
| | |
| The train carriage | Ron coming up the Mt Blue Rag |
We take the North Basalt Knob Track and notice the marked change since 2007. Back then the sides of the track were covered in new growth that was very close to the track and made the going slow as you needed to be careful to not damage the car. Today this is all gone. The altitude is about 1450 metres for the next 10 kilometres till you come to the intersection with the Blue Rag Track. The last bit ascends to about 1600 metres. We get to the intersection at 1:00 pm. It has taken almost 105 minutes to travel the 32 kilometres from Talbotville (18 km/h).
We take the Blue Rag Track. It is only 3.8 kilometres to Mount Blue Rag, along perhaps one of the hardest tracks you will ever use. If you are not experienced, it is better to not do this section or wait till there is someone who you can accompany. The track follows a ridge and saddle and has drop offs on both sides. It is very, very steep off each side.
As you come out into the open area, keep looking ahead as if you see a car coming towards you, one of you will need to stop as there is not enough room to pass each other. There are very limited places where a car can pull over off the track. The last section of the track is very steep and composed of loose rocks. You need to use low range and first gear and take it very easy. Whatever you do, if you are the driver, do not look at the views, concentrate on the track.
| | |
| --- | --- |
| | |
| Kelly on Mt Blue Rag | Looking to the west on Mt Blue Rag |
We get up to Blue Rag without any dramas. There are cars everywhere, some on the top, some stopped at the saddle before and more coming up and going down. We see about 25 cars while we are here.
Mount Blue Rag is 1720 metres and has 360Âș views. If there are clear conditions, you can see for what seems like forever. The track continues on down to the Wonungarra River but it is a one-way trip, so we do not do it. We have lunch at this spot, taking in the views. After 50 minutes here, we head back, taking care on the initial descent (after waiting for some cars to come up).
Back at the intersection we turn left. It is a hard track to the Dargo High Plains Road and this takes 15 minutes to travel the four kilometres. This is a good dirt road and we turn left. Not too far along we come to the Great Alpine Road and we turn right. My original plan was to go left and to Falls Creek via Bright, but I have used a huge amount of fuel today and am worried that I will not have enough. Our book says that there is fuel just under 10 kilometres at the Mount Hotham Alpine Resort. We turn right.
It is a climb to the resort and I take it easy trying to conserve fuel in case there is none there. Guess, what, we see no fuel station. Well, we now need to travel 61 kilometres from Hotham to Omeo. Luckily this is downhill, so I coast a lot and take it real easy. We arrive at Omeo at 4:00 pm. I refuel and take only 128.6 litres. It should have taken more as both tanks were showing below E. I think that as the petrol station ground has an angle to it and my car was tilted down on the fuel tank side, I have not been able to completely fill it. Anyway, the cost was $1.49 a litre, pretty reasonable considering Sydney has had that price a lot lately.
After this, we go to the toilets just up the road and refill our drinking water from a tap in the ladies. We then go to the supermarket and get some more sparkling wine and other things. We leave at 4:40 pm.
| | |
| --- | --- |
| | |
| Big River Platypus Hole | Big River Platypus Hole |
We head north out of town on the ill-named Omeo Highway. This starts off good but becomes a winding narrow road and then, further on (tomorrow), a dirt road. Once you get a bit out of town there are a number of nice camping areas. They are all on the Cobungra River or Big River (also called Mitta Mitta River). Unfortunately, they are all crowded, although we could have fitted in if we really wanted to.
We pass Anglers Rest Camping Area, probably the nicest, with a hotel within walking distance. At 5:40 pm when 35 kilometres from Omeo, just past Bundara River Canoe Picnic Area, I spot a cleared area below the road and then a track.
We head down this short track and find a small spot for two to three cars right on the river. There is also another spot about 40 metres to the north which is occupied. The site has a mostly sand base with some longish grass. As mentioned it is right on the river, with a deep hole as well. This will do fine.
| | |
| --- | --- |
| | |
| Big River Platypus Hole | This is the Big River Platypus Hole |
There is easy access to the river so as soon as we set up the camp, Kelly and I go for a swim. There is a shallow rapid section but also a deeper hole that comes up to my chest. The water is cool, but not too bad.
We have a late drinks and nibblies and then Kelly cooks chicken leak and I do the rice. We do not have a fire tonight as the wind is blowing quite strong from the south and it was relatively warm anyway. We are in bed by 9:30 pm.
Weather: Fine, maximum of 20ÂșC Arrived: Big River Platypus Hole, Alpine Tops National Park Time: 5:40 pm Distance: 210 kilometres
Day 9 - Sunday 30 December 2012 - Big River Platypus to Taylors Crossing
Weather: minimum of 7.3ÂșC and fine
Today we do not have to travel very far and after the long day yesterday, we have a relaxed start to the day. We get up at 9:00 am. While I am starting to get things together for breakfast, Kelly looks out the roof-top tent towards the deep pool and shouts "platypus". I rush over and sure enough, there is a small platypus swimming on the surface. Ron and Donna get up and over the next few minutes, they manage to see it as well. Brilliant, only the third time I have seen one and the first for the other three. Hence the name we gave to this unnamed camping area.
After we did not see the platypus for 15 minutes, we figured it was back in its nest, so we went for a swim. Kelly even washed her hair (not in the water so as to pollute it). We have breakfast and then pack up. We depart at 10:50 am. Ten minutes north we stop at Jokers Flat Camping Area which is really nice. There were a few empty spots here. We use the toilets and then head off again.
| | |
| --- | --- |
| | |
| A section of Jokers Flat Reserve Camping Area | Wombat Track |
We continue north on the Omeo Goat Track (sorry highway) which turns to dirt after Glen Wills. I am amazed that the highway is signposted as being 100 km/h but it would be dangerous to do more than 70 km/h for more than a 100 metres at a time. I have only got into fifth gear about three times in more than 65 kilometres. There are lots of tracks off the road near Middle Creek that lead to nice bush camp sites.
About 35 kilometres from our campsite we turn right into Razorback Spur Track. This is a dirt road but not too bad. The road follows the ridge and then meets up with Wombat Creek Track after seven kilometres. Here we turn right and follow this to Wombat PO. Again, the road follows the ridge, although it is nowhere near as good. There are a few steep descents from 1200 to 632 metres. At 12:40 pm we arrive at Wombat. The PO stands for Post Office as the only building left in this once thriving town is the old, tin post office. It is eight kilometres from the intersection with Razorback Spur Track.
There is a small camping area here, about 50 x 75 metres of grass. It is not real flat though, so care is needed to find a suitable spot, especially for roof-top tents. There are two tables, a toilet and the creek as well. We decide to not stay here and to have lunch instead. We depart at 1:20 pm.
| | |
| --- | --- |
| | |
| Wombat PO Camping Area | Wombat PO hut |
We take Four Mile Creek Track (Kelly is now driving). This is nowhere near as good a track as I expected it to be from the book I am using. In fact, the distances on this section appear to be totally inaccurate. We end up not seeing the road that heads south back towards Omeo. Our plan is to go to Taylors Crossing which is on the Mitta Mitta River (as it is called here).
It takes us 40 minutes to travel the 14 kilometres to Taylors Crossing where we arrive at 2:00 pm. As it implies, this is a spot where you can cross the river via a rocky ford. There is a camping area on the side we are on and a picnic area on the other side. There is a vehicle in the camping area but it looks like they are not staying here, just having a swim in the river. We park in the shade and then took out our chairs and set them up overlooking the river. This is a real nice spot.
| | |
| --- | --- |
| | |
| Taylors Crossing | Taylors Crossing Camping Area |
We have decided we will spend all afternoon here and then stay the night. The camping area is not all that big, perhaps space for 10 cars at the most. There is also a toilet, but it is across the river. You can walk over the river or use the new fancy suspension bridge to walk across. We have a few swims, it is really nice in the water.
The car in the camping area leaves so we pick our spots and set up camp. Later, a bogan family turns up in three cars. The youngest adult male is a dickhead. He drives across the river at least 20 times, sometimes so fast he is out of control. They finally leave at 6:00 pm, not soon enough! Before this, a couple come from our side and walk across and set up camp on the other side. They are obviously doing a long walk.
At 5:30 pm we move our chairs to the edge of the riverbank and have drinks and nibblies watching the bogans. At least they did give us a bit of entertainment. Around this time a pair of gang-gang cockatoos fly in and land on the water's edge. They are beautiful, especially the male with his bright red head.
| | |
| --- | --- |
| | |
| The Taylors Crossing pedestrian bridge | Crossing the Taylors Crossing ford the next morning |
We are having meatballs and pasta. I cooked and vacuumed sealed them before leaving home so all Kelly needs to do is heat them up and add the sauce. It is still quite warm even in the shade at 7:00 pm. Kelly goes over to the other side and asks the bushwalkers if they want to come over for a drink and some dessert.
Rob and Jill come over later and we give them a wine and some dessert. We have four sticky date puddings left over from a few nights ago as well as some small Christmas puddings. They are doing the entire Bicentennial Walk which goes from Valhalla in Victoria to the ACT. This is their 15th day and they have 11 to go. They have done at least a section of this walk before. They dropped off food supplies back in October at various locations and tomorrow they will get new food. They ask us if we can take their rubbish when we go tomorrow.
After a couple of drinks and dessert, they head back to their tents. We go to bed at 10:30 pm (spotted 13 satellites and 2 shooting stars).
Weather: Fine, maximum of 24ÂșC Arrived: Taylors Crossing Time: 2:00 pm Distance: 67 kilometres
Day 10 - Monday 31 December 2012 - Taylors Crossing to Cattlemans Creek Camping Area
Weather: minimum of 6.4ÂșC and fine
Today is New Year's Eve and we have a reasonable distance to cover, some of it is very slow due to the nature of the roads. We get up early (for this trip) at 7:30 am. Kelly and I have a swim before breakfast. We pack up and leave at 8:40 am.
We cross the river and collect the rubbish where the backpackers left it. We take the local dirt road to the Benambra-Corryong Road and then head north on this. We actually came down a far whack of this this road exactly two years ago. This time we are going up to the same spot.
It is 37 kilometres from Taylors Crossing to Pheasant Creek Track which starts a few hundred metres to the north of here. This is a very steep track and should only be attempted if you are experienced. We did this track two years ago when the tracks we planned to take were all closed due to flood damage. Straight away the track is steep and it is low range second gear as we ascend.
| | |
| --- | --- |
| | |
| The bash plate is clearly stuffed | Michael and the beat up bash plate |
It is 585 metres as we leave the main road and head up. We climb to 1,050 metres over the next 2.6 kilometres, averaging 12km/h. Just past here we have to stop from 9:40 am for five minutes. The second bash plate that covers the transfer case has broken again. It is not my repair using fencing wire, but the other side. Stuff it, I use pliers and cut the wire and take it totally off. Once back underway, for the next 3.8 kilometres we follow a ridge, keeping between 950 and 1,100 metres.
At 10:05 am we start a very steep descent. This is first and second gear low range. We drop from 1,050 metres to 695 metres over 1.4 kilometres. We average 7 km/h. At the bottom is the Buenba Creek. The last time we crossed the creek it was really flowing and came up to the bottom of the bonnet. However, today there is only a modest flow of water. There is a small camp site just before you cross the creek and there are a few blokes here fishing.
It is another even steeper climb up from the creek. The track climbs from 695 metres to over 1,300 metres over the next 2.5 kilometres. Our average speed is 12 km/h. the track continues to climb, but more gradually. There are five separate climbing sections. Where possible I change to high range and use first and second gears.
Last time around here I found that my Prado was overheating and the radiator boiling. Again today there is a problem. The temperature gauge has moved up from its normal spot and while not as high as last time, I decide to stop to let it cool. It drops a little but once underway it cools a bit more. After another steep section it rises again. This has never happened before or since apart from this same track. All I can figure is that the tall grass in the centre of the track is interrupting the air flow to the radiator. A combination of two events, a very steep climb and long grass.
| | |
| --- | --- |
| | |
| About to cross Buenba Creek | On Pheasant Creek Track at the intersection with Buenba Road |
We continue on, climbing to over 1,500 metres. For the next 7.3 kilometres we stay between 1,400 and 1,550 metres. At 11:00 am we reach the Buenba Road. We have been on this road a few times before, back in late December 2007 and exactly two years ago. I check the radiator and the water container and both are okay. Today it only got hot and did not boil like last time (it was about 40ÂșC that day). Very strange!
We have covered 20 kilometres over the past 80 minutes, an average of 15 km/h. This track has been one of the steepest tracks we have ever travelled on. We stop for morning tea and cut some timber for tonight's camp ovens.
At 11:30 am we turn left and head north on Buenba Road with Kelly now driving. Only 950 metres on we turn right into Gibbo Track. This track is on the right and shown as Mt Gibbo Track (also shown as Wild Boar Track in some places and even Pinnibar Track). The track from here is fairly steep as we climb towards Mount Gibbo which is 1750 metres.
Last time we had to cut a tree that had fallen across the track but today all is clear. It is a steep climb for the next 1.8 kilometres to the ridge and then another 5.4 kilometres to the summit. It is also a lot rockier than we remember from last time. Mount Gibbo has some great views. It is 12:05 pm when we get here. We have taken 33 minutes to travel the 7.6 kilometres from Buenba Road (13.4 km/h).
| | |
| --- | --- |
| | |
| Michael on Mt Gibbo | Donna on the trig marker on Mt Gibbo |
After a short stop, we leave at 12:15 pm and head north. From Mount Gibbo the track drops quickly for the next 700 metres and less than two kilometres on we come to Mount Anderson. This does not have great views. The track drops a little more and then follows the ridge at about 1350 metres. Continuing on, 5.6 kilometres later we come to Wheelers Creek Road (also called Wheelers Creek Logging Road). It is now 12:52 pm, meaning it has taken 37 minutes to travel the 7.3 kilometres from Mount Gibbo (11.8 km/h). We turn left here as we want to head back to the main road and then north-west to Wheelers Hut.
Wheelers Creek Road is very windy as it follows the same contour in a very steep valley. However, it is a very good road. After 21 kilometres we come to the intersection with Buenba Road and Wheelers Creek Logging Road. It is 1:32 pm. We turn right into the latter and it is a good run to Wheelers Hut. This is 11 kilometres from the intersection and we arrive there at 1:50 pm.
Wheelers Hut is located on Wheelers Creek. When we were here two years ago the bridge was being rebuilt but it is now complete. We are unlucky as the whole place is full. While no-one is camped at the hut itself, they have set up chairs over this whole area. Plan B will need to come into action.
| | |
| --- | --- |
| | |
| Our camp site at Cattlemans Creek | Wheelers Hut |
We cross Wheelers Creek and a few hundred metres up turn right into Cattlemans Creek Track. About 100 metres down is Cattlemans Creek Camping Area. It is not too bad a spot, but is right on the road. If anyone comes along there will be lots of dust. This will have to do. it is grassed but at the moment there is too much sun. We park in the shade and have lunch. Of course, as today is New Year's Eve, we are planning a big feast for dinner, so we want a nice spot if we can.
There is one other camping area near here. This is the Paddy Joy Camping Area which is 600 metres along Paddy Joy Track which is about 450 metres back the way we came in (before the hut). It is at the intersection of Paddy Joy Creek and Wheelers Creek. It is a small area, good for a couple of cars, but not great.
After lunch we read for a while and then Ron and I walk to Wheelers Hut. There really is no space where we could fit. If the people moved their chairs away from from in front of the hut back to near their own tents we could have fitted in, but that is it.
Once back at the camping area we fully set up camp. We have a lot of timber we collected earlier and this is piled up and split ready for the fire we need to make. We read for the rest of the afternoon.
At 5:10 pm we start the fire. We do not intend to have dinner till a bit later tonight, so we are in no rush. We also do not start our nibblies and drinks till a bit later so we can last all the way to midnight (as we have done every NYE we have been out camping). Of course we all have hot showers from 6 pm (the creek was freezing) and then we break open the beers and sparkling wine. Kelly is drinking some very good Australian bubbly and Ron and I start on the beers while Donna is on wine.
The fire is going well. We have prepared our vegies (potato, pumpkin and carrots) to go with the meat. We are cooking roast beef and Ron is doing a chicken. While we sit around we all read our books. Ron puts the chicken on at 6:30 pm (it is a big one) and I put the beef on at 7:20 pm.
I am also cooking my traditional apple crusty pudding, so I start to prepare the apples and the batter. For the first time I am using canned apples. Normally it takes at least an hour to cook, but this time I suspect it will be quicker. I will put it on well after we finish dinner with the aim of eating it about 11:00 pm.
| | |
| --- | --- |
| | |
| Our New Year's Eve Dinner | Kelly and Michael about to have New Year's Eve Dinner |
The roast beef takes about an hour and at 8:25 pm we serve up a feast. I do not know why, but our bush cooked roasts taste so much better than ones done in the oven at home. We wash it down with a very nice Grant Burge sparkling and then some Brown Brothers.
I put the dessert on at 10:00 pm and at 11:00 pm it is done. I serve it with cream and brandy custard. It is beautiful.
After this we pull out the cards. Not normal playing cards, but Uno. We have done this for a number of years on NYE. Later, Donna pulls out her genuine French Moet and Chandon champagne and we all have two glasses. I can honestly say that the NYE we have had out camping in the bush are the best I have ever had. The Uno ends up with Donna 5, Kelly 5, Ron 2 and me 2. So the girls win and it is a drawer in the Kareela v Bangor households.
Once we polish off the grog we head to bed. It is 1:30 am.
Weather: Fine, maximum of 28ÂșC Arrived: Cattlemans Creek Camping Area Time: 1:55 pm Distance: 105 kilometres
Day 11 - Tuesday 1 January 2013 - Cattlemans Creek Camping Area to Leather Barrel Creek Camping Area, Kosciuszko National Park
Weather: minimum of 6.5ÂșC and fine
We have a very late start to the day, trying to make up for the very late night. We end up having to get up as it gets too warm in the tent. It is 9:30 am when we get up. As we are not going far today, we can delay our departure till lunch time if we feel like it. I get the fire going again as I have bacon and eggs planned for our breakfast. Nothing like some greasy food to fix you up after a big night!
Considering what we drank and how late we stayed up, we feel pretty good today. Kelly goes for a swim in the creek (well a splash really) to wake herself completely up. We finally pack up and after visiting Wheelers Hut to use the toilet and grab some timber left their by the people who were camped there (they are all gone), we leave at 11:40 am.
Today we have a plan A, plan B and plan C. They all relate to getting to the summit of Mount Pinnibar, but via different routes. Plan A is to go the most direct route, B the next most and C the other way.
I decide that Plan C is the one to use as we have had enough rough roads. We head off across Cattlemans Creek and up Cattlemans Creek Track. It is now 22ÂșC. About nine kilometres on we turn right into Dunstans Road and then another nine kilometres right into Walkers Road. This last six kilometres has some very rocky and steeper sections.
| | |
| --- | --- |
| | |
| The Prado at Mt Pinnibar | Kelly on Mt Pinnibar looking to the south-east |
At 12:25 pm we arrive at Mount Pinnibar, 1772 metres. It is quite windy up here and there are a couple of other cars. We spend
There are fantastic 360Âș views from the summit and you can see right over into NSW. I am not sure if you can see Mount Kosciuszko, but it must be nearly visible. We depart at 12:50 pm.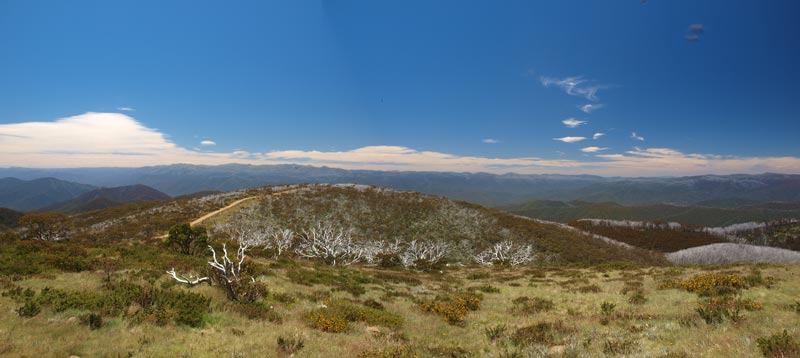 A panoramic photograph from Mt Pinnibar looking east towards Mount Kosciuszko
We head down from the mountain on the other side to the one we came up. This on Mount Pinnibar Track. It is a very steep and rocky drop fro the first bit 1.2 kilometres till we come to the Mt Gibbo Track (also shown as Wild Boar Track) which is the track we used yesterday to go to Mount Gibbo. This time we turn left and head north or north-east.
This track takes us to Tom Groggin. This is a locality on the Murray River, the border between NSW and Victoria. Tom Groggin is actually the name of the private property here and you used to have to pass through it to get back into the national park. We did this section of the track in late 2007, although as we later find out, the track has been moved quite a distance in parts.
The first 3.5 kilometres section is quite steep and it is low range first and second most of the way. The track follows a series of ridges down to 860 metres till you take a right turn at an intersection. However, 6.4 kilometres from Mount Pinnibar I hear a dragging noise. Sounds like another stick jammed under the car. I get out and have a look. Shit! No stick, the shock absorber on the back left is hanging down and rubbing on the tyre.
Well, this is a problem I think. Ron soon catches up to us. I walk ahead and see if there is somewhere close I can move to that is a bit flatter and also where any other vehicles can pass us. No, there is nothing within any reasonable distance.
I get down under the car and can see what has happened. The rubber bushes that hold the bottom of the shock absorber in place on the axle have totally perished and disappeared. This must have started happening some time ago but the final bit must not have happened till we started the descent. The shock absorber has then forced itself over the retaining washer (which is only marginally bigger than the internal diameter of the shock absorber).
First thing is to jack up the car and remove the wheel. We chock the wheels, jack it up and get the wheel off. We put it under the left side of the car so that if the jack gives way, the car can only fall to the wheel. I remove the nut and washer and then find I can push the absorber back up. Okay, one problem solved (I thought it may be physically impossible to do this). Now, what can we do to make a temporary repair.
Michael testing if the MacGyver duct tape
bush he has made will fit
You can see how the shock absorber fell off
Ron says he has some duct tape, so we get that. At this time I decide to channel MacGyver and use the duct tape and my Swiss army knife to fix the problem. At first I was just going to wrap layers around the mounting arm till the shock absorber just squeezed back on. Then I figure that I can use the roll itself to replace the bush. I take some tape and wrap around the arm till the roll is just a little too tight to squeeze over it. I then cut the roll so that it is about 10 mm narrower than it was. This is about the right width.
By this time, quite a few cars have pulled up behind us. There are three cars together and then a tag-along group of six cars. Many watch us at work, although not many suggestions were not actually ideas. Anyway, the roll is still too thick to fit through the eye of the shock absorber, so we start taking layers off till it is a very tight squeeze. Ron asks someone to grab the KY Jelly out of his door (he uses it for the seals of his scuba diving drysuit) and then explains why he carries it around. However, we end up using some massage oil that Donna carries (she is a masseur). We put this on the surfaces and using a mallet, I jam the roll on the arm and then the shock absorber onto the roll. I take the backing washer and put it behind the normal washer and screw the bolt back into the arm.
The wheel goes on and we tidy up. It has taken 50 minutes to do all this. I tenderly move the car down till I find a spot to pull over so the backlog of traffic can pass. No problems so far. Once they have passed, I head off, very slow, taking all the care to avoid any bumps. After a few kilometres I stop and check the repair, it appears okay.
We are going very slow. Even when we were here in 2007, the track did not follow what is shown on topographical maps and is different to that described in guide books. Now it is totally different again. Apparently in about 2010 a new track was constructed that avoided totally the private property. In this short time it has deteriorated badly and there are holes and ruts everywhere. When you look on a topographical map and where it was built, it is no wonder. It follows a creek that is black soil. The track is now about two kilometres longer as it does a long detour to the north and then back south again, rather than come down the direct route.
Anyway, we continue on and let two more vehicles pass us. Once we are down near the property, we round a corner and find the other two cars just pulled up at a LandCruiser 80 series partially tipped over on its side (or so it appears). We jump out and ascertain straight away that no-one is hurt. I walk down and cannot see how they have done it. It is only when the passenger tells me that they were doing a U-turn and one wheel fell in a hole they did not see that I realise they have not crashed. This caused them to partially tip over. There is no damage at all and one of the other vehicles pulls them back onto the track.
Soon we come to where the old track came down and then to the boundary of the property. This is followed towards the river where there is Dogman (or Dogmans) Hut Camping Area. This is a few hundred metres off the main track. There is a small hut here, very nice. It is also known as Darkies Hut after the person it was built for. The camping area is relatively small but it has some large trees and is right on the Murray River. It also has a toilet, table and BBQ.
Of course we do not go there as I am not driving any further than I have to. We continue on the track and finally we come to the crossing into New South Wales. It is 16 kilometres from where we had to repair the car and has taken 90 minutes. I check the repair job and the duct tape appears to be as solid as when we put it on. I get Kelly to bounce the rear up and down to see if there is any obvious movement in the bush, but there is none.
We have a very late lunch. I am so relieved to get down here. Once across the river we are in NSW and if we have a major failure, I can call NRMA road service and get the car back to Jindabyne.
This goes through the Murray River and you need a 4WD to cross it. Today the water level is low so it is an easy crossing. Once on the other side, we follow the track through the large camping area/s to the Alpine Way. We are now in Kosciuszko National Park.
| | |
| --- | --- |
| | |
| Having lunch before crossing the Murray River near Tom Groggin | Leather Barrel Creek Camping Area |
We turn right and less than 8 kilometres along we come to Leather Barrel Creek Camping Area. This is our camping spot for the night. It is 4:30 pm. When we pull in there are two other tents set up here. However, one of them appears to be in the process of pulling theirs down.
There is also a Commodore with a trailer. The Commodore has its bonnet up. Lots of people are going over and speaking to the owner. Later I go over. Turns out he has cooked his brakes coming down to Tom Groggin from Khancoban and then, he has overheated his engine coming up the hill from Tom Groggin. The car is working okay and he has no oil in his water nor water in his oil, so I suspect he has not cooked his engine. However, he is worried and does not want to tow the trailer to Jindabyne.
He has been here for two hours and has been attempting to find a 4WD with a tow bar who might tow the trailer into Jindabyne. Neither Ron nor I have our towbar with the car. We suggest that he can head off in the car with the family and then come back later tonight or perhaps tomorrow morning and collect the trailer. We tell him we will watch it for him. He decides to do this.
As he starts to prepare to do this, a LandCruiser 200 series pulls in. He saw them an hour ago when going down to Tom Groggin and since they were still here with the bonnet up, he stops to see if he can help. He offers to not only tow the trailer, but put a stack of the gear from the car and the wife and two of the kids in the Cruiser. They soon leave. What a nice bloke!
I reckon what happened is that his overheated brakes have expanded and then when he was coming up the hill, this caused the brakes to lock partially on, thus causing the car to overheat. The Commodore should have easily been able to pull the car and trailer, even with the load he had.
By now we have set up camp and then Kelly and I go for a swim in the creek. It is really nice, not too cold. After the dramas of today it is great to be able to relax for the rest of the evening.
This is a really good little camping area. It is not set up for roof-top tents, but there are a couple of spots where we can pull up next to the timber bollards and set up, even though we have a lot of trouble hammering pegs in as there appears to be road base even under some parts of the grass. I am really surprised by how many cars go past considering it is quite late in the day and it is close to an hour to Jindabyne and probably two hours to Khancoban.
| | |
| --- | --- |
| | |
| Leather Barrel Creek | The duct tape bush |
We start a fire using timber we collected yesterday morning from Wheelers Hut. However, it seems to be a bit green, even though it looks great. Kelly and I are having a BBQ tonight, so I also collect some bark and twigs for use with the bidj barbie.
We have the last of our salami and biscuits with a beer and wine. I then start a small but roaring fire under the bidji barbie so I start cooking the onions, capsicum and sausages. Unlike other barbecues, you need a constant heat for this one to work.
Once they are nearly done, I put the Scotch fillets on. They only take about 10 minutes to cook. We have this all with a pasta. Excellent. One thing I have noticed is that the vacuum sealed steaks get much better the longer you wait to use them. I suspect that the bouncing around in the fridge tenderises them even more.
We sit around the fire and Ron and I have the last glass of his port. We head to bed at 10:00 pm.
Weather: Fine, maximum of 20ÂșC Arrived: Leather Barrel Creek Camping Area, Kosciuszko National Park Time: 4:30 pm Distance: 57 kilometres
Day 12 - Tuesday 1 January 2013 - Leather Barrel Creek Camping Area, Kosciuszko National Park to Sydney
Weather: minimum of 5.4ÂșC and fine
We are up at 7 am. Our plan is to leave by 7:30 am and head to Jindabyne and be there early so we can get the car repaired. Ron and Donna will follow later, perhaps leaving at 10 am or so. Kelly and I do not worry about breakfast and we leave at 7:35 am.
At first I stick to a maximum of 60 km/h but then I get a bit more game and get to 70 or even 80. I avoid any bumps I see on the left side of the road. This really requires a lot of concentration. It is 51 kilometres into Jindabyne.
We pass by Thredbo and arrive in Jindabyne at 8:30 am. We have a look at the only two service stations in town and neither has a mechanic. Kelly asks at the second one and they tell here there is one at the industrial estate up the Barry Way. We head up there and see that there are a couple at least, as well as a tyre place.
Bredbo Rest Area

I head to the tyre place first, but see that it does not do suspensions like many do. we go back to the NRMA agents and soon have a mechanic looking at the car. He looks around but the only bushes they have are too small. I ask if there are any suspension outfits in Cooma (63 kilometres away). There are two, but one is closed. They give me directions to the one that will be open. The mechanic also says that the temporary repair I did appears to be still solid.

We go to the main shopping centre and get a coffee and something for breakfast. We leave at 9:05 am. Again, I drive quite cautiously to Cooma, avoiding any unnecessary shocks to the left side of the car.

We arrive in Cooma at 9:50 am and find the suspension outfit. We drive around to the back where they have their fitting bays. I pull up and the boss comes over. I tell him the problem and he directs me around to another bay where there is a car hoist. Up goes the car and in a minute they have the parts and two minutes the bolt is off. A few minutes later and the new parts are on and the car is back down. Less than 10 minutes and $20 fixes the problem. Exceptional service I reckon from Mack's Tyre and Auto (TyrePlus).

We ring Ron and tell him that we are in Cooma and are fixed. They are only just at Thredbo, so we tell them we will head off home. We go to the park and use the toilets. These are probably the best public toilets I have ever seen, extremely clean and even with real fancy hand dryers. We leave at 10:20 am.

We stop for morning tea at Bredbo for 20 minutes and then again at Goulburn for lunch another 25 minutes. There was little traffic. We arrive home at 3:30 pm.

The next day I top up with fuel and take 134.5 litres at a cost of $155.89 (with a discount of 15 cents a litre). This was an average of 16.9 litres/100 kilometres.

Weather: Fine, maximum of 27ÂșC Arrived: Kareela Time: 3:30 pm Distance: 530 kilometres

Summary

This was a great trip despite the few minor and one more major car problems we had. Looks like the Prado needs some tender-loving care. As I write this I have booked the car in for a whole new suspension. I suppose we got our money's worth out of the ARB Old Man Emu setup I had installed back in 2002.

The only thing I would do differently with this trip is perhaps to cut out some parts and have more relaxed days. The trip was really only hectic on a few days and this was because of the desire to show Ron and Donna some places they wanted to see and because of the need to link up sections together.

Distance: 2,047 kilometres
Camping: $Nil
Fuel: $469.00
Average: 17.1 litres/100 kilometres
Plus food.