Latest update 16 May 2015.

This is the first part of the story of our trip from Sydney to North Queensland over winter 2015. We are leaving from Port Hacking, on the southern side of Sydney. We have no definite plan other than to dive some of the great places on the Great Barrier Reef over the coming six months.

Saturday 2 May 2015 - Yowie Bay, Port Hacking

Today we did some last minute work on the boat and loading supplies etc. See more information about our previous preparations in this post.

Once again today it is raining, quite heavy falls again through the night. We get up late (for us) and decide that we will head off at 0900 as it looks like the rain might hold off for a while. We go to the boat ramp and load up the little tender with some more food, linen and a few other things. There is little wind so it is a comfortable trip over and it does not rain.

While Kelly starts to reorganise things (and Veto runs around), Michael lets out all the rainwater in Thunderbird 2. Once pumped up, we all head back to the boat ramp. Today we take our Bauer Junior II dive compressor out to the boat. This is heavy and awkward to carry. We put the tender on the ramp and then carry the compressor the short distance from the car to the tender. It fits in easily.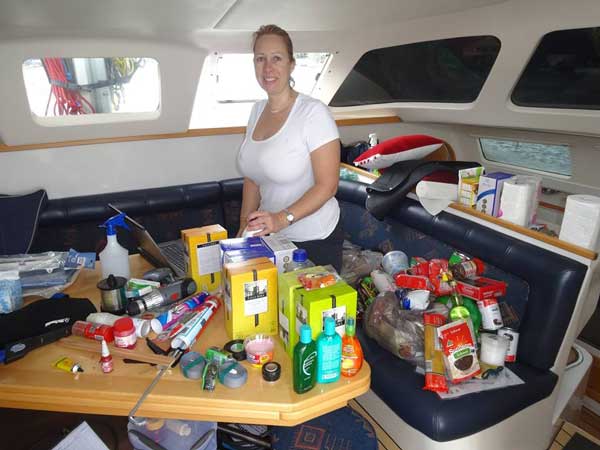 Kelly hard at work recording and putting away our food
We also put in two 20 litre containers of petrol and the last 20 litre container of diesel. Back at the boat, we lift the compressor out and put it in the cockpit. Kelly goes back to her recording and putting away of the food Michael has taken out over the past week or so. Michael puts the diesel away in the port engine compartment and lashes the petrol containers to the outside table support.
Kelly agrees that the two dive gear bins can go in the watermaker compartment, so this is where they are put. There is a lot of room still in here, so some other things could be put here as well.
Michael notices that we have had some more water get into the port side. This has dropped in a couple of places, on the navigation table and also adjacent to the stairs down to the hull. It seems it has come from the large window above. There is some rain about now and the water is seen coming in via a couple of spots, so there is no doubt where it is originating from.
When the rain stops, Michael goes outside and removes the shadecloth material that covers these large windows. He sees there there are some cracks in the silicone where the water is entering. He dries the silicone and then applies some layers of new silicone. He also looks a bit further afield and decides to put silicone in some other places. A check of the starboard window shows there are also some more suspect spots, so these get silicone as well.
While he has the shades off, he cleans the windows, they are filthy. It also is very bright inside without the shades, would be very hot in summer we think.
Michael also puts away the dive weights, dive spares, compressor spares and other things he brought out this week. He also reorganises a couple of the containers that hold spare items (fuses, wire, bolts etc) so that they are more consistent with each other. He also labels the containers.
There has been more rain on and off, so when Michael puts Thunderbird 2 back on the davits he has to let out more water. Around 1300 a gap appears in the weather so we decide to head home. By the time we have packed everything up, loaded the small tender and headed off, we run into a torrential downpour that soaks us both.
We now have on board seven weeks worth of dinners (at a minimum) for both of us. These are all meals with meat in them. So we have over two months worth and maybe more if we catch fish.
While we have now completed most of the things we need to do on the boat, we still have lots to do at home before we can leave. For these reasons, we have decided to delay our departure one day till Tuesday, that is, 5 May 2015.
Looking this evening at the weather forecast for the coming week shows that we should have good conditions for at least the first past of our trip. The winds will be 10 to 15 knots from south at first and then south-westerly or westerly. This should get us to Camden Haven or Port Macquarie in three days if all goes well.
Sunday 3 May 2015 - Yowie Bay, Port Hacking
Michael goes out to the boat again and takes most of our clothes with him as well as a few more food items. After another night of rain, he is lucky that there is nothing after about 0800. While Kelly goes to Cronulla to have breakfast with her sister, Michael does a few things on the boat. He puts all his clothes away in the cupboards and puts Kelly's stuff on the bed.
More water has leaked in on the port side above the navigation table. Michael thinks that this is water that entered the boat before he added silicone yesterday as even after wiping the drips off, more appears even though it has not rained for a few hours. He adds some more silicone to the area he did yesterday and also to some other spots where there is a crack in the existing silicone.
Once back home, he later goes to Bunnings to get a small grease gun (so we can grease the steering and anchor winch) and a folding trolley so we can transport fuel back to the boat.
Tonight we go to a barbecue put on by our neighbours to farewell us. The residents of five other houses in our street come to the party held on the nature strip. It is really nice that they think enough of us to do this. We will certainly miss them over the coming six months.
Monday 4 May 2015 - Yowie Bay to Jibbon Beach, Port Hacking
Kelly goes out and get the vegetables and fruit for the trip. We also do more cleaning and tidying of the house. Just after lunch we go out to Catlypso with some of the remaining things we need to take out. While Kelly starts putting this stuff away, Michael drops Thunderbird 2 into the water and pumps her back up. The then takes Kelly and Veto back to the boat ramp, towing the small dinghy.
Once back at the ramp, we load all the rest of the stuff into Thunderbird 2 and then put the small dinghy on the roof of the Prado. Michael drives home while Kelly goes back to Catlypso. Later, our neighbour Gerard drives Michael back to the ramp and Kelly comes and collects him.
Once the boat has been tidied up enough, we move from our mooring at Yowie Bay to a mooring at Jibbon Beach. This takes us nearly 60 minutes and is at the mouth of Port Hacking. It will give us easy access to the open ocean tomorrow.
Thunderbird 2 on Jibbon Beach with
Catlypso in the background as the sun sets
After dinner having another glass of champers!
We are the only boat here tonight. It is a little rolly, as the swell is coming around the headland. However, it is not too bad. The wind is virtually nothing after been 20 knots earlier in the day. We finish putting things away and then Michael takes Veto to the beach for a pee.
We decide to have a drink and some nibblies, something we will do for most nights of this trip. Kelly cooks meatballs and spaghetti for dinner. We crack open a bottle of very nice Australian sparkling wine and have a couple of glasses with dinner. A fantastic dinner to start our trip. After dinner we listen to the radio, read and do some more tidying up. We later watch a show on TV and then head to bed at 2130.
Stats:
Tuesday 5 May 2015 - Jibbon Beach, Port Hacking to Coasters Retreat, Broken Bay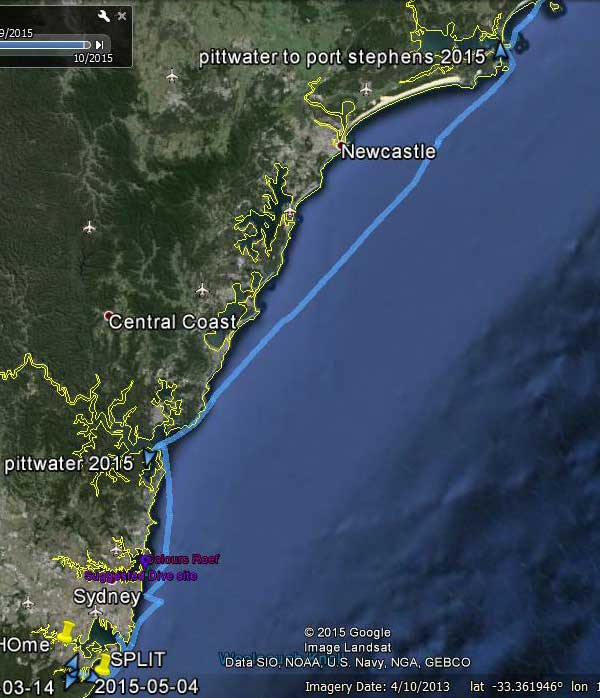 Port Hacking at bottom and Port Stephens at top
Michael is up early and takes Veto to shore for a pee etc. She is a good girl! We log on with Marine Rescue Sydney and then head off at 0740 so that we can get to Broken Bay early in the afternoon. If the conditions are favourable, we may even attempt to get to Swansea. However, despite a good start, it soon becomes apparent that today's conditions will not be very good overall for us.
The wind at first is light northerly so we are motoring with the screecher. By 0820 the wind has moved to the north-west and increased to 8 knots so we turn off the engine. We are making 6.5 knots. At 0845 the engine is back on as we have come out into the open ocean and struck a current which drops our speed to 4.5 knots (combined with a different angle of wind as we turn more towards the north).
At 0850 we pass Cape Banks and soon after the wind changes to north again. We pulled the screecher in. Michael's two sisters, Cathie and Janelle, both go to spots so they can see us. The wind picks up to 10 to 15 knots north-north-west or north-west so we are sailing at 5 to 6 knots with the genoa and main, but heading a little bit out to sea. At 1025 we tack back towards North Bondi and at 1050 tack again. We are having some problems with the props not featering properly. They have done this before, but should be okay after a while.
At 1130 we head back towards South Head and soon turned north-east again. The seas are very sloppy, with chop from many directions and a 2 metre swell from the south-east. The wind drops so we turn on an engine and later drop the sails as it is too uncomfortable heading north-east and it is also taking us too far out to sea. At noon we pass North Head and two hours later Mona Vale Beach.
Since North Bondi we have realised we will only make Pittwater, so that is where we are heading. When we go to swap motors, the starboard one will not start. Michael realises it is still in gear and when he puts in neutral, it still takes a minute or so to start. Black smoke comes out, probably because there was too much diesel in the cylinders.
| | |
| --- | --- |
| | |
| Tacking back towards Bondi Beach | Kelly, Michael and Veto at Coasters Retreat |
All day we have had a current from the north of at least a knot, sometimes 1.5 knots. This lasts all the way to Broken Bay. Michael extends our time with marine rescue to 1600 and at 1520 we log off as we pass Barrenjoey Headland. It takes about 40 minutes from here to motor to Coasters Retreat which is a brilliant anchorage. We find one of the RMYC (Royal Motor Yacht Club) moorings and hook ourselves up.
It is 1555. Michael takes Veto to shore for a pee (very good girl again) and once back on board, we both have showers. Very nice. Michael also fixes the sail bag at the bow which has fallen apart along one side. The stitching has failed. He uses cable ties to make it whole again, hopefully it will work. We took quite a few waves over the bow today when the seas were at their worst. The remade trampolines have survived okay, fantastic.
We have some beers and wine after our showers. Another Lightwave 38 called Easy Rider comes in and moors next to us. This was the 26th Lightwave built. It was six before us and also built in 2004. It used to be called Tonic. Except for the fact we have pulled our tender up onto the davits, we would have went over to say hello. We have a BBQ of scotch fillet, sausage and salad with a glass of excellent Australia sparkling wine. We go to bed early at 1945 and read and are asleep shortly after 2030.
Stats:
Wednesday 6 May 2015 - Coasters Retreat, Broken Bay to Port Stephens
We get up at 0530 and make a quick cup of tea and coffee. We leave at 0555 and motor out to Barrenjoey Headland and then point Catlypso to the north-east. We could not log on with Marine Rescue Sydney till out here as they could not hear us closer in.
The sun is coming up by now so we put out the screecher and pull up the main. We leave one engine running as the wind is only light. As we need to average close to 7 knots for the whole day to arrive in Port Stephens before sunset, this was also a reason for running it at 2200 rpm. We are doing 6 to 7 knots.
| | |
| --- | --- |
| | |
| Sunrise as we depart Broken Bay | The spectacular cliffs of Bouddi National Park south of Avoca |
At 0750 we are off Terrigal so we turn directly towards Port Stephens. The wind drops a bit but then comes back up to 10 to 12 knots, still from the west. We are doing 6.5 to 7 knots with a 1 knot current from the north. At 0900 we are off The Entrance and the wind is now 15 knots and our speed 7 to 7.5 knots.
A good sized motor yacht, Descarada II passes us only a hundred metres or so off us at 0915. She is also heading to Port Stephens and her AIS shows she is doing about 3 knots more than us.
At 1310 we decide we should dump the toilet holding tank as it has not been emptied since the Australia Day weekend. Michael has problems with both the valves that need to be turned, they are very stiff. He finally gets both to work. We are about 12 nm (23 kilometres) off Stockton Beach at this time.
| | |
| --- | --- |
| | |
| The coal carrier that we had to pass behind | Descarada II and more carriers |
A bit earlier we had to weave our way between a couple of the coal carriers anchored off the Central Coast waiting to enter Newcastle Harbour. There were 29 as far as we could tell by our AIS.
The wind turns a bit more west or even south-west and our speed increases to an average of about 8 knots. We also have a little less current here. At 1340 the wind turns a bit more to the north and increases, so we pull in the screecher and later put out the genoa. The wind is about 18 knots and we are doing up to 9 knots at times.
At 1415 the wind increases dramatically to over 20 knots with higher gusts. We drop the main and pull in the genoa. We have a few problems with tangled sheets (ropes). We do not have much experience with needing to do this in bad conditions. We get everything tidied up and proceed on two engines. Later we pull out the genoa again when the wind drops a bit.
As we approach the entrance to Port Stephens we pull in the genoa and take the southern side entrance. We round Tomaree Headland and head to the public moorings in Shoal Bay. Michael logs off with Marine Rescue Port Stephens. We decide to take the second one as the first has a buoy (indicating speed restriction) too close for our liking. We are moored by 1645.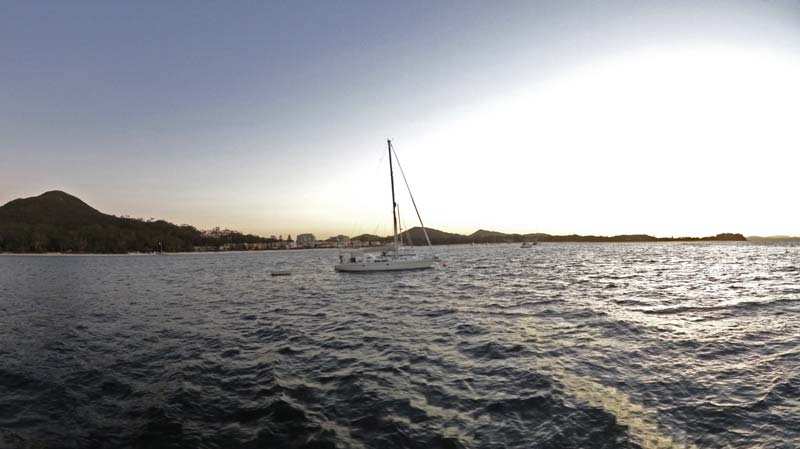 A panoramic photo from Catlypso of the moorings in Shoal Bay, Port Stephens Bay
While Kelly tidies up the halyards and sheets (ropes), Michael takes Veto to the shore for a poo and a wee. She does both, she has been very good so far, only peeing once on the boat and that was this morning when we encouraged her to.
We have showers and some nibblies, with some more of the excellent Aussie sparkling we started last night. Dinner is Chinese stir fry beef with noodles.
Stats:
Thursday 7 May 2015 - Port Stephens to Camden Haven
Port Stephens at bottom, Camden Haven near top and Port Macquarie at top
It was quite windy overnight, with the wind probably hitting 20 knots at 2330. It dropped later and at 0445 when we got up it was only 12 knots westerly. We make a cup of tea and coffee and at 0510 we leave the mooring. The boat next to us looks like he might also be leaving as the interior lights are on. As you will see we were right.
We head out the same way we came in, with the radar on giving us an extra safety factor. There is less wind once we are outside Port Stephens and we are headed north. The charts show a fish farm north of Cabbage Tree Island but as suspected, it is no longer there (we think the last time we dived out of here it was also not there).
We head towards the gap between Broughton Island and the mainland. As the sun starts to come up we raise the main and then the screecher. The main is on the second reef at first but we soon haul it all the way up. A fantastic sunrise over Broughton is a great start to the day.
| | |
| --- | --- |
| | |
| Michael and Veto as we depart Port Stephens | Sunrise over Broughton Island |
We pass The Sisters, a couple of shallow reefs, west of Broughton at 0630 and then turn towards Seal Rocks. We are doing 6.5 to 7 knots with one engine at 2200 rpm. A bit past Broughton the wind increases a bit so we turn off the engine and are still doing 7 to 8 knots, with a 1 knot current against us. The wind drops near Seal Rocks so one engine goes back on. We need to average about 7 to 7.5 knots to make it to Camden Haven well before sunset. We have a pod of dolphins around us for a while as well!
As we round Sugarloaf Point (and come inside Seal Rocks, Little Seal Rocks and Edith Breakers) the wind increases to 8 to 12 knots and also it is now abeam of us. We are doing 7.5 to 9 knots now. We pass the lighthouse at 0900 and 25 minutes later the yacht moored next to us in Port Stephens passes us. We think it is called Meriden Passage.
As we approach Cape Hawke we turn a bit to the east to head towards Crowdy Head. Just after this Michael radios Marine Rescue Forster to check in with them as we planned. We swap the screecher for the genoa but less than 10 minutes later we go back to the screecher as our speed dropped too much.
A few times over the coming hour the wind drops so we put an engine on and then it increases so we turn it off. At 1300 Michael realises that the starboard engine is not charging the batteries. This may be related to the fact that the rev counter on this engine has not been working for most of the trip. He will investigate further tomorrow.
| | |
| --- | --- |
| | |
| The Sugarloaf Point Lighthouse at Seal Rocks | Meriden Passage passes us |
The other yacht (and one more we could see ahead before Seal Rocks) have sailed much closer to shore than we are and now we have almost caught it. As we pass Diamond Head, the wind drops and turns a bit more to the south. Our speed drops and the sails are mostly just flapping. We pull down both sails and turn on both engines. We motor the rest of the way at about 2400 rpm doing 6.5 to 7.5 knots.
We round Point Perpendicular (there is also one at Jervis Bay on the South Coast), avoiding Telegraph Rocks which sank the PS Telegraph back in We line up the leads that indicate the channel into the Camden Haven River and come in on the south side of the entrance. There are a few swells that come as we enter but they cause no problems.
We motor up the river to the Visitors' Wharf which is outside the United Services Club. We stopped here last year when coming south, a great wharf that fits two boats, has water and also access to showers at the club. However, both spots are taken. There are another two boats anchored off in the channel so we drop our anchor to the north of them. We catch first go during a strong outgoing tide.
Once we are sure we are anchored, Michael takes Veto to shore and she has her first decent run around since before left Sydney. Back on the boat Michael pulls out the generator which we have not used since we purchased it last year. He turns it on and hooks it into the boat's electrical system. We charge the batteries as well as plug our rice maker directly into it to make steamed rice for dinner. We have it on for only 20 minutes, mainly to just give it a run since it has not been used for 8 months or so.
Stats:
Friday 8 May 2015 - Camden Haven to Port Macquarie
Today we do not have far to go, so we sleep in till 0730. Last night the wind came up at about 2330 and blew so strong we turned against the tide. The anchor made a very strange noise so Michael got up to investigate. All was well and when the wind dropped a few minutes later we turned back to face the incoming tide. The water rushing past the anchor also made a lot of noise rattling the chain.
After taking Veto to shore for a good run around, we have breakfast and then Michael investigates why the starboard engine is not putting out any power and the tachometer is not working. The wires are all connected correctly to the alternator, but he finds that the v-belt that powers the alternator is very loose. This is obviously why it is not working. He also checks and the belt for the raw sea-water pump is also loose.
| | |
| --- | --- |
| | |
| Catlypso in the Camden Haven River at Laurieton | Approaching the bar at Camden Haven |
You may recall that when we went to change the belts on this engine a month ago we ran into a few problems. The first was there is very little room to access the front of the engine. The second was the nut that secures the swivelling arm that holds the seawater pump was burred and also seized. This meant that we could not swing the pump to remove the belt. As such, we decided to fix this later but then with the awful weather of the two weeks before we departed, Michael could not get out to the boat to look at this again.
We decide that we will fix it this afternoon once we are in Port Macquarie.
We depart at 0900 and head out of the river. Crossing the bar is easy as it is flat, but once outside there are some very large swells that we have to deal with. We turn 45ΒΊ to the right and go up and over them. We have some great video that we will edit and put on this page or our Facebook page when we get a chance (and free wifi).
Once outside we head north yet again and pull out the screecher. There is not much wind, perhaps 4 to 7 knots and it is variably from the west to south. We motor along on one engine (the port one that is working 100% okay) and make about 6 knots. This continues all the way to Port Macquarie. Just south of the bar we pull in the screecher.
A shot from our drone of the bar at Port Macquarie
As we approach the bar we see our friend Phil Short from our dive club and his mate Mick Stewart. They are on the breakwater and video us as we come in. They are going to sail north with us to the Gold Coast in Mick's boat Mojo II. Despite some larger waves as we approach and the fact that we appear to have not come in right on the leads, we cross without any problems.
We motor up to the marina where Mick has organised for us to use the casual visitor berth for free. We get ready to tie up and Mick and Phil take the lines and we are soon on the berth. We take Veto for a walk and go and look at Mick's boat, a Fontaine Pajot 38 footer. It is much bigger inside than our boat that is for sure.
After this we go back to Catlypso and while Kelly makes lunch, Michael starts to work on the alternator problem. He removes the larger belt easily but after lunch still cannot remove the nut that lets the seawater pump swivel. Mick brings over some more tools but even with these, the nut cannot be removed. Michael tries to see if he can loosen the pump another way but this does not work.
We end up calling in a mechanic from the marina. He brings with him a sort of socket set that is hammered onto the nut. When Michael levers it from the space above the engine in the double berth, the nut moves. It is soon free and we take it off. Yahoo!
Michael then removes the smaller belt and puts on the new one. He then puts on the new larger one. This is easily tensioned and tightened. However, the smaller one is harder. By now our other dive buddy, Ian Gowan, has arrived. Ian helped sail our boat down last year from Queensland. Ian lives in Port and has come over after work. He uses a long lever to push the seawater pump out while Michael tightens the nut. The mechanic later brings over a new nut to replace the one that has been burred and Michael attaches it as well.
The belts now appear to be tightened correctly, so we start the engine. The tachometer is working and the engine is also putting out amps. The problem appears to be solved.
| | |
| --- | --- |
| | |
| Looking back towards the Camden Haven River | Sharon, Ian, Michael, Phil and Mick having drinks on Catlypso |
We are hooked into the shore power so that our batteries are being charged up. This is great as we have not had much sun to power the solar panels and with one engine not putting in power, we have run down the batteries a bit more than we would like. By later tonight we are back to 750 plus amps.
Michael also fills the fuel tank from the remaining container and then fills all the containers at the marina's fuel wharf (which is next to us). We get 100 litres at $1.50, not a bad price really. He later also fills the water tanks, we take about 180 litres, a bit more than we thought we would need.
Michael is filthy after his work so he has a shower. Sharon, Ian's wife arrives and soon they and Kelly are enjoying drinks and nibblies in the cockpit. Mick and Phil also come over and we all have a good chat. Ian and Sharon have to go out for dinner so they leave and about 1830 Mick and Phil go back to Mojo II for dinner.
Kelly cooks up a nice dinner of creamy pasta while Michael takes Veto for a walk and also takes the rubbish and recycling to the marina's bins. We have dinner and then take Veto for another walk, this time a long one.
We watch a little TV and then go to bed early as we are getting up at 0500 tomorrow for an early start.
Stats:
Saturday 9 May 2015 - Port Macquarie to Coffs Harbour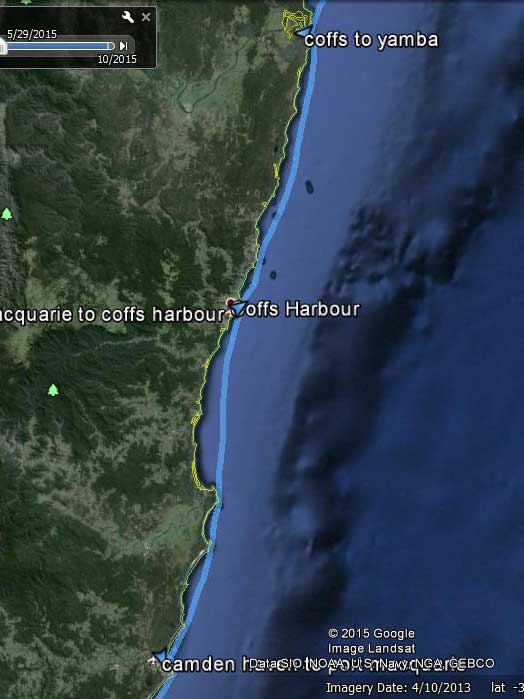 Port Macquarie at bottom, Coffs Harbour in middle and Yamba at top
We are up at 0500 and at 0530 we depart the marina. Mojo II is just behind us. As we approach the bar, Ian Gowan phones and tells us he is on the end of the breakwater. He tells us that there are some short, sharp waves right on the bar and larger waves out further.
By now there is a fair bit of light (from the almost full moon and the coming sunrise) so we can see all the waves. We head out on the leads and then turn 45ΒΊ to port as this is apparently how the locals exit. As we head out we see some bigger waves which form up but then die down in the direction we are heading. However, as we get to this spot a huge wave forms and looks like it is going to break. Michael is committed to the direction we are heading and we go over it at about 30ΒΊ. We crash over the other side and things fall over, be we are okay. The next wave is just as big so Michael turns into it and goes over at 90ΒΊ and eases off the throttle as we do. This is much better. We are now past the waves.
However, behind us Mojo II has also had to go over the same waves and they actually have one just start to break as they go over it. They are okay and suffer no damage. A bit of a heart starter, that is for sure.
We head north yet again and at 0620 we raise the main and then the screecher in a 10 to 12 knot westerly. This will be the best wind we have all day. We sailed five minutes without an engine but the wind dies and we start one back up. We end up running one engine the whole day, mostly at 2400 rpm as the winds are about 4 to 8 knots at best.
| | |
| --- | --- |
| | |
| Fog rising off the water off Point Plomer | Mojo II just after sunrise |
As we approach Hat Head about 0940 the water becomes blue, the best we have seen since leaving Sydney. However, this also brings with it a 2 knot plus current from the north. This is why we need to run the engine, otherwise we probably would have been making a reasonable speed here. We turn towards Black Rock rather than Smoky Cape for a couple of reasons. First, we pick up about 1.5 knots and also it means we might get out of the current once we are closer to shore. This is a good choice as the current drops to 1 knot.
We pass inside Fish Rock (funnily, it is called Finish Rock on our chartplotter) and there are three dive boats there. We try calling the South West Rocks Dive Centre boat as they are friends of ours. We get no response. The current is back up to over 2 knots. Meanwhile, Mick and Phil in Mojo II are well out to sea as they decided right back near Port Macquarie. Over the day they will pass us, then drop back and then pass us again.
We put both engines on for a while as we approach Smoky Cape due to the current and the lack of wind. Once past South West Rocks, we go back to one engine as we exit the strong current. Near Nambucca Heads the wind turns north-east, so we have to "tack" our screecher.
A bit south of Coffs Harbour the auto-pilot stops working. Michael investigates but has no idea what has caused this. Bugger!
| | |
| --- | --- |
| | |
| Passing Smoky Cape | Fish Rock |
We pull in the screecher as the wind has died. The second engine comes on and the main is pulled down as we approach Coffs Harbour. Our plan was to go between Korffs Islet and the breakwater as the depth is about 10 metres. We have been watching and no waves have broken there. Well, as we get within about 100 metres a wave breaks there. Michael does a sharp turn to starboard and we go around the islet.
We enter Coffs Harbour at 1635 and by 1645 we are anchored two thirds of the way from the breakwater to the boat ramp in about 4.5 metres. There is a bit of swell coming in, so it will be a rolly night as we are side on to it.
| | |
| --- | --- |
| | |
| Mojo II and Catlypso at anchor in Coffs Harbour | Sunset in Coffs Harbour |
Michael takes Veto to the boat ramp while Kelly tidies up the boat. Veto has a good run around and then they return via the other boat, checking that they are okay for another early start tomorrow.
A nice hot shower, beers and wine and some salami is enjoyed before we have a dinner of Scotch fillet, sausages and salad.
Today we used 37 litres of fuel for about 12.8 engine hours. This is 2.9 litres/hour, well above our average so far and the best economy. This is because we ran the engines at 2400 to 2500 rpm for the whole day compared to the economical rpm of 2200.
Stats:
Sunday 10 May 2015 - Coffs Harbour to Yamba
Once again we are up early and we depart at 0530. We follow another yacht out of the harbour and Mojo II is behind us. We turn north and are amazed to see that our auto-pilot is working today, considering that yesterday afternoon it would not work. No idea what the problem was.
At 0600 we raise the main and screecher. There is little wind but at 0630 it picks up to 10 knots from the west or north-west. We are making 7.5 knots. We head inside Groper Islet (South West Solitary Island).
We hit 9 knots but then, the wind dies off and we need to start an engine. Like most days on this first part of the trip, we need to make a minimum average speed to get to the intended port. In most cases, there is no alternative if we do not make it other than entering a dangerous bar at night or continuing on.
Not long later there is more wind and we turn the engine off. Today for the most part, we sail, although there are periods of 15 or so minutes where we have an engine on. We pass just to the east of North West Solitary Island (all these were named by Lieutenant James Cook, RN, in 1770) at 0945. Mojo II is only 100 metres behind us.
As we approach North Solitary Island Michael sees that he has an email on his phone. He checks it and it is from Nick Jones who has just purchased an identical model Lightwave 38 called Two Shea. We looked at this last year and Nick phoned Michael a month or so ago about this boat and another he was interested in. His email says he has just passed North Solitary Island heading south.
We call Two Shea on the VHF and find they are out to sea and south of us. We have a long conversation about his purchase. He will be keeping it in Sydney. He also tells me that Ultimate Dream has also been sold and is already in Sydney, next to his mooring. More coincidences! We agree to catch up when we return later in the year.
| | |
| --- | --- |
| | |
| Mojo II sailing past South Solitary Island | Catlypso off Woolgoolga when the wind drops a bit |
Just after we pass between North Solitary and Wooli, we swap from the screecher to the genoa as the wind has increased to well over 15 knots. We are still doing 7.5 to 8 knots. At 1250 we are off Sandon and pull in the genoa as the wind has turned more to the north. We picked up half to one knot by doing this. We have an engine on now. Closer to Yamba we pull in the main and turn on the second engine.
We want to cross the bar at the entrance to the Clarence River, the largest river on the New South Wales coast, less than two hours after high tide (which was just after 1300) as the river continues to run out for this long. We approach from the south and hook around the southern breakwater with a few waves standing up about 100 metres out and cross at 1430. No problems at all despite the fact that the tide has already turned, at least 30 minutes before it should have according to our guide book. Could be because of the huge rainfall here last week. Mojo II follows us in a few hundred metres behind.
We enter the "Hole in the Wall" which gives access to Yamba Channel and then Yamba Bay. We look for the visitor mooring we used last year but cannot find it. We end up anchoring opposite what was called the Lord Howe Island wharf in about 2 metres. Mojo II anchors a bit to the west of us. It is 1510 by now.
| | |
| --- | --- |
| | |
| Catlypso in Yamba Bay | Kelly, Michael, Mick and Phil having drinks on Mojo II |
Michael takes Veto to the shore for a run and then we have showers before taking Thunderbird 2 (our tender) over to Mojo II at 1700 for drinks. We head back about 1830 and Kelly cooks terriyaki chicken and rice. Yum!
Today we used about 21 litres of diesel and did 7.7 hours, averaging 2.7 l/hr. Again, higher than normal due to running at higher rpm for a lot of the time.
Tomorrow if all goes well, we will be catching up with four close friends in Ballina, it all depends on whether we can get spots at the wharf.
Stats:
Monday 11 May 2015 - Yamba to Ballina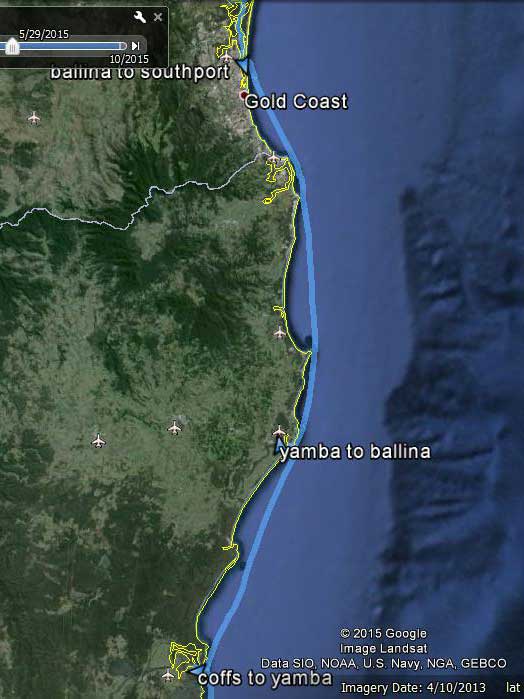 Yamba at bottom, Ballina middle and Gold Coast at top
Today we do not have to go as far as other days so we get to have a later start. Michael gets up at 0700 and takes Veto to the boat ramp for a run. While he is away, Kelly fixes the reefing line that came free a few months ago. However, she makes a mistake and puts it in the wrong reefing islet on the main. This will need to be fixed when we can.
We have breakfast and then pull up the anchor. It takes a while as it is covered in mud and Kelly needs to wash it off before putting the chain away. We are off at 0830. Meanwhile, Mick and Phil have taken Mojo II to the marina fuel wharf and filled up. We meet up as we start the short trip to the main part of the river.
The bar is as flat as a tack as we cross it at 0850. We pull up the sails 10 minutes later and are soon doing 6 knots in about 14 knots of westerly wind. At 1020 we start approaching the Evans Head Bombing Range which is inside the Broadwater National Park. All of a sudden three RAAF FA-18s fly overhead and start doing manoeuvres over the range. This continues for almost two hours, with them doing low level dummy bombing runs on Evans Head and flying fairly low over us on each circuit.
During this time Michael decides to recalibrate the wind instrument. This has never seemed to work properly, so Michael reads the manual and then starts to change the settings. He sees that it is set at 0.70 for the wind speed. We have a rough idea of the real wind speed based on Mojo II's advice to us, so he changes this setting to 1.25. Presumably this has just increased (say) a reading of 7 knots to 12.5 knots. Our readings now seem more accurate with what our eyes are telling us.
The wind is now 13 to 16 knots north-westerly and we are doing 7 to 8 knots. Mojo II is level with us but about 400 metres to the west. At 1250 we pass Evans Head and drop the screecher as the wind has increased to 20 to 23 knots. We pull out the genoa and are still doing 7.5 knots. There are gusts to 30 knots but by 1320 the wind is back to 12 knots and our speed 6 to 6.5 knots. There is a half knot current from the north.
One of the RAAF FA-18s that flew over and around
Catlypso for almost two hours
Approaching Ballina
At 1400 we are approaching Ballina and the entrance to the Richmond River. We pull down the sails and at 1415 we cross the bar which is very flat. The tide is already running out (high was 1415) but we suspect it is actually flood water from the rains of the past couple of weeks.
We motor up the river and log off with marine rescue. Our plan is to tie up at the visitors' wharf which is in the centre of town. When we get there we see one other boat called Two Keela Kula, a Seawind 1160 cat. The wharf consists of a large fixed wharf that will take two boats and two smaller floating wharves that take one each.
Mojo II takes the western spot on the main wharf and we tie up behind. It is about 1445 by the time we are fully tied up. Michael SMSs our friends Jo and Graeme who are visiting here from Wollongong and Shaun and Sharon who live nearby at Lennox Head. They advise they will come to the boat as soon as they can. Veto gets a lot of good runs and walks this evening, the most she has had in about three weeks. She is very happy.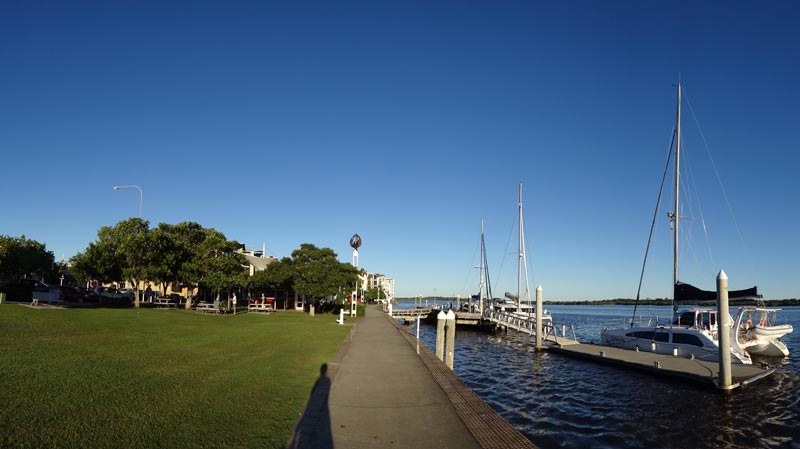 A panoramic photo of the public wharf at Ballina
Michael adds about 60 litres of diesel to the tank from our containers and then walks to the Woolworths which is about two minutes away to the east. He buys some bread, rolls and a couple of other things we have already used. He looks for a petrol station but cannot see one anywhere. No matter, we have this covered.
Jo and Graeme arrive and Graeme takes Michael and his containers to a petrol station where he tops them up. Back at the boat we have some drinks and nibblies. Michael and Graeme take Veto for a walk to find a pizza place as we are all having this for dinner. They find a very nice one past the Woolies that makes wood fired pizzas, with some very gourmet toppings.
Soon Shaun and Sharon and their son Ryan arrive. We decide on our pizzas and phone the order in. The blokes (and Veto) all walk up to the restaurant and collect them. We think we can easily say that these pizzas were as good as any we have tasted (outside ones made in our own wood fired pizza oven). The place is called Viva Pizza.
Veto at Ballina
Catlypso for almost two hours
Dinner at Ballina, Graeme, Jo, Shaun, Sharon, Kelly and Ryan
We have a few more drinks and our friends all leave at 2100. A great night, the first time we have seen Shaun and Sharon since Michael stayed with them almost a year ago when coming back from looking at our boat. To make things better, the Rabbitohs (South Sydney) won their rugby league match tonight after three straight loses. They beat the Dragons 16 to 10. we go to bed shortly after they go as we have another early start.
Stats:
Tuesday 12 May 2015 - Ballina to Southport, Gold Coast
Another early start sees us up at 0500. A walk for Veto and we cast off the wharf at 0540. However, we have a minor mishap as the outgoing current pushes us back into the bridge to the floating wharf. We hit it with the starboard transom, taking a piece out of the gelcoat about 30 mm by 10 mm. Should not be hard to fix. Bugger, we need to get better at this, only the second time we have had to leave a wharf where there was current.
| | |
| --- | --- |
| | |
| Coming down the Richmond River towards the Ballina bar | Mojo II off Lennox Head |
We head out and cross the bar at 0600. It was very flat. By 0615 we have the sails up (screecher as normal) and with wind from the south-west at 10 to 15 knots we are making about 6 knots with one engine on. By 0635 we have turned the engine off as the wind is more to the west and we are going 6.5 to 7.5 knots into a 1.5 knot current.
As we pass Cape Byron (the easterly most point of mainland Australia), we have the engine on and off a few times when the wind drops to 6 knots or so. Around now Michael dumps the holding tank and once past Byron we are back sailing again. Off Brunswick Heads at 0925 we have one engine back on as the wind has again dropped and turned almost due south. We need to average just over 6 knots to make it before dark.
| | |
| --- | --- |
| | |
| Passing Cape Byron, the easternmost point of mainland Australia | Approaching the Gold Coast |
By 1120 we have both engines on and pull the screecher in as the wind is now almost gone. We motor the rest of the way to the Gold Coast Seaway which is the entrance to Soutport. We pull down the main as we approach and cross the bar at 1530. Again, it was very flat and right at high tide. We motor around to the Marine Stadium, better known as "Bums Bay". There are about 50 boats anchored here.
We go right up towards the north-west corner and anchor in about 3.6 metres. We put out 30 plus metres. It is 1600. Tomorrow has a forecast of very strong south-westerly winds of about 30 knots or more. We figure that up here we might have a bit of protection. We will probably reset our anchor during the day and before the wind arrives.
| | |
| --- | --- |
| | |
| Mojo II entering the Gold Coast Seaway | Catlypso anchored in Bums Bay |
Veto gets a run on the shore, we have showers and then put to bed the main sail as we will not be using it for probably four days.
At 1730 we have drinks and nibblies.
Stats:
Wednesday 13 May 2015 - Gold Coast
For the next few days we are not moving. How long will depend on the weather as the forecast is for 25 to 30 knot southerly or south-westerly winds for the next three or four days. In any case, we planned to stay here for a couple of days anyway.
We get up late and Michael takes Veto for a long walk at 0800. After this we have a relaxed breakfast. It is the warmest morning we have had so far and there is no wind at all. Lucky we are not sailing today.
Michael adds 20 litres of water to the port tank and then starts the watermaker. The water in here is relatively clean, so we decide to make some water. We put about 50 litres of the water into the container so we can add to the port tank and the rest goes into the starboard rear tank. We end up running it for almost four and a half hours.
We make about 110 litres, so with the water needed flush it when finished, we end up with perhaps 102 litres or so. The power comes from the solar panels and we are in positive amperage except when both freezers are running. Fantastic that this is working as planned.
| | |
| --- | --- |
| | |
| Another photo of Bums Bay with Catlypso at right | Kelly and her Mum, Mary |
Just after 1000 Kelly's Mum, Mary, phones that she has arrived by bus at Seaworld. Mary lives at Southport and has never seen the boat. She will walk to the boat ramp area where we will collect her. We motor over in Thunderbird 2 and Kelly goes off to find her. Lucky she did, as Mary was going to walk straight past the entrance to the boat ramp area.
After lunch on the boat, we take Mary back to the ramp. If the weather is okay tomorrow, she will come again for a visit and bring Michael some books to read.
On the way back from dropping Mary at the ramp, we motor over to Island Home, a Maverick 440 catamaran. This boat is owned by Geoff and Marina. Kelly met Marina through Women who Sail Australia, a Facebook page. They sailed the cat from South Africa to Perth (where they live) and then across the Great Australian Bight. On board are Marina's sons Phil and Scott and Geoff's daughter Aleisha.
The funny thing is, we have seen the boat before on a number of times. We dive out of Port Hacking and in the weeks before we left Sydney, we had seen this boat moored at Lilli Pilli in Port Hacking. We had actually commented on it as there is normally only small boats on the mooring it was using. The boat is going to be on show at the Sanctuary Cove Boat Show which is on in 10 days. They will then head north and eventually do a circumnavigation of Australia.
We head back to Catlypso and move her about 30 metres to the south-east. We are a bit close to the shore and this morning we only had just over a metre under our stern. In addition, some boats have left and we wanted to reset our anchor with it facing into the direction that the expected very strong winds are supposed to be coming from tonight. We have 40 metres of chain out in 4 metres of water.
Michael decides to clean part of the hull. He was going to do this before we left Sydney but the terrible weather meant he did not want to get into chocolate brown water. It takes him about an hour to clean the waterline and the hulls down as far as he can reach. If the weather is actually better in the coming days, he will use a scuba tank and clean the rest of the hull. Otherwise, this will have to wait.
| | |
| --- | --- |
| | |
| The Seaway bar was even flatter than when we entered yesterday | The new stairs for divers at the Seaway |
After warming up with a cup of tea, we take Veto to shore and walk to The Spit. It is about high tide and there are a number of divers entering the water. There is a new set of stairs here for divers to give access to the water. We head back to the boat and put things away. After Kelly has a shower, we have drinks and nibblies.
Dinner tonight is a flat chicken which Michael cooks on the barbecue. We also have some potatoes that we cut very thinly and cook on the barbie. A great dinner and a better alternative to cooking a roast chicken in the oven. After this we watch a movie on Michael's laptop. We have a huge collection of videos on a hard disk drive, we wonder how many we will end up watching.
The forecast south-westerly change comes in about 2000 but is far less strong than promised. When we go to bed at 2100 it is only 12 to 16 knots.
Stats:
None today as we did not move.
Thursday 14 May 2015 - Gold Coast
The wind during the night certainly did not reach the heights forecast, with a maximum of 20 knots at the Seaway at 0000 which is a few hundred metres away from us. It is blowing about 10 to 12 knots at 0800 when Michael gets up and takes Veto for a run.
After we have breakfast, Michael attempts to fix up the wiring of the AM/FM radio. When he installed it he could not find a permanent 12 volt power to hook it up to so that the programmed stations are not lost when power is cut to it via the breakers. However, he has no luck as the wire that the old radio was using appears to be dead (perhaps that is why the radio never worked). He will probably have to run a new one from a battery. A job for another day.
Michael also decides to investigate the wiring for the wind generator to see how it actually connects into the batteries. He works it out and labels some of the connections and cables. At 1100 Michael runs Kelly into the wharf. She is going to meet her Mum, Mary, and go to lunch with her. Also, Mary is bring Michael some books and the newspapers. After Veto has a run they head back to Catlypso.
The bus stop is just outside the entrance to Seaworld which is 15 minute walk from the wharf. They catch route 705 which goes to Broadbeach and Pacific Fair shops and runs every 15 minutes. Route 704 goes to Helensvale via Southport shops and runs every 30 minutes. Cost is $5.20 each way unless you have a transport card when it is a lot cheaper.
Back on the boat, Michael does some laundry, washes our wet weather gear (it is all salty) and reads the papers.
At 1530 Michael picks Kelly up from the wharf. Michael finally gets Kelly to tell him where she wants the sail rope bag to go in the cockpit. This is to hold small items so we do not have to continually get them from the cabin. We end up putting it at the rear of the freezers behind the helm station. We have a visitor around now, 10 year old Scott from Island Home who we mentioned yesterday. He checks out the whole boat, a very inquisitive young boy. When he leaves we ask him to invite his parents to come over later for drinks.
We take Veto to the Seaway again for a long walk. Despite the relatively strong winds last night, the bar is as flat as yesterday. We also discover that the Seaway Tower is a separate organisation to the VMR and the Coast Guard. We am still confused as to who we logged off with!
Just after 1700 Geoff and Marina come over for sunset drinks. Scott also comes over later as well. We have a good chat about their adventures sailing from South Africa and their plans for the coming year. They leave at 1900 and we have tacos again, left over from Tuesday. After dinner we read and then go to bed.
Stats:
None today as we did not move.
Click here for next part of this trip.