Click here to read the previous part of the trip.

Day 34 – Monday 26 July 2021 – Cobbold Gorge

Weather: minimum of 10.1ºC and fine

I woke at 2:15 am when a baby started crying. This went on and off (mostly on) for the next two hours. The parents did not seem to be doing much to try to stop it! I am awake most of the two hours and then I sleep till 7:00 am. I listen to the news and then read the SMH. It seems that the resort has a private repeater which rebroadcasts the Telstra signal here, much like Adels Grove. I have access in the rooftop tent but not on the ground.

I get up at 8:10 am and have breakfast. Most of the people camped near me leave over the next hour. After breakfast I do some more work on my windscreen. I think it may work but the main crack is very long now. At 10:20 am I go for a bushwalk on the Diggers Track. Nothing special really, but nice to have a bit of exercise. I am back at 11:05 am, I have walked 2.5 km.
| | |
| --- | --- |
| | |
| The boats and the wharf | The lower section of Cobbold Gorge |
I walk to the office and get phone coverage and find that my ex-wife has sent me a message that a bloke I worked with for 30 years at NPWS died yesterday. She used to work with his son. Vale Cec Bartlett, one of the pioneers of NSW NPWS. I go back to the campsite and have a cuppa and read some more in the hammock. Before lunch I have a swim and then at 1:15 pm I walk to the office to go on the 1:30 pm tour.
| | |
| --- | --- |
| | |
| A freshwater crocodile in the lower part of Cobbold Gorge | In Cobbold Gorge approaching the new glass bridge |
The gorge is located on Cobbold Creek, a permanent water source that feeds into the Robertson River. After being allocated into groups, we all jump into the three mini-buses for the 10 minute ride to the start of the tour. We get out in a huge shed where there is a briefing. The different buses do the parts of the trip in different order. We do the boat trip up the gorge first. This takes just over 60 minutes in a small electric powered boat.
| | |
| --- | --- |
| | |
| The glass bridge from below | The narrow section of Cobbold Gorge above the bridge |
The gorge is very narrow but extremely spectacular. It is only a few hundred metres long, but do not be put off by the small size. In spots the gorge is only the width of the boat and we scrape on the rocks. We see a small freshwater crocodile at the start. A new attraction here is a glass bottomed bridge which takes the walking track over the highest section of the gorge.
| | |
| --- | --- |
| | |
| The boats are only just narrower than the gorge | The glass bridge from above |
Once back at the boat landing spot, we head off for our walk. This takes 80 minutes. It is an easy walk, the highlight of which is crossing the gorge on the glass bridge. To do this you need to put on socks over your shoes so you do not scratch the glass. We head back to the buses and then back to the resort. We get back there at 4:40 pm.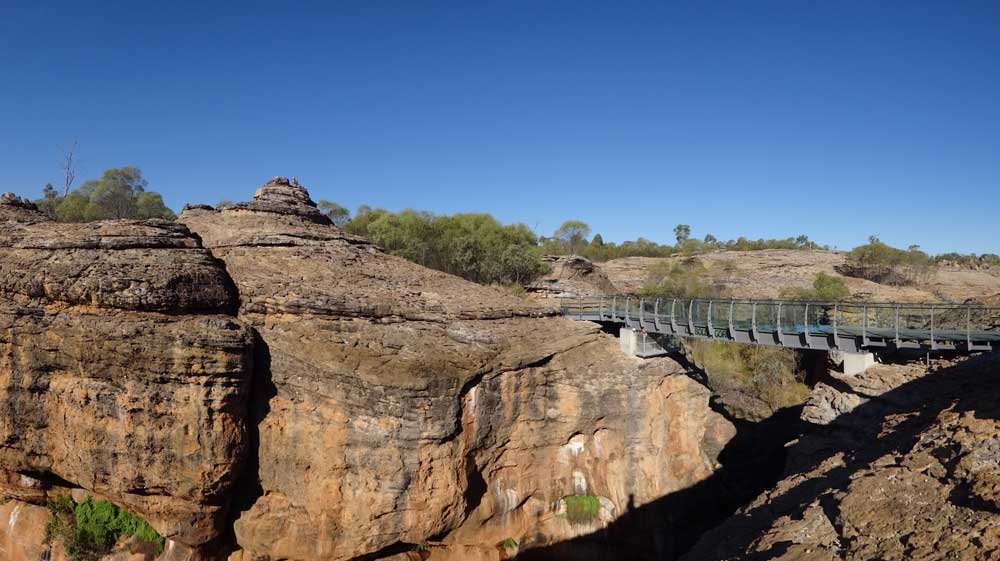 A panoramic photograph of the bridge and Cobbold Gorge
I go for a swim and then a shower. The solar panel has been out all day but has been in the shade for quite a few hours. At 5:30 pm I have drinks and nibblies and at 6:45 pm I cook a nice steak with some sausages on my newish grill on the fire. I have these with some heated up canned potatoes.
I then sit around the fire with some neighbours till 9:30 pm when I go to bed. I read till 10:00 pm.
Weather: Fine, maximum of 26ºC
Arrived: N/A Time: N/A Distance: 0 kilometres
Day 35 – Tuesday 27 July 2021 – Cobbold Gorge to Undara Resort
Weather: minimum of 12.2ºC and fine
I wake at 6:05 am and download the SMH to read offline. I have a few internet problems at first but then it works okay. I read till 7:00 am, listen to the ABC news and then get up. I have breakfast and pack up. I leave at 8:05 am as I have to be at Undara Resort by lunch as I have a 1:00 pm tour.
I travel via Forsayth and onto Einasleigh. The road between these two towns is mostly tar, but I sit on 90 km/h for the majority of the dirt sections. There are some windy sections as the road drops from 770 metres to 530 metres. I later discover I should have stopped at Einasleigh for a night or two as Copperfield Gorge is located here and people will tell me it is very good. Anyway, I pass by at 9:55 am and take the Gregory Highway north. There are some nice camping areas here on the Einasleigh River. This is a good dirt road.
| | |
| --- | --- |
| | |
| The bridge over Copperfield River, note the railway bridge to left | The causeway across Einasleigh River |
The road is a bit windy in sections and at 10:15 am stop for morning tea at Jardine Lagoon Camp. This is a private camping area, very nice with hot showers and flushing toilets. It costs $10 per person a night. I leave at 10:25 am. I arrive at the Gulf Developmental Road at 10:50 am (160 km today) and turn right onto the tar road which surprisingly still has single lane sections. I pass through Mount Surprise at 11:15 am and at 11:50 am I arrive at the Undara Resort. The road in is now tar till the entrance of the resort.
| | |
| --- | --- |
| | |
| Jardine Lagoon | My camping spot at Undara Resort |
I book in (cost $70 for two nights, tour $63) and head to my nominated site. It turns out to be a pretty good spot, I had problems when booking as I did not know if a I needed a caravan or tent site. This is a tent site. These are individual spots set apart from each other and in amongst the trees.
I set up camp, including my solar blanket and have lunch. At 12:45 pm I walk to the tour meeting site. We get on board our bus and 20 minutes later we are at the start of the Undara lava tube walk. I am doing the Wind Tunnel Explorer tour.
| | |
| --- | --- |
| | |
| The first of the tubes on the Undara Wind Tunnel Explorer tour | The entrance to the larger tunnel |
The guide is great and gives a very good talk about the volcanos in the area and how the lava tubes were formed. I had always assumed that they were hollowed out by rainwater, but they were actually formed as the hot lava cooled on the outside as they flowed down like a river but continued to flow inside. Then, once the volcano stopped erupting, the flow of lava also stopped coming out. However, the lava already inside the tubes kept flowing till it cleared the tubes. This left behind the train tunnel-like tubes.
| | |
| --- | --- |
| | |
| Inside the larger tunnel looking back at the entrance (left) and the main tunnel | Just past the middle of the longer tunnel |
Anyway, we get to go inside a couple of the tubes, they really are huge. The first one is not so long, you can see the exit from the entrance. The second one has an entrance into a tube like a Y. This one is so dark you cannot see anything in the middle, so make sure you bring a torch.
There are also bones of animals that have blundered into the tubes and were not able to find their way out as well as some very large spiders. There are also small insect eating bats. A really worthwhile place to visit.
| | |
| --- | --- |
| | |
| Kangaroo or wallaby bones | There were quite a few of these large spiders |
We are back at the resort just after 3:00 pm. I have an ice cream, very nice after the tour. I go back to my campsite and set up the hammock and read. At 4:45 pm I walk to the showers which are not that far away really. After the shower I have drinks sitting by my campfire. I cook Mongolian lamb for dinner with canned potatoes.
An Royal Australian Air Force Hercules flies overhead and around and then lands to the east. Thirty minutes later a Chinook helicopter lands there. They are both there for ages, with engines running the whole time. Later the Chinook takes off and the Hercules is quiet. I have no idea what then happened as I never heard the Hercules take off.
I sit around the fire till 8:55 pm and then go to bed and read my Kindle. About 9:30 pm the Hercules and Chinook come back again and land. Twenty minutes later they take off and leave. I learn tomorrow that there are war games on with the USA and other forces in northern Queensland.
Weather: Fine, maximum of 26ºC
Arrived: Undara Resort Time: 12:00 pm Distance: 244 kilometres
Day 36 – Wednesday 28 July 2021 – Undara Resort
Weather: minimum of 12.1ºC and fine
I wake at 4:45 am and read the last of my book till 6:00 am when I fall back asleep till 6:55 am. I read the newspaper till 8:00 am. They have a Telstra phone tower repeater here too, the internet is slow, but it works (I have since purchased my own mobile phone repeater for the car, works good at home where I only have one bar at most). I have breakfast and then go and wash my sheets and clothes.
After the washing is finished, I put it on the clothes lines and at 10:10 am I head out on a short walk to Atkinsons Lookout. I get back about 11:20 am, the walk was 4.4 km. Nothing special, but good to do some exercise. I am hot after the walk so I for a swim in the pool and then collect my washing which is mostly dry. A cuppa while laying in the hammock is interesting, I broke the tree I had connected one end of the hammock to!
| | |
| --- | --- |
| | |
| Old trains are some of the accommodation at Undara Resort | one of the views from The Bluff |
I have lunch at 12:45 pm, it is a hot 28°C. After lunch I book Porcupine Gorge for 3 and 4 August. This means I need to fit in two nights before then as my plan was to go there 1 and 2. I then do my tax return for last financial year and get a good refund! This will pay for my whole trip this year. At 2:40 pm I go on another walk, this time the Swamp/Bluff Walk. This is a combination of two walks and is a very nice walk. There are lots of kangaroos and wallabies along the edge of the swamp. There are some nice views from the Bluff and also some rock wallabies here too.
| | |
| --- | --- |
| | |
| Another view from The Bluff | A rock wallaby on The Bluff |
I am back at the pool at 3:25 pm after the 3.2 km walk. When in the pool a tall bloke looks familiar to me. I finally ask him who he is when I hear him say he worked for NPWS. He is Brian Curle who I worked with in the late 1970s for a couple of years. He left NPWS to join the NSW Fire Brigade and then had his own business. He now lives near Nelson Bay. We have a chat while in the pool about the old days.
Back at the campsite I start a fire as I am slow cooking a green beef curry. I prepare the onions, capsicums, meat and put it in my small camp oven with the curry and coconut milk. I place it on some coals to slow cook for a few hours. I then go off for a shower and at 5:50 pm I have drinks while waiting for the curry to cook. I also put on some rice. I have dinner about 7:15 pm, the curry is excellent.
I hear some noises and see a very small wallaby next to the fire. It has very small arms and I find out later it is a pademelon. Later I go to the campsite above mine and have drinks around the fire with the two girls and a couple of blokes. At 10:05 pm a bloke from another campsite complains about the noise of the music, it was quite low but he was probably right to complain. At 11:10 pm he again complained, this time about the talking which was definitely not loud. I had left at 11:00 pm and I could hardly hear them and I was a lot closer.
Weather: Fine, maximum of 28ºC
Arrived: N/A Time: N/A Distance: 0 kilometres
Day 37 – Thursday 29 July 2021 – Undara Resort to Archer Creek
Weather: minimum of 13.1ºC and fine
I wake at 6:30 am and read the SMH and listen to the ABC radio news. I get up at 7:55 am and have breakfast. I then fill my water tank and containers. I have only used 15 litres from the tank since I last filled it. I leave at 9:10 am and drive to the Kalkani Crater. This is the crater from one of the volcanoes. I get there at 9:25 am.
I do the crater rim walk. This is pretty easy, even the walk up to the rim from the carpark. It is easier to do anti-clockwise. There are great views of the crater and the surrounding land from the walk. It is 2.34 km to do the whole walk and it takes 38 minutes.
A panoramic photograph from the highest point of Kalkani Volcano Crater across the crater
I leave at 10:10 am and travel again via the Gulf Developmental Road to the Kennedy Developmental Road which I take to the north. A short distance from the intersection I stop at the Forty Mile Scrub NP picnic area. It is 10:35 am. There are picnic tables, toilets, information boards and a nice little walk here. I have morning tea and head off at 10:55 am. At 11:40 am I stop at Mount Garnett where I refuel and buy some things in the small shop attached to the service station. I take 111.3 litres at $1.409, $158.81. I have averaged 13.0 l/100 km for the 859 kilometres since I left Karumba.
I then stop at small shop that sells nick-knacks. I get a book for $2 and a bar of soap for $1 as I have almost used the only one I brought with me (since I was originally going to be home in a few days). I go to the information centre and get some brochures and then at 12:20 pm I leave town. Ten minutes later I arrive at Innot Hot Springs. This is a small spot with a caravan park next to the creek which has the hot springs in it.
I go to the water to try to have a swim in the hot springs. This is harder to do than you would imagine, as the water is very shallow and either too hot or too cool. I find a reasonable spot but have to lay down to get wet. Very overrated as a hot spa, although understand that you can go to a spa in the caravan park. I should have done this. I have lunch and then leave at 1:15 pm.
At 1:25 pm I arrive at Archer Creek. This is a creek that feeds into the much larger The Millstream and has a large flat area next to the highway for caravans and campervans and below that, a smaller area for tents, small campervans etc right next to The Millstream. This is the pick of the spot and I get a site on the creek as the ones next to the main water are all gone.
I set up camp and put out the solar blanket and move it around to keep it in the sun. I have a few swims in The Millstream. This water is flowing and there are some nice waterholes. It is a warm 20°C. I talk to a few people here, including Jack from Byron (funny girl). I have a few cuppas, fly my drone and relax the afternoon.
Weather: Fine, maximum of 26ºC
Arrived: Archer Creek Time: 1:25 pm Distance: 133 kilometres
Day 38 – Friday 30 July 2021 – Archer River to Jumna Dam
Weather: minimum of 8.1ºC and fine
This morning is the coldest morning since 14 July, freezing for up this way. I am awake at 4:15 am as there are a huge number of cars and trucks after 5:00 am, especially for the next 45 minutes. I have no idea why so many as when I am back here in a few days there is nothing like this traffic. I sleep from 6:00 am till 7:00 am. I listen to the radio news and read the SMH. I get up at 8:00 am and have breakfast. I should also mention that there is a toilet block here, old, but fairly clean.
I pack up the Shippshape and when I go to leave I discover I do not have the car fob. I realise it must be in the rooftop tent where I normally put it at night. Luckily this is not too far from the door, so I reach my hand in and after a while I find it. Didn't want to have to open it up again. I leave at 9:30 am and then go to Millstream Falls. These are said to be the widest in Queensland. It is only ten minutes to here.
After this I walk around the former US Army base which is located near the carpark for the waterfalls. This was set up during World War II. You can see the walking paths, some roads, the parade ground and some toilet and shower floors. There are also some machine gun pits. I leave at 10:15 am and five minutes later I am in Ravenshoe. This is the highest town in Queensland at 930 metres (almost as high as Katoomba in the Blue Mountains and 75 metres higher than Jindabyne in the Snowy Mountains.
I go to the bakery and buy some things for morning tea for the next few days. I then head to the local park to have morning tea. I ring my sister Janelle to discuss the offer that has been made for Mum's house. Mum has moved into aged car, so we need to sell the house to fund the new place. The offer is amazing, far more than we expected. I agree that if we get nothing higher in the next few days, we accept this one (Janelle is selling the house via Facebook!).
I leave at 11:00 am but five minutes later I have to stop as the snorkel is loose again. This first happened in 2019 and is because the screws holding the snorkel to the car were poorly fixed in the first place and have now created a larger hole. I have put in larger screws but they are loose again. I tighten them up again. I will have to do something else as this will happen again if I don't.
I am back on the road 10 minutes later. I arrive in Herberton at 11:40 am. This is almost as high as Ravenshoe, just 20 metres lower. It is an old copper mining town. I decide to go to the Spy Camera Museum which has not just spy cameras, but all sorts of still and film cameras. It costs $10 to go in or $20 for a guided tour. I do the guided one, it is extremely interesting, led by the owner Michael. It takes 40 minutes. There are even underwater cameras which, of course, are over interest to me. While here, the people who are finishing the tour say they saw me in Karumba and at Gregory River. I don't remember them.
I go to the small park at 12:25 pm to have lunch. After this I go to the Herberton Mining Museum. Entry is by a donation and there is a floating guide who tells you about certain parts of the museum as you move around. The museum is really quite good and worth doing. After this I walk to the Great Northern Mine, 1.2 km return.
I leave at 1:50 pm and try to find the Baldy Mountain Forest Reserve as this is said to have a camping area in WikiCamps and also the Queensland national parks website. However, I do not think it actually exists as the WikiCamps directions are wrong and the national parks website has no map or directions. I lodge a notice with WikiCamps that I do not think it exists and I notice that in January 2022 it has been removed from the app. A total waste of time going down numerous very rough tracks.
At 2:40 pm I go to the Royal Hotel in Herberton and have a beer. I then walk to the hardware store as I need a bolt to repair my chair as once again one has fallen out. I buy a few bolts to fit. I leave town at 3:15 pm and head west towards Irvinebank. I stop to collect some firewood and arrive at Jumna Dam at 4:00 pm. I miss a turn on the way in but eventually end up on the lakes edge.
However, there is a problem, well a few problems. First, there is very little flat land, and of the small bit that there is, it is taken by a bunch of local rednecks (well from Cairns) with quad bikes and loud music. They are apparently having a birthday party this weekend for one of them and more are coming. I go looking for another spot but one couple tell me that there is nothing else on the water edge near here. They do tell me that there are a couple of spots near the dam wall.
I head back out towards the main road (the track is definitely 4WD only) and head up to the dam wall. Here I find a small are for a couple of rooftop tents and another area a hundred metres away a bit bigger. The spot I like is just near the water and has a nearby shed and table. I set up camp at 4:25 pm. The ground is very hard and I bed a few screw pegs putting them in.
I have a shower and at 5:30 pm I have drinks and make rice to have with leftover curry from two nights ago. It is very lucky I did not stay at the spot I first went to. During the evening at least another eight cars come in, most with quad bikes on their trays. All but one come the wrong way and end up where I am and I have to redirect them to where the party is on.
I listen to the NRL on the radio. All the time I can hear the music from across the lake and also the quad bikes running around everywhere. I go to bed at 9:25 pm.
Weather: Fine, maximum of 29ºC
Arrived: Jumna Dam Time: 4:25 pm Distance: 108 kilometres