One of the problems when transporting dive gear in a car is that tanks can roll around in the boot of your car. You can always buy a purposely made tank rack but these are generally expensive, large and certainly as far as I am aware in 2007, hard to get. Why not make your own?

This simple tank rack is both cheap and easy to make.

MATERIALS
The finished rack

You need one swimming pool "noodle". These are the long cylindrical foam items that kids use in swimming pools for floatation as well as just having fun. They are about 1.5 metres long and 150 mm diameter. This will be enough for two tank racks or a double rack. You can purchase them at places like K-Mart and most sporting stores. The cost is about $4.

The next thing is rope. If you have not already go some spare rope around the house, purchase some that is about 3 mm diameter. Plastic type is best. You will need about two metres for a single rack and say three metres for a double rack.

You will also need 4 washers (6 for a double rack). Get ones that have a centre hole large enough so that the rope just fits through and has an overall diameter as large as possible. These are used to stop the rope pulling though the soft noodle foam.

EQUIPMENT NEEDED

You will need a power drill and a drill bit a little larger than the rope.

ASSEMBLY

If you are making a double rack, measure the noodle and then cut into three equal sections. You can easily cut with a sharp kitchen knife. If you are making one or two single racks, then cut into four equal sections.

Drill a hole through one one noodle about 100 to 150 mm from one end. Put the hole as close through the centre as possible. Place the second noodle next to the first one and make sure the location of the hole on the first will be identical to the second. Drill a hole through the second noodle. For a double rack, do again for the third noodle.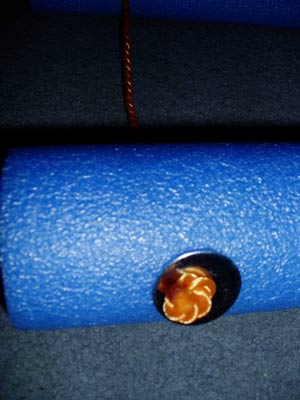 The knots and washers - Note the burnt ends

Place the noodles on the floor and get a tank (your smallest one) and try to estimate the distance apart that the noodles will need to be. It is not important to do this accurately, you are only attempting to estimate the length of rope needed. Measure from the outside of one noodle to the outsiode of the other (for double to the outside of the thrid one). Cut a section of rope that is at least 150 mm longer than this measurement.

Burn both ends of the rope with a cigarette lighter or candle so that the rope is neat. Push one end through one of the holes. Put a washer on the end where the small bit of the rope is showing through the noodle and then tie a knot in the rope at this end with as small as possible end bit.

Now is an important bit. Push the other end of the rope through the hole in the other noodle. Place the noodles on the ground and try to estimate how far apart the noodles need to be to have the tank held securely and preferably, off the floor. Use a tank if need be. Place a washer over the end of the rope and tie a knot to make the noodles the right distance apart.

Recheck that the tank will sit properly (remember that at the moment the other end will be too far apart so you will need to hold this end at the same distance). Adjust the knots in the rope so that the noodles are a suitable distance apart. Do not cut the end of the rope at this moment.

Repeat the above for the other end of the noodle.

Finally, once you are convinced that the noodles are the correct distance apart, cut the end of the rope so that there are no loose ends. Burn the end of the rope to make neat.

COST FOR TWO SINGLE RACKS OR ONE DOUBLE RACK

Noodle: $4
Rope: $2
Washers:$4
TOTAL: $10