In August and September 2023 I did a three week long dive trip to the Philippines with my friend John. We spent the first week at Anilao staying at Buceo Anilao Dive Resort and the next two weeks at Sabang (Puerto Galera). A t Sabang, we stayed at Capt'n Greggs and dived with them as well.
There are a dozen or more dive sites located within 10 minutes run from Capt'n Greggs.
Unfortunately we had a Super Typhoon hit the northern Philippines when we were at Anilao and lost some days diving there. We were also delayed a day in getting to Sabang.
Monkey Wreck and Ernies Cave are about 700 metres east from the resort off Monkey Beach. Of course, this is a scuttled boat and named for the beach. A GPS mark for the starting spot for the dive site is 13° 31' 22.652"N 120° 58' 52.900"E (using WGS84 as the datum). Note we also did the dive just to Ernies Cave as a drift starting to the east and drifting to the west.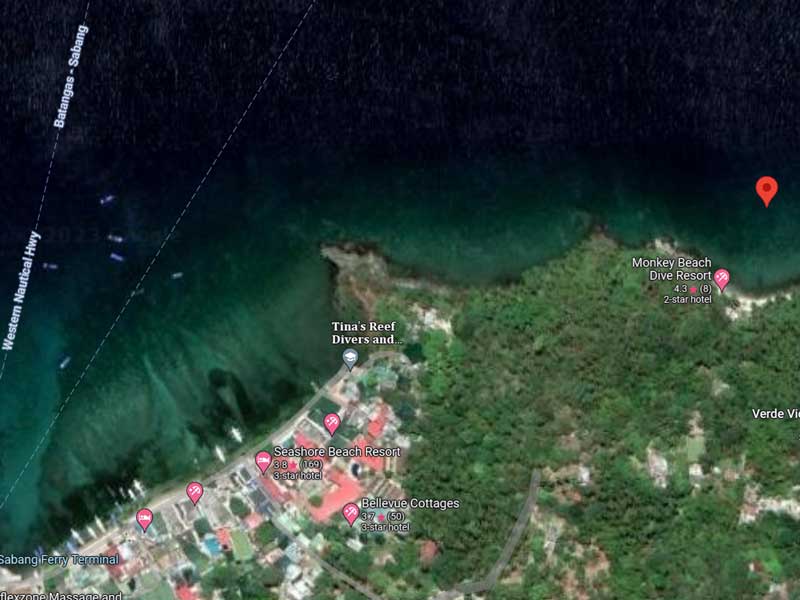 A satellite photo from Google Earth showing the location of Monkey Wreck at the red mark. Ernies Cave is to the right of the wreck. Sabang Bay is at left.
We started this dive right at 16 metres and then headed east and deeper to the wreck which is at 24 metres. It is a small 10 metre long steel vessel, probably a local trading boat. It has no superstructure and is lying on its port side. We only spend a few minutes here looking at the wreck before heading off to Ernies Cave.
| | |
| --- | --- |
| | |
| The stern and keel of the Monkey Wreck | A view from the sand of the wreck |
From the wreck we head east into a very slight current. The bottom is sand with broken coral pieces. The depth actually comes up a little to 21 metres before deepening to 23 metres when we reach reef. On the way we see heaps of garden eels, but they were impossible to get a photograph of as usual.
At the reef there are lots of featherstars and some large gorognias. I check the gorgonias for pygmy sea horses but find none. We continue along the reef edge, even getting back to 26 metres in one spot. The coral is in a very good condition as well.
| | |
| --- | --- |
| | |
| A Christmas tree worm | A couple of clownfish in an anemone |
We see some very nice nudibranchs on the reef as well as anemones and clownfish. It really is a nice bit of reef. After 37 minutes we head shallower to 16 metres and also head west with the very slight current. We gradually ascend a little as we go.
| | |
| --- | --- |
| | |
| Large and spectacular nudibranch | Two mating nudibranchs |
Eventually at 14 metres we come to Ernies Cave, more an overhang than a cave. A bit underwhelming really! However, the reef here has a lot of fishlife and is also interesting. From here we go shallower and end up in six metres where there are a few coral bommies. We do our safety stop here.
| | |
| --- | --- |
| | |
| Moray eel | A nice fish |
This was a very good dive. Water temperature was 29°C in September. The visibility was about 20 metres.
MORE PHOTOS
| | |
| --- | --- |
| | |
| Nudibranch | Nudibranch |
| | |
| Nudibranch | Nudibranch |
| | |
| A flutemouth | A pufferfish |
| | |
| Another flutemouth, bright yellow | A pufferfish |