These photographs are from many sources. Some have come from Kevin Green of Aquamarine Diving in Santo, some were sent to me by various people and still others were found by me on the internet. I may have unknowingly infringed some copyright, for this I apologise. The first five photos are said to be taken by American Sea-bees.
This shot from the bow
shows the ship almost totally on her side
Some of the rubber rafts used to escape
This is John Barlow - 84 yo in 2006
| | |
| --- | --- |
| | |
| A bow shot showing men still abandoning ship | One more shot of the bow area showing anchor out |
This shot from the shore appears to be the same
as the one at right, but a better copy
The Coolidge shortly after running agound.
You can see how close it is to the shore
The list of the ship is very apparent
There is no panic, some of the soldiers even
take time to wave to the camera
The evacuation of the stern
as it starts to sink
The ship is now listing very badly. The door at the top left
is the where Capt Covill and WO Moshimer attempted
to haul Capt Euart from the ship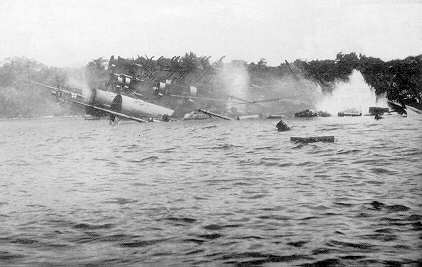 The SS President Coolidge disappears beneath Segond Channel
For the next part of the SS President Coolidge story, click here.
For links to all the information on the ship see the Main SS President Coolidge Index Page.
For diving the SS President Coolidge, I recommend the services of Aquamarine Diving, Santo.
References:
See References Page.