In 1997 the drive from Sydney to the coastal town of Forster took about four and a half hours or so. The last section of the trip from Bulahdelah on the Pacific Highway along the The Lakes Way to Forster was quite slow. In fact, many people opted to drive further north towards Taree before coming back through Tuncurry. In parts the road is very poor, narrow with very sharp turns, pot holes and poor alignment. This makes for a slow and often dangerous trip, especially in the rain.

In 1999, a by-pass to the infamous O'Sullivans Gap hill, where dozens of people have died over the recent past, was opened. This road skirts to the eastern side of the mountain range and provides a far quicker way to access Forster. Additionally, other new dual laned divided roads opened between Raymond Terrace and Karuah which also have improved the drive. In early 2001, it only tooke me three and three quarter hours to drive from the southern side of Sydney to Forster. A big difference! There are more roads under construction and planning that will reduce this drive to about three hours from my place.

Thanks to these better roads, Forster is an even better place to visit for holidays location and an even more popular retirement place. For divers, the main attraction of Forster is to get access to the grey nurse sharks of Seal Rocks. However, there are a number of other locations at Forster that are as good, if not better, than the Seal Rocks dives. This includes The Pinnacle, Latitude Rock and Spot A.

Spot A is located off Cape Hawke (at GPS Reading 32° 12' 39"S 152° 34' 09"E - using AUS66 as datum - see my GPS Page for more details), perhaps a kilometre from the land, just a few hundred metres to the east of Latitude Rock. In fact, Spot A is probably just a continuation of the reef at Latitude Rock. Spot A is a reef that runs in a north-east to south-west direction with the deeper section being sand at 22 metres and the top of the reef is about 8 metres. On the southern side the reef gently slopes down (covered in kelp for the most part) while on the northern side the reef drops in a couple of vertical walls from 10 or 12 metres to 18 metres.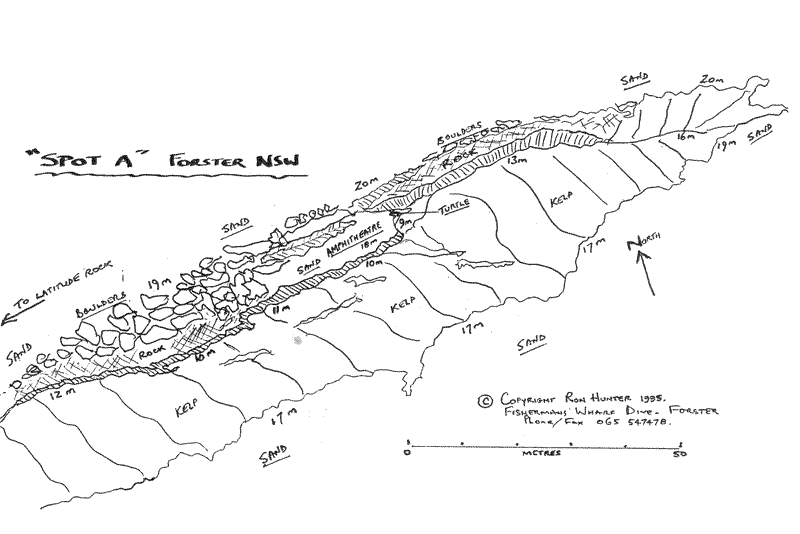 A map of Spot A
Courtesy of Ron Hunter, Dive Forster
The wall contains some small crevices, which are home to ultra friendly moray and moasic eels as well as the occasional eastern blue devil. Octopus and cuttlefish can also be seen in these small cracks and overhangs. As you swim along the wall you see some small and large boulders that lie off the wall, in some cases making a channel. The sponge and other marine growth on these boulders is quite nice. On the sand you can see flathead, rays and on one occasion in mid-1992 I saw a number of squids mating and laying eggs. Fantastic!!
The reef is generally coated in silver sweep, mado, bullseyes, rock cale, yellowtail and stripeys. The yellowtail on my two dives here were in plague proportions, totally covering the top section of the reef in spots. There are other species to see as well, including many types of leatherjackets, wrasses of all sorts (especially blue groper and combfish), rough flutemouth, the occasional firefish, long-finned bannerfish and Gunther's butterflyfish. All in all, a great place to see fish.
This is an very good dive location suitable for all divers no matter their experience, although on some dives here I suffered poor to very poor visibility. Given fair to good visibility, this would be an excellent dive spot.
On my trips to Forster, I have always dived with "Rotten" Ronnie Hunter of Dive Forster. Ronnie has a large comfortable cat to dive from. Ronnie also has cheap but neat accommodation in a house centrally located to all facilities. Contact "Rotten" Ronnie on 61 2 6554 7478.