One of the first articles I wrote for DIVE Log many moons ago was about a great undived area called Mahon Pool. This dive site is located at North Maroubra in Sydney's Eastern Suburbs and the reason it was "undived" was because the site can only be dived (as a shore dive) in exceptionally calm seas. In all my time diving, I have only ever dived Mahon Pool about 15 times, four of these from a boat.

Until mid-1995, I had not dived there for almost four years. In that time I had planned numerous times to dive at Mahon Pool but each time we had to cancel because the millpond seas were still too rough to safely exit the water at this location. What a dive site! After five years it still lived up to my (high) expectations. It is a great dive location, with a fantastic underwater landform together with great sponge gardens and heaps of fish. I have since done a boat dive there and in mid-2001, another shore dive.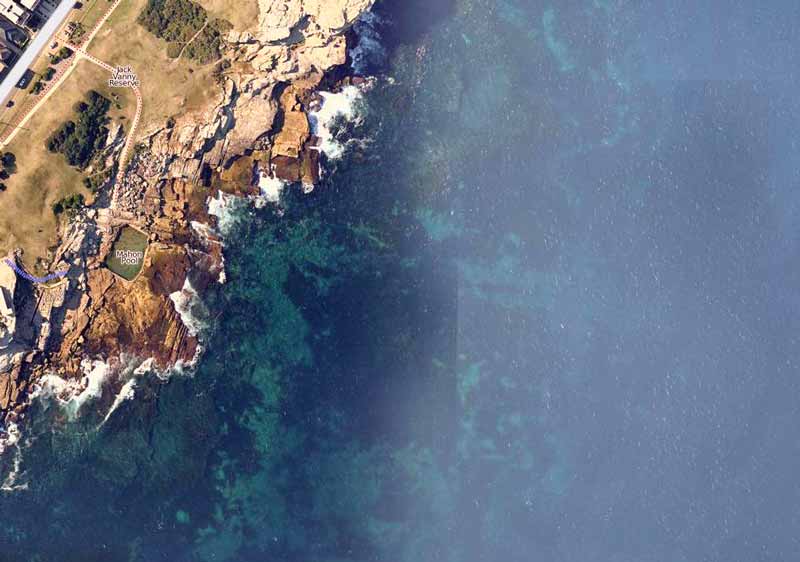 Mahon Pool - the best entry and exit is the furtherest point to the north-east of the pool
You can sort of see the channel and canyon that runs out from just below here to the east-south-east
On the Sunday of the long weekend the conditions were perfect (even though a dive club of which I am a member had cancelled their boat dives the previous night due to "rough" seas) and with buddy Eddy Labour, I headed out to Sydney's magnificent Maroubra Beach. As soon as I saw the beach I knew this was the day we were going to dive Mahon Pool. Normally blessed with great surf, the water was just lapping at the sand's edge with no waves at all.
After parking in the car park off Marine Parade at North Maroubra, Eddy and I donned our gear and strolled down the path to Mahon Pool itself where one of our dive buddies, Phil Short, was otherwise engaged in winter swimming races. A quick chat about our dive (and their stupidity in swimming in cool water without rubber) and we were off towards the small point to the left of the pool. An easy entry from this point (A on the accompanying map) saw us snorkelling out to a buoy about 120 metres east of the point.
This happened to coincide with the spot where we wanted to descend. While snorkelling, we kept our eye on the bottom so we could see the start of the gutter (C).The visibility was very good, about 18 metres or more. As we descended, the first swarms of fish came in to look at us.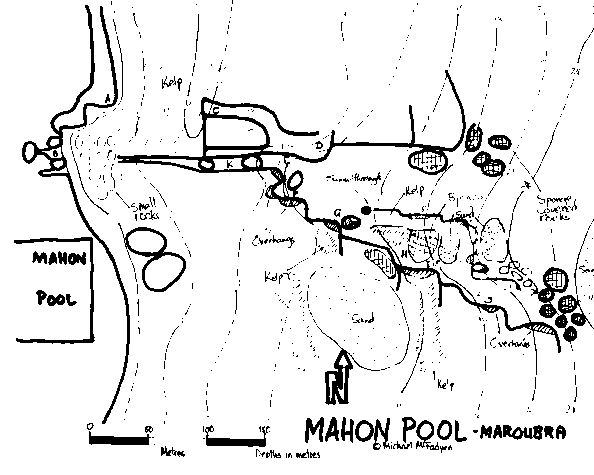 A map of Mahon Pool
At this spot we dropped off the reef top of 7 metres into a small canyon (12 metres) that opened into a larger gully. The seascape generally reminded me yet again of a miniature grand canyon, with the main feature being the large gutter which starts about 75 metres off the entry point. At first we explored the start of the gutter and then headed due east keeping to the southern wall. The wall soon turned towards the south and then ran out as it met a more open area and another smaller but deeper gutter (12 metres - E). From my previous dives I correctly remembered a large boulder blocking this gutter to my right (west).
We kept following the southern side of the gutter and headed to the east. Due to the great visibility, we saw a large overhang even from here and past that a large rocky outcrop. I swam between the wall and the rock and examined the other overhangs in the small niche and the southern wall (F) while Eddy looked in the swim-through under the large rock. We kept following the southern wall in an easterly direction, every now and then going to the south for a few metres before returning towards the east.
We encountered a seascape consisting of rock steps at about 3 metre depth intervals. The top of the first few steps are covered with kelp and the ones just after are covered with plenty of sponges reminiscent in shape of cacti in a western desert. In between these areas, we kept our eyes open for common sea dragons which we were lucky to see (H). The depth was about 18 metres. Travelling further down the gutter we saw that sides of the gutter contain more overhangs which support heaps of marine life. We still had plenty of air and bottom time so we continued on.
However, depending upon your air consumption and your rate of travel, this is probably the maximum point you will reach on your first dive here (I). If any of your group has less than 60% of their air remaining, you should turn around here. Likewise, if your dive time is more than 30 minutes to this spot, turn around.
From here it is about 300 metres to the shore and it will take you approximately 20 minutes of constant swimming to get to the exit point (J). If on later dives you snorkel out further you could continue on to where you will encounter two more ledges and eventually reach the sand bottom. We did this and reached a maximum depth of 24 metres. At the sand we turned to the south for about 50 metres or so and followed a bit of a wall and some huge boulders. The fishlife here is very good and we saw an enormous ray.
When returning to the shore, backtrack along the southern edge, making sure that you keep turning right at each ledge. It is very easy to miss a turn, so if you find yourself on a sandy or kelp covered bottom, change your direction to north until you reach the gutter again. Once you reach the narrow gutter near where you first submerged, follow it due west (K). It will narrow until it is only just wider than a person. In some spots there are large rocks blocking the gutter which you need to swim over. Eventually the gutter fades out. Continue due west for about 40 metres until you see the sheer face of the rock platform. Just to the north of here you will see two slits in the rock wall. The northern-most slit is your exit point (B) at low tide. Before you enter the water, check out this slit from above the pool.
If you have some air left, it is worth exploring a bit to the south and north from here. There are some excellent places to see with a lot of luderick and other fish around.
Surface and check the swell and confirm your location. Then submerge and swim along the bottom into the slit, using the rocks and growth for added leverage. When you see the rock ahead, go to the right or left and let the swell carry you up onto the platform until you can kneel up. If the tide is high or there is a little swell, about half way back from where you entered the water, there is a sloping rock that is about 1.5 metres wide and which runs in the same direction as the gutter. This is an excellent exit spot. It may even be easier here at low tide than the other location.
Fish are plentiful on this dive and include groper, mado, Maori wrasse, crimson-banded wrasse, sergeant baker, yellowtail, abalone, white ear, red morwong, girdled parma, old wife, snapper, Sydney cardinal fish, bream, bullseye, roughy, silver sweep, rock cale, eastern rock blackfish, striped seapike and one-spot puller. Some less common fish regularly seen are mosaic leatherjacket, magpie morwong, firefish, Port Jackson shark, eastern blue devil, common sea dragon, stingray, bastard trumpeter, blue morwong, black reef leatherjacket, yellowtail kingfish, wobbegong, fiddler ray, eastern wirrah, eastern king wrasse and vagabond butterflyfish.
Due to the extremely hard exit point and the distance to swim, this is definitely only for the experienced advanced diver. As I explained at the start of this article, you need absolutely millpond seas to dive this site. All but one of my dives at Mahon Pool have been in the winter when westerlies are blowing. Therefore, you must have a completely calm sea and a westerly wind. Additionally, it must be done on or near low tide as at high tide the water washes over the rock platform and floods back out through the only exit point. Because of the multi-level terrain, persons with dive computers will enjoy this dive better.
A fantastic dive site only limited by its difficult exit point and the need for ideal conditions.
NOTE:
You can boat dive this site, or at least the deeper sections. Anchor with the light pole behind Mahon Pool in front of the shop up higher. GPS readings of 33° 56' 37"E 151° 16' 06"S (using AUS66 as datum - see my GPS Page for more details) will put you near the boulders and two overhangs on the accompanying diagram. The depth sounder will show a rise from 26 to 27 metres to about 23 metres or so.