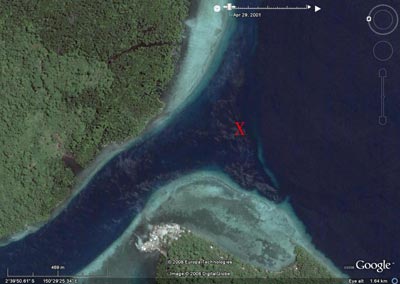 A satellite photo of Planet Strait - Planet Hollywood is near the X
Most of the dive sites at Kavieng, New Ireland, Papua New Guinea, are located relatively close to Nusa Resort and the township. The opportunity for great dive sites located in the area to the west of Kavieng is immense as there is a vast area that looks like it would provide fantastic diving.
West-south-west of Nusa Resort at Kavieng is Planet Channel. I am not sure how it obtained its name, but there is also a Planet Rock at Madang and there was a Royal Navy warship called HMS Planet (did it hit the rock?). Planet Channel is located between Enang Island and Nusalana Island. It is a 60 minute run to the site from Nusa Resort, meaning that it is about 43 kilometres by water.
At the mouth of the channel there is a reef that runs at least some of the way across the mouth at right angles. This is called Hollywood or Planet Hollywood. It runs roughly south-west to north-east. There is a mooring here which is at about 12 metres. This has a GPS of about S2Âș 39' 55.9" E150Âș 29' 28.5" using WGS84 as a datum.
When we arrive here the liveaboard dive boat MV Telita is tied up to the mooring. As our dive operators have not dived here much, we are coinciding our visit to utilise the knowledge of the Telita's skipper.
As we tie up to the back of the boat, there are dozens of local kids in their canoes surrounding the Telita. There is a very strong current running in so we have to plan our dive carefully. The plan is to go in the dive boat forward of the mooring and enter the water here. Then, once we are on the bottom, follow the wall to the north-east and gradually ascend. Then we would do a blue water ascent if needed and get picked up by the boat. However, this is not what happened as I will explain.
After gearing up the boat took us about 100 metres in front of the mooring and we all entered the water at once. We immediately descended and after a few minutes we hit the wall. This is a vertical wall that has lots of overhangs. The current so far is not too much of a problem. The wall goes to at least 30 to 35 metres here with a slope past that to over 45 metres.
| | |
| --- | --- |
| | |
| Looking back at the wall at Planet Hollywood | Notice the current making the bubbles head to the left |
The current in places a bit further along starts getting funny. At one spot it is strong, then there is no current, then it is an upward current and then down. However, so far it is not too bad. There are lots of very nice gorgonias along the walls. I see a number of sharks as well as a turtle. There are also lots of barracuda swarming around.
Soon we see some indents in the wall and a bommie out off the wall. I see an eagle ray there and swim out and get two quick photographs.
The reef turns a bit more to the north-east here and the wall runs from 20 to 30 metres. On the top of this wall there is a small plateau, perhaps 40 metres wide and 20 metres deep. The north-west side of this plateau slopes off deeper. In this area there are two saddles, one between the steeper wall and one past the plateau. This seems to have a much shallower area past it.
| | |
| --- | --- |
| | |
| An eagle way I saw at Planet Hollywood | Kelly and a gorgonia in an overhang |
As I am getting near decompression when just over 30 metres, I come up to the top of the wall and set my reef hook (a J shaped hook about 150 mm long with about a metre of cord and a clip). This keeps me in one spot without any real effort. This is good, as the current is extremely strong here and I have problems raising my camera to my eye to take a photograph. I try to head to the north-east but soon strike a current coming into my face that will make it too hard to go far. I go back to my previous position. There are others here as well, including my wife Kelly. I decide that we need to move and notice some of the others coming towards my way. We head off to the south-west in an attempt to go back to the mooring.
Again, we strike a current head on. What to do? I look at my contents gauge and see that it has gone from over 100 bar when I left the 30 metre level to 66 bar now. I have also gained two minutes decompression at three metres. I tell Kelly that we have to go and together with a whole lot of others, we let go of the reef and drift in the current into Planet Channel.
We all stick together and start slowly swimming into the current to slow our progress a bit. Soon we see another of the group. I decide to send up my safety sausage but before I do, I see that this latest diver has already sent his up.
A few minutes later another two divers come into view. They are very close together. At first I think that one is the dive operator but I soon realise that they are both members of our group. I then realise that one is providing air to the other one via his octopus.
| | |
| --- | --- |
| | |
| A large school of barracuda | Kelly above a huge gorgnoia |
Hell, we have a problem! I swim towards them as fast as I can and check our what is happening. I have a look at the gauges of the air donor and see that he has a sufficient amount of air to last a while longer so there is no need to panic yet. I do not have enough to take over as by now I only have about 48 bar. I decide to take the camera from the diver who is out of air to make it easier.
I swim over to the other members of our group and check their gauges. One of the group has over 90 bar so I motion him to follow me. However, as I approach the two divers I see Kelly swimming over with her octopus out. She takes over. She has about 110 bar at this stage so all is good. However, they are too deep and we need to get them shallower. We have trouble trying to ascertain what his decompression requirement is as the computer he is using is an extremely complex tech diving one that is, as far as I am concerned, dangerous. We think he has 17 minutes to do, although I doubt that my Aladin would have got this much doing the same dive (I plan to get his print out and compare it to a similar dive of mine to see what my computer would do).
Eventually we get them up to about five metres from the eight metres that they were at. Some of the others who have lots of air go over and assist Kelly. The diver with the safety sausage attaches it to the diver who is out of air to make sure that he does not drop deeper.
I decide to ascend to get rid of the camera and also to let those above know what is happening. Unfortunately, the out of air diver also has a lot of decompression to do so this will be something that will not be resolved for a while. All the time we are heading into the channel at a great rate.
I get rid of the camera and let them know what is happening. They offer a new tank and regs to take down but I decline as another dive has almost 100 bar and another about 80 bar. I go back down and check on the situation. Everything is well. A little while later Kelly is getting low on air (45 bar) so the diver with the 100 bar takes over.
About five minutes later one of the dive operators enters the water with a full tank and she takes over. This is about when the diver clears decompression. They do some extra time and ascend. By the time we get out of the water, we have travelled 1.5 kilometres from the mooring, probably about 1.6 kilometres since we left the reef bottom.
By the way, the diver is very experience and from all my dives with him has never caused me a concern.
Why did this happen? I think that there is one reason, the diver was so engrossed in taking photographs he did not notice what was happening around him. As such:
Once he realised what the situation was, he attempted to get back towards the mooring but had no chance (apparently the other dive boat's plan was to go back to the mooring - unlike our plan). He also was carrying a very large camera and strobes that made the going hard. He chewed up his air. Luckily for him, he ran into the other diver who provided him with air.
Well, what to learn from this?
Anyway, as it turned out there was no bad outcome, but it could have been.
Well, back to the dive site. This is a great site, but extreme care needs to be taken due to the currents. In addition, I would recommend against inexperienced divers doing this site at all and unless someone is extremely experienced, forget about taking a camera.
Visibility was 30 metres and the water temperature was 29ÂșC.