Continued from first part
Friday 15 May 2015 - Gold Coast to Russell Island, Moreton Bay
Gold Coast at bottom, Russell Island middle and Tangalooma at top
Once again the wind overnight was a lot less than the forecast and at 0800 when Michael gets up it is well under 10 knots. He takes Veto to shore for a walk (no need for a wee and a pee as she did the first on Catlypso's rear steps and the second in Thunderbird 2. She has been very good so far and this presents no problem.
To At 0835 the wind picks up dramatically to 17 to 22 knots. We have already decided to move, so this does not worry us too much as we are heading up inside the Stradbroke Islands in quite protected waters. This is sort of like a series of interconnecting canals or small rivers. It is too narrow for us to sail, although if we had more local knowledge we might. There are various routes we can take, but we decide on the Main Channel. The channel markers are not the easiest to see, especially when heading into the sun. We use our guide book to help us.
At 0900 we pull up the anchor and head off. Once out of Bums Bay we run on one engine at 2200 rpm, our most economical speed. Once past the Seaway, we are heading into a current of 2.5 to 3 knots, so we are only making 4 to 4.5 knots. At 1030 we pass the entrance to the Coomera River. Later the wind drops to 7 to 10 knots.
| | |
| --- | --- |
| | |
| A large yacht washed up on the shore, looks like it has been here only a short time | The high tension lines we pass under |
Along the way we pass lots of small villages, some marinas and new developments. We start looking for a place to stop for the night but some that look promising on paper are not so good once we are there. We see the wreck of a boat north of Jacobs Well.
Just before Logan River we pass under some high tension lines. These are marked as 20.3 metres HAT and we clear easily. A bit further on when we get to Karragarra Waters we turn to the east and go between Karragarra Island and Macleay Island and then turn right into Krummell Pass. This is between Karragarra Island and Russell Island. We plan to anchor off the ferry wharf at the northern end of Russell Island.
| | |
| --- | --- |
| | |
| Catlypso from the ferry wharf | The nice mosaic on the wharf at Russell Island |
However, when we get here we see that there are boats moored in the area the guide recommends and if we anchored a bit further out, we would be blocking the ferries' path. We go to the west of the ferry wharf and the car ferry ramp and see some pink moorings.
In NSW pink denotes public mooring, but we figure out that they must be commercial moorings as they are located right in front of the ferries base and one is tied up to it. There are four red moorings near this, three of which are vacant. Yellow is obviously private moorings (same as NSW) so we assume that red must be public (whereas this is commercial in NSW).
As we are looking, a yacht we passed about 90 minutes ago comes in from the other direction and says he is taking one of the red moorings. We decide to grab one as well. Michael has a look on the internet and cannot find any reference to red moorings. It looks as these are controlled by the Moreton Bay Marine Park, but we see no reference to them. Hopefully we are okay using it.
It is 1415 when we are moored. We tidy up the boat and then head to shore. We motor over to the ferry wharf and manage to squeeze Thunderbird 2 into a spot on the back of the wharf, there are about 6 tenders here, including one huge one that is taking up half the available space.
The tenders tied up at the back of the wharf
This little "train" is used to transport
goods out to the end of the wharf
We go for a walk up the main street. There is an IGA supermarket and a liquor store a short distance from the wharf. We go down a couple of streets but find nothing else of interest. There does not appear to be a hotel but there is an RSL club nearby.
We are back on the boat by 1335. Kelly needs to do some work (she has a few things she needs to finalise over the coming weeks) while Michael writes up this blog. There is a brilliant sunset tonight, with fantastic red and orange colours. The photograph below is one of a few great ones Michael took.
Sunset looking back towards Raby Bay
Tonight Michael cooks a creamy pasta with garlic bread. We are abstaining from alcohol tonight, bugger! About 2000 it starts to rain, but it is very light and stops after about 90 minutes. We watch some TV before going to bed at 2130.
Stats:
Saturday 16 May 2015 - Russell Island
It is one year ago today that Michael finished work. He says that he has not missed work at all and has not had one boring day since. Diving, working around home and on Catlypso, doing some volunteer work and other things has kept him busy.
We decide not to move today as the forecast was for 25 knot southerly or south-westerly winds. Also, Kelly has some work she needs to do, so it is perfect for us to stay here today. We are up at 0800 and go to the shore so we can go to the supermarket. We need some insect spray which we forgot to buy (there are a few mozzies here) and some cream.
The IGA is very good, probably better than the supermarket we use in Sydney. There is also a bakery, pizzeria and hot chicken shop here. We head back to the boat and have breakfast. After this Michael puts on the generator as we have dropped below 500 amps due to overcast days and watching some TV over the past few days. We run this for two hours and put 83 amps back in.
| | |
| --- | --- |
| | |
| The Russell Island RSL Club | The car crash just down the road from the RSL |
After Kelly has done a lot of her work, we head to shore and walk to the Russell Island RSL Club. This is about 1.5 kilometres from the wharf. We have a beer here, but no lunch as the menu is very limited. We walk back via a different route and see a crashed car just down from the club. This appears to have happened fairly recently as you can still see the skid marks on the side of the road. It has jammed itself under a tree. The occupant was cut out of it as the front pillars have been cut by "jaws of life".
On the way back we see the service station. This is about twice as far as the supermarket from the wharf, that is, not too much of a walk. We go to the bakery and have a pie each for lunch, quite nice they were.
It is very windy now, especially when we were on the walk as we were higher up. There is some light drizzle every now and then as well. When we get back to Catlypso, Kelly does some more work and Michael works on a couple of small projects. The first one is to remove the middle hatch under the rear seat as this is leaking. He eventually gets all 14 screws out (God only knows why there are so many) but finds he cannot get the hatch out. It must be held in with some silicon. This will need to be looked at another day.
He also pulls out a screw from the rear starboard stanchion. This is loose. He fills the hole with resin. In a few days he will drill it out and put the screw back in. Another small problem is one of the main hatch/windows in the saloon. The arms that hold the windows open have a sort of pin that holds two parts together. These pins are falling apart. We have already fixed one, but another is stuffed. Michael thought that he had another small bolt to fix it, but he doesn't. Another project for later.
A storm over the waters between us and South Stradbroke Island
At 1600 we put the generator on again. The aim was to heat water as well as top up the batteries some more. However, the generator cannot do both as the draw is higher than its output. We settle for battery top up. We run for another 80 minutes. Michael also takes Veto to shore and disposes of some rubbish.
Michael cooks dinner tonight, chicken schnitzel, and Kelly makes mash potato. We also do some planning for Monday and Tuesday when we are in Mooloolaba as we want to stay at a marina so we can do some washing etc.
After dinner we listen to the football on the radio. Souths are playing Melbourne and once again, they play poorly and get beaten 16-12. Looks like we will not be winning two premierships in a row. We go to bed at 2130.
Stats:
None today as we did not move.
Sunday 17 May 2015 - Russell Island to Tangalooma, Moreton Island
Last night it started raining just after we went to bed and got quite heavy at times. It rained for a good three or four hours at least. We are not sure how much fell, but a guess would be 6 to 10 mm. The dinghy certainly had a lot of water in it.
The forecast for today is for winds under 15 knots, so we decided last night to move on to Tangalooma on Moreton Island. When we get up at 0710 it is sunny but this soon changes, with cloudy and very light drizzle right through the day. The wind is also much stronger than forecast, with it constantly 17 to 22 knots south-easterly.
We depart at 0820 and motor up the channels on the western side of North Stradbroke Island. We then head across the southern and western side of Peel Island. For this section we sail using the screecher, although we have a problem about half way across.
| | |
| --- | --- |
| | |
| Kelly straightening up the screecher | Kelly preparing to drop anchor at Tangalooma, Moreton Island |
A small squall of rain and stronger wind comes along and the wind turns more to the south-west. This means that the screecher flaps back into the genoa and the mast and in the suddenly increased wind, it is bashing all over the place. We try to pull it back in but part way around it tangles into an awful mess. We have had this problem before, it is an art to gybe or tack this sail.
The sheets (ropes) are all tangled up and we have no hope of using it. We put both motors on and Michael drops the whole screecher to the deck. Once we are around Peel Island the wind drops a bit, so Kelly goes forward and untangles it all and reattaches the sheets. We motor on one engine till we are out in the open of Moreton Bay. The wind drops a bit so Kelly hauls the screecher back up. It looks like this has worked.
| | |
| --- | --- |
| | |
| The view out the back towards the wrecks | Michael and one of the wrecks, a bucket dredge |
We pull out the screecher and it is all straight again. Well done Kelly! The only problem we still have (and this started about 10 days ago) is that the furling line has gradually worked its way around the furler. This means that the splice where the two ends of the line join is getting to the furler drum before the screecher is fully furled. This spice will not fit in the drum, so as of today we have about 0.75 metre of sail out. We will try to fix this when we are in a marina in a day or two.
Anyway, now that we have the screecher out, we are ripping along. We are making 7.5 to 8.0 knots straight towards Tangalooma. We sail all the way into the Eastern Channel and pull it in a few minutes before we need to change direction to cross the shallows into Tangalooma.
At 1340 we turn and follow the leads into the smaller channel next to Moreton Island. We motor on one engine at first but the very strong southerly wind means we turn on the second one to keep on the right track.
Once in the channel we head up towards the Tangalooma Wrecks as this is where we are going to anchor. There are five moorings here owned by the resort, but they want $50 a night to use them. In your dreams! We anchor just short of the first wreck in about 6 metres. The wind here is about 8 knots. There is one other yacht here.
By 1415 we are anchored, so we have some late lunch. We decide to go for a run in Thunderbird 2 to look at the wrecks close up. However, just as we leave, the wind increases to over 20 knots and we get a lot of drizzle and spray. Bugger!
We go back to Catlypso and dry off. The wind stays very strong till at least 1930 when it eases a bit. It is pretty bumpy as the tide is coming in from the north and the wind is from the south, making us hang at 90 degrees to the chop. Hopefully it will be better later on after the tide changes.
Stats:
Monday 18 May 2015 - Tangalooma, Moreton Island to Mooloolaba
Tangalooma at bottom, Mooloolaba middle and Double Island Point at top
It was quite windy last night, far stronger than forecast (again). It was a bit rockin' and rollin' as the wind and tide ran opposite to each other for most of the night. There was a bit more rain as well.
We get up at 0600 and after making a cup of tea and coffee and logging on we Coast Guard Bribie Island, we pull up anchor and depart at 0635. We have to backtrack south of the Tangalooma Resort before we can cross over into the main shipping channel. It is probably deep enough to go across where we were anchored, but I would never risk it.
We motor up the channel to the north and soon have two other yachts who were anchored at Tangalooma following. Once we round the first channel marker off Cowan Point (the channel is a series of zigs and zags from here to Caloundra on the northern edge of Moreton Bay) we pull out the screecher and turn off the engine. We are making 5 to 5.5 knots with a 2 knot tide against us in 20 to 22 knots of southerly wind.
| | |
| --- | --- |
| | |
| One of the many squalls that crossed in front of us today | The first ship that saw today, this one overtook us |
We continue to only use the screecher as this is giving us more than enough speed considering the wind. At 0900 a huge car carrier overtakes us less than 100 metres off our starboard side when we are in Spitfire Channel. The wind gets stronger around here to 22 to 25 knots. The tide finally eases from 1000 and we pick up more speed, doing 6.5 to 7 knots.
When the tide was against the current, the waves were sometimes building up behind us. One came up the transom steps and into the cockpit, but it was only about 10 mm high by then. We had a couple of calls from the volunteer marine rescue people checking on us, the first was from MR Manly and the second from CG Mooloolaba. Excellent service.
As you come along the main channel, there are two sets of lead lights that are excellent. The first is for Spitfire Channel and the second for North West Channel. You can see them very easily. As we sail, Kelly phones the Kawana Marina at Mooloolaba and books in.
As we near the end of NW Channel at 1120, we pull in the screecher and put one engine on. This is because we have to make a right hand turn into another channel and there are two more very large ships coming into the channel from the other direction. The pilot of the first one calls us on the VHF and Michael advises that we will pass him on his port side. Michael then calls the second one and advises that we will cross over the channel and be out of it by the time he is near us. He comments how great it is that we have AIS on our boat.
It is very rough here, not only from the wake of these ships, but the swell is building up because the water is shallower here. Once we are passed the two ships we pull out the screecher on the port side. When we get out a bit we turn towards Mooloolaba (it is 1145) and we pass Caloundra five minutes later.
| | |
| --- | --- |
| | |
| The Glasshouse Mountains behind Bribie Island | The third ship that passed us today just south of Caloundra |
We soon have an engine on and pull in the screecher as the wind has dropped to 4 or 5 knots. We motor the rest of the way, although the wind did pick up closer to Mooloolaba. We pass well off Cartwright Point as there are waves breaking on reefs near there. We come around the point and head in till the leads into the Mooloolah River bar are seen.
Just before we cross the bar at 1325, a few larger waves stand up a bit, but cause no problems. The bar itself is very flat but also quite shallow at the start. We motor up and turn down the first canal towards the Kawana Marina. It gets to 0.5 metres on our depth sounder in spots so we take it very slow.
When we arrive at the marina, the berth allocated to us has a boat on it. Kelly phones the marina and the girl comes down and tells us to go to another berth. This is a lot harder to get into as there is a yacht sticking out on the starboard side about 10 metres before the mouth of the berth. Michael does not do a good job and scrapes the port hull on the floating wharf. Another mark to remove later, also probably a minor repair to the gelcoat.
We are tied up by 1415. We fix the screecher furler as the first task as the bowsprit is hanging over the floating wharf pontoon. You may recall that the furling line has over the past fortnight worked its way around the furling drum by about a metre. This means that we cannot completely furl the sail as the join in the line jams in the furler.
To fix it, Kelly pulls the line while Michael pushes it around the drum. Gradually we move it till we have fully furled the sail and have the join a bit outside the drum. Hopefully this will last for a while. We then have lunch. We go for a walk to pay for the marina and work out where the showers/toilets and laundry are located. We also walk up the road to see where the shopping centre is.
We take a big load of washing to the laundry and put on our sheets and towels first. On this trip it will be lucky if the sheets get washed every two weeks. The cost of the laundry is quite reasonable, $3 for a wash and $2 for drying.
| | |
| --- | --- |
| | |
| Approaching the Mooloolaba bar | Sharon and Gary Price and kids with Michael |
Michael goes to the ships' chandlery near the marina and purchases some small stainless steel bolts and nuts to fix the saloon hatch arm. He also gets some sandpaper and a large piece of scourer for cleaning the hulls.
A friend from Sydney, Gary Price, phones. He and his wife Sharon and their kids moved up here in January. I used to be in the Seals Indoor Swimming Club with Gary in the 1990s and he has been friends with my brothers since the early 1980s and his wife friend of my sister Janelle since before their kids were born.
Gary says they will all come around to see us on their way to some sports this evening. A bit after 1700 they arrive. The kids explore all over Catlypso and play with Veto. Gary offers to lend us one of their cars or take us to the shops or movies. We decline the car but will accept a lift to the movies tomorrow so we can see the latest Mad Max movie, Fury Road.
After they leave, Michael goes for a shower (in the middle of a rain shower). Kelly has already been. It is so great to have a long, hot shower!
We decide to eat out tonight. This will be the last time we can do for a while we think. We walk to the Kawana Chinese Restaurant which is about 600 metres from the marina. We have a very nice meal of entree, two mains and fried rice for $54. It is BYO so this makes it more attractive.
This is the first time we have left Veto on the boat by herself. She was not keen for us to go, but when we return she seems to have been okay. We watch some TV and then go to bed.
We also top up the fuel tank today. To date we have used 233 litres of diesel and done 103 engine hours. This gives a fuel economy of 2.26 litres per hour. We have used the engines a lot, but this is because for most of the trip from Sydney we have had very strict timeframes for each day and we needed to use the engines to make sure we arrived in daylight hours. We plan to use a lot less hours in the coming months.
Stats:
Tuesday 19 May 2015 - Mooloolaba
There was a bit more drizzle overnight and it is cloudy and cool this morning. Michael gets up at 0710 and takes Veto for a walk. He also makes a new batch of yoghurt. We have breakfast and then Gary Price arrives to take us to the movies.
We leave just before 0900 and take Veto to Gary's place where Sharon will watch her while we are at the movies. We go to Maroochydore and watch the latest Max Max movie, Fury Road. This is the fourth Mad max movie and I think this one is set between The Road Warrior and Beyond Thunderdome.
The movie is fantastic, non-stop action from the start to the finish with a great storyline. As well, one of the bad guys is played by John Howard who was the master of ceremonies at our wedding. He is a nasty person that is for sure, well done John. Highly recommended to see.
After the movie we pick Veto up and head back to the marina via a petrol station. We fill up three of our containers with diesel to replace the fuel we put into Catlypso's tank yesterday. Thanks heaps to Gary and Sharon for today!
| | |
| --- | --- |
| | |
| Catlypso at the Kawana Marina | Kelly and Veto with the boaties at dinner |
Back on the boat we have lunch and then fill up our water tanks. We also give Veto a bath, her first in three weeks. She smells so nice now. Kelly heads off to do some shopping up the road and also has a blood test which was required after her thyroid operation five weeks ago. Meanwhile, Michael adds fuel to Thunderbird 2's tank. It takes seven litres, not too bad for two weeks of use.
He then makes some adjustments to the lines that pull it up onto the davits as the stern has been sitting a bit low. He and Veto then walk to the petrol station and fill up two five litre tanks with ULP. This replaces the fuel used in the outboard and the generator. He late goes to the shops and buys a couple of minor things.
When he gets back to the marina, he decides to look at the scrape mark where he hit the wharf yesterday. Well, what a surprise! The boat is not damaged. The mark is actually pieces of the rubber moulding on the wharf, very fine pieces. He uses his finger nail and some polish to remove. We both feel a lot better now.
Tonight the boaties have a get together at the BBQ area. We head there after showers and order a pizza. One of the blokes orders for everyone. We meet a few people who know of our boat under her old name, Pieces of Eight, when she lived about a kilometre up the canal from the marina. The bloke who ordered the pizzas actually cleaned her once.
After a couple of hours we leave and go back to the boat. It was a nice evening. We tidy the boat up, ready for our departure tomorrow morning.
Stats:
None today as we did not move but our batteries are now back to 800 A/h.
Wednesday 20 May 2015 - Mooloolaba to Double Island Point
We are up at 0600 and after the usual tasks of taking Veto for a walk and making tea and coffee, we leave the marina berth. However, once again we have problems. As mentioned two days ago, this berth is very difficult to access as the space between a couple of boats and the northern side of the berth is only a little more than the width of Catlypso.
We touch the bowsprit of one of these boats and take another small chunk out of the starboard stern edge. In addition, Kelly hurt her hand, it is quite bruised but nothing appears broken. We both will have to get far better at marinas. The problem this time was that the incoming tide was stronger than the wind and we did not take this into account. Kelly later phones the marina to advise what happens in case we damaged the boat (we do not think we did).
Once underway, we log on with CG Mooloolaba with an ETA of 1600 at Double Island Point. We decided a few days ago that we would not attempt to cross the notorious Wide Bay Bar this afternoon as we figured we would be very pushed to make it before sunset, even if we left two hours earlier than we did. We will cross the bar tomorrow on the incoming tide.
The Mooloolaba bar is flat and we have no problem. However, once outside there is no wind, less than 4 knots from the south. We motor on one engine, doing 5.7 knots. The seas are flattish, but there are some swells. At 0745 we pull out the screecher as the wind has moved to the south-west and increased to 4 to 6 knots. This is short lived as 20 minutes later the wind drops and we pull it back in.
| | |
| --- | --- |
| | |
| The ocean is almost mirror off Coolum Beach | Catlypso off Noosa Heads |
At 0855 just past Coolum Beach there is a strong smell of diesel. Michael checks the diesel containers, but they are okay. He checks the fuel tank and the level is down to about 182 litres. Considering how far we have come, it should read at least 188 litres, so we figure we are losing fuel somewhere. We pull out all the containers from the upper port engine room and then pull up the floor.
Michael sees that fuel is leaking at a considerable rate. He gets a torch and figures that it is coming from the fine fuel filter. We stop the engine and he feels that the ring that holds the filter bowl in place is loose. He tightens it and the fuel appears to stop coming out. He dries all the area with a cloth and we start the engine. No fuel appears to come out. This is strange considering we have now done over 50 hours on this engine since we changed the filter. We later check it twice and it does not appear to have come loose again.
| | |
| --- | --- |
| | |
| Coming up to Double Island Point | Rounding Double Island Point |
At 1000 we try putting out the screecher again, but no matter which side we put it, it just flaps about. At 1230 the wind has shifted to the south-east and increased to 5 to 7 knots. We pull out the screecher and get another 1.5 knots or so. There is a bit of a current against us which varies from 0.5 to 1.5 knots along this section of coast.
Just south of Double Island Point the wind drops again so we pull in the screecher and later turn on the other engine. We motor past the lighthouse at 1505. We head into Wide Bay and end up anchoring a bit over half a nautical mile from the western point of Double Island Point in about four metres. There is a bit of swell coming around the point, but we are pointing into it and it is now too bad at all. There is only a fishing trawler here but it moves at sunset. We are anchored by 1530.
| | |
| --- | --- |
| | |
| Michael having a swim once were were anchored | Catlypso inside Double Island Point |
Michael has a swim once we are anchored and later again checks the fine fuel filter and all seems okay. While he is at it, he checks the oil and radiator water for both engines. We decide not to top up the fuel tank from the containers just in case the leaks starts again.
There are a lot of four wheel drives on the beach and as we rounded the point there were seven double kayaks paddling off the rocks. Well, it has been an adventurous day, but for all the wrong reasons. Things must look up! Tomorrow morning we plan to cross the Wide Bay Bar at about 0900 which will give us a run in tide.
After showers, we have nibblies and some drinks. Tonight we have Scotch fillet steak and sausages with salad.
Once dinner is over, we sit outside for a while and watch the stars. It is extremely dark here, and the moon has just set, so the stars are very bright. Later Michael starts his sixth book of the trip and Kelly does some work.
Stats:
Thursday 21 May 2015 - Double Island Point to Pelican Bay, Tin Can Bay
Double Island Point at bottom and Pelican Point at top - Wide Bay bar is the section at very top
Last night was quite bumpy but it later got a bit better when the swell drops a lot and the wind turns to the west. We get up at 0700 and have tea and coffee before pulling up the anchor. We depart at 0725 and motor out a few hundred metres before pulling out the screecher.
There is about 11 knots of westerly wind so we are getting about 6 knots with one engine on. We do not want to get to the Wide Bay Bar too early nor too late, so this is a perfect speed. There is a lot of fog over the land (the wind is cold) but the bar area is clear.
However, as we approach the fog rolls in and we cannot see the shore or the bar at all. To make matters worse, we have a few problems. The first is the starboard engine when we start it sets off the oil pressure alarm. We know it is full of oil, but Michael turns it off. We pull in the screecher and then he checks the oil and the pressure sensor connection. There is oil (since we only checked last night) and the connector seems okay. We pull it off and decide to leave the engine idling unless we have an emergency.
Heavy fog as we approach
the Wide Bay Bar
Veto looks out from her spot
once we are inside the bar
The next problem is as we approach Point A, the waypoint the coast guard gives out for where to start your approach. The chartplotter indicates that the waypoint has been reached but when Michael hits the acknowledge button, nothing happens and the plotter freezes. He cannot see the actual chart now screen and it seems to have stopped working. There is no way we can enter the bar without the plotter working.
Michael turns off the power to the GPSs and then restarts the chartplotter. This eventually brings it back working. At 0900 we head towards Point B which is the other side of the first leg of the bar. This bar has a shorter shallower (3.6 metres lowest) section which takes 17 minutes to cross (at 5.5 knots) and then you turn almost 90ΒΊ to port and there is a longer (but deeper - over 15 metres) section that takes about 25 minutes to traverse.
The seas are flat and despite the plotter again freezing at Point B, there is no problem at all. This bar has claimed numerous boats, including one Lightwave that we looked at. We reach Inskip Point at 1000 and turn into Tin Can Inlet and then into Pelican Bay. This is a quite protected but shallow bay just inside Inskip Point. At high tide we have as little as 0.8 metres under us as we proceed into the bay. We end up anchoring in about 2.8 metres at 1040. This should give us about 2.0 metres at low, although we end up shallower as the water is not as deep to the west when we hang back that way.
| | |
| --- | --- |
| | |
| Looking back from the beach towards Catlypso | Catlypso in Pelican Bay |
This is a very nice bay, although there are mangroves on most of the shore. There is a sandy beach to the south of us where we can take the dinghy. We tidy up and have a cup of tea. After this we take Thunderbird 2 to the beach and go for a walk. There are a couple of people camped here. There are no signs this is a national park. We walk along some tracks and end up on the dirt road that leads to Bullock Point.
At the point there is a boat ramp, a small wharf and some car ferries tied up. There are also a couple of other boats, including a large passenger ferry that appears to have been turned into a home. We walk back along the road and then come back along the camping area's access road. We head back to the boat for lunch.
After lunch Michael looks at the fine fuel filter again. There is a small amount of fuel at the bottom, but not too much. We certainly have not smelt more than the normal amount of diesel today. He then checks out the starboard oil pressure problem. He decides to use a pair of pliers to squeeze the connector and put it back on. Kelly starts the engine and, guess what, the alarm does not go off. Looks like it was just a bad connection.
A panoramic photograph of part of Pelican Bay, Tin Can Bay
Michael then uses metho, a scrapper and polish to remove the marks left from yesterday's minor hit with the other boat. This removes virtually all of it, but the polish is pretty crappy and does not work too good (we learnt this over the New Year). Michael also drills a new hole in the resin he put in the starboard stern stanchion bolt hole that was loose. The puts the bolt back in and it holds tight. Hopefully this will work.
We also make rice using our steamer (while we have some sun for solar) and Michael transfers 44 litres of diesel from containers to the main tank. It is now full. Kelly also spots a small turtle off the side of the boat, it is swimming around in circles, probably feeding.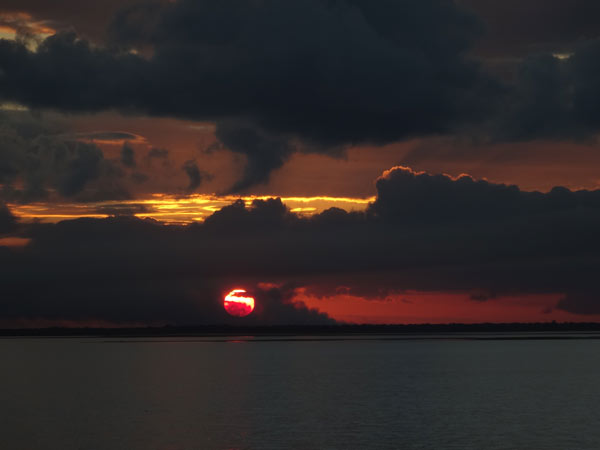 Sunset at Pelican Bay
Later we take Veto for another run to the beach. There are thousands of soldier crabs running across the sand. It is a while since either of us have seen them. We have showers when we get back to the boat, no point in wasting hot water, and we have plenty of freshwater to use.
Dinner tonight is chilli peanut beef and rice. No drinks, it is our night off!
Friday 22 May 2015 - Tin Can Bay to Garrys Anchorage, Sandy Straits
Pelican Bay at bottom, Garrys Anchorage middle, Kingfisher Resort above and Scarness at top
Last night it rained a few times, not for long but quite heavily. The wind picked up around 0300 and was 10 knots from the west when we got up at 0755. Michael takes Veto to shore while Kelly makes tea and coffee. Once we have breakfast, it is time to go.
We up anchor at 0905, a little later than planned as Kelly has to wash all the mud off the anchor chain and anchor as she raises it. We motor out of Pelican Bay, it is very shallow, we have 0.3 metre under us at the shallowest spot.
We head into Wide Bay Harbour and are called on the radio by a boat called Blue Penguin. This is being delivered to Tin Can Bay by Colin, the person who organised the pizzas at Kawana Marina two nights ago. At 0935 we enter the harbour and pull out the screecher and turn off the engine.
There is now 12 to 15 knots of westerly and we are making 7 to 8 knots with a slight current behind us. By 1000 the wind has dropped to 5 to 6 knots but we are still doing 4 to 5 knots. However, the wind has a little more north in it and we are going to run out of room on this side of the channel soon. At 1015 we have to pull in the screecher and motor the rest of the way as the wind is too much on the nose. We also see another small turtle as we sail.
| | |
| --- | --- |
| | |
| Looking south as we sailed these amazing clouds appeared | Sailing up Wide Bay Harbour |
We follow the leads along the channel, one set is very hard to actually see. We turn into Garrys Anchorage which is between Stewart Island and Fraser Island. This is a sort of channel but the northern end is very, very shallow. There are two cats and two monos here. We motor around and try to anchor between the monos and the shore but swing too close.
We then move further into the anchorage and anchor at the northern end of the beach between the last two cats. We have heaps of room between us, so much so that later a stinkboat comes in and anchors between us and the last cat. We are anchored by 1210. One of the monos here is Raki which was anchored next to us at Tangalooma.
Michael does a few more repairs, one of which has been almost 12 months in the making. Last night when he went for a swim, he heard where Thunderbird 2 was leaking and then found the spot. He patches it up, so hopefully we now will not need to pump it up every few days. He also checks the diesel fine filter and while there is a tiny bit of diesel on it, we think it is something we will not be able to totally stop at the moment.
| | |
| --- | --- |
| | |
| Garrys Anchorage and some of the boats here | The camping area at Garrys Anchorage |
He also swaps in a new 5 micron filter for the watermaker and flushes it with freshwater. After this we have lunch and read till 1530. We take Veto to shore for a run on the beach. On the land there is a small camping area that looks like it hardly every gets used. It has a couple of tables and a shelter. Just the sort of spot we would camp at in our Toyota Prado, isolated and without anyone else around.
Veto decides to roll in the wet sand and we have to brush this off her. She has been so good on this trip, this is the first real time she has done this. While we are ashore some more boats come in. There are now six cats, three monos and a stinkboat.
We have sunset drinks and nibblies and then Kelly cooks a roast pork with vegetables.
Saturday 23 May 2015 - Garrys Anchorage, Sandy Straits
It was quite calm overnight, with only occasional gusts of strong wind. We are up at 0800 and take Veto to the beach for a run. She absolutely loves this, she runs flat out 50 metres away from us and then back again. She also rolls in the wet sand which is not so good. There are a lot of mosquitoes around as it is quite shaded here and also cool. Back on the boat we have breakfast.
A while back we found some blocks made out of the same material as our bow seats. We did not know what they were for but a few months ago Michael figured out they were to alter the angle of the main solar panels so they face more towards the stern. As the sun is coming from that side, we use them to tilt the panels a bit. However, we later lose one overboard and Michael then drills a hole in the remaining one and uses some thin rope to attach it to the davits so it cannot fall.
Today is mostly sunny, but after lunch there is a lot more cloudy. We end up making a positive gain in amperage over the whole day, also helped by the wind generator which is running for probably 50% of the time. This puts in anything from 1 to almost 30 Amps, but normally only for short times. It is constantly around 5 to 10 A for a lot of the afternoon. This means winds of 12 to 17 knots with gusts well over 25 knots.
Kelly and Veto on the beach at Garrys
Anchorage with Catlypso in the background
The wind generator is getting a good work out
Kelly spots another small turtle and later what she thinks is a small white dolphin. Pretty amazing considering where we are. We go for a walk about 1130 and head down a closed vehicle track to the south. We walk for about 10 minutes and then return to the camping area. Back here we speak to a couple from a monohull from Tin Can Bay. They are up here doing some maintenance on their boat. They give us a lot of tips about diving in the Bunker Group where we hope to head in the next week.
After lunch we read some more. Michael also labels some of the electrical switches at the chart desk, especially the bilge pumps and the 240 volt switches so we know what part of the boat each one affects.
A panoramic photo of Garrys Anchorage. Catlypso is off to the right and partly hidden
At 1530 we take Veto to shore for another run, the tide is about half way out so the beach is reasonably wide (before lunch there was no beach really). There are now 10 boats anchored here, three left and two came in.
The leak in Thunderbird 2 that Michael mended yesterday appears to have worked as the pontoons have not gone down at all.
We have sunset drinks and nibblies and then Kelly cooks pumpkin gnocchi, one of our favourite dinners. We watch a couple of shows on TV and then head to bed. A nice relaxing day.
Stats:
None as we did not move.
Sunday 24 May 2015 - Garrys Anchorage, Sandy Straits
Again it was quite calm during the night. As expected, at 0200 the anchor alarm went off when we turned around as the tide changed. We get up at 0800 and as normal, take Veto to the beach for a run. It is mostly sunny, with some clouds, but a lot warmer than yesterday morning. After this we have breakfast and do some chores.
Three catamarans leave during the morning, but there is another one here that was not there at sunset last night. We are not sure if it came in during the night or first thing this morning. At 1100 we go for a walk down the same track we went yesterday, this time to the broken bridge and stream which is said to be one kilometre away. However, we walk for 25 minutes (at least 1.75 kilometres) and do not come across the allegedly broken bridge. There is a bridge, but it is not broken. Bullshit by the national park authority?
One of the soldier crabs that are all over the beaches
around here at low tide. They are so cute.
The rain has made the water almost mirror like
We walk back and sit for a while on the beach, this is a nice spot. We head back to Catlypso and have lunch. From about 1330 it rains a lot, at times quite heavily. Two new yachts come into the anchorage, one of which is Wilparina. This was moored next to us in America Bay, Broken Bay, for almost a week over the Christmas/New Year period earlier this year.
Michael puts the generator on as we want to boost the batteries a bit (very little sun today) and also steam some rice. We also want to heat water so we can have a shower. However, this last plan does not work as we heated the starboard tank. We have never known which tank was connected to which switch (we do now) and also whether the shower could use hot water from either tank (it cannot). Well, at least we now know the answers to these questions.
Kelly and Veto next to the fire with Catlypso in the background
At 1630 we go to shore, this time to the north of us near where there are some old wharf piles. We go for a walk up the vehicle track for 15 minutes or so and then return to the beach. There has been a hazard reduction burn here in the past week, everything is burnt. Back on the beach we light a small fire and sit and have some beers and nibblies as the sun goes down. Very nice! About 1830 we head back to Catlypso. Just after we get back it pours rain again, we are lucky to have not been still on the beach.
We have green chicken curry and rice for dinner and then attempt to watch the second part of the Ivan Milat murder TV mini-series but we cannot pick up Channel 7 (we get everything else). Off to bed to read instead. Tomorrow we intend to move but we are not 100% sure where we will end up.
Stats:
None as we did not move.
Monday 25 May 2015 - Garrys Anchorage, Sandy Straits to Kingfisher Resort, North White Cliffs
Once again it was fairly calm overnight and there is some more rain just before we got up at 0710. Michael starts the watermaker before we leave. As we are motoring for all of the trip today, we might as well use the power to create water. We pull up anchor at 0805 and head out the northern end of Garrys Anchorage. Our original intention is to go to Scarness where we can get fuel and food and also anchor for the night.
This exit from the anchorage is shown as been very shallow, but over the past few days most boats that have left have gone out this way. Most of them went at about low tide, even monohulls, so we figure we can go out that way too. There are a couple of shallow spots, we have about 0.5 metre under our hulls on a 0.8 metre low tide. Certainly at a very low tide we would not make it.
| | |
| --- | --- |
| | |
| One of the many sand islands along the Sandy Straits | This wreck is at the northern end of South White Cliffs |
The channel is quite narrow and hard to follow for the first half due to the poor channel marks. There are also some very shallow sections, less than a metre or so. There are also some spots where our chartplotter is totally different to the channel markers. We follow the channel markers for these sections. We make good time as we have the tide behind us.
Further along the channel is quite wide and deep and it is much easier. We see South White Cliffs, looks like a nice spot to anchor and then approach North White Cliffs. In the 30 minutes or so before this, we have a rain storm come over us with winds of 25 to 30 knots. We decide to anchor the night at Kingfisher Resort which is just to the north of North White Cliffs.
Catlypso on an almost mirror like
water off Kingfisher Resort
The soldier crabs leave these sand ball patterns when feeding
There are a few places to anchor, north of the wharf or south. There are about eight yachts already anchored here. To complicate anchoring, there is an electricity submarine cable running out from the shore on the south side of the wharf. This is shown by our chartplotter and our laptop as running off at about 30ΒΊ to the beach. We anchor about 75 to 100 metres to the north of it in about 3.5 metres. This is opposite the sign that advertises the cable. It is 1145 and at 1200 Michael turns off the watermaker. It has been running for four hours, so we have made about 100 to 105 litres of water.
The wind has now dropped dramatically, so we head to shore and walk along the beach towards the wharf. There is a bar at the start of the wharf that looks nice. We enter the resort (which is on freehold land, not national park) and walk up to the main buildings. We are going to look at the restaurant and also the shops.
However, as we pass the main building, a staff member comes out and tells us dogs are not permitted. Michael tells him there are no signs on the gates from the beach, but he insists it is a Queensland government rule. Michael walks back to the beach while Kelly goes to the shop. She only purchases a couple of newspapers as they do not have much food anyway.
Catlypso anchored off the Kingfisher Resort
as the vehicular barge comes in to the wharf
Kelly and Veto at sunset with Catlypso
We go back to Catlypso and have lunch. We spend the rest of the afternoon reading. Kelly also has a shower and washes her hair, the first time she has been able to do this since Mooloolaba. She also cuts Michael's hair and he has a swim. At 1600 we take Veto to the beach again (we believe that like most places, below mean high tide is not part of the island). We walk along the beach to the south and back. She has a great run around.
After a shower, Michael gets drinks and some cheese for sundowners. Kelly then cooks another of our favourite dishes, chicken pesto pasta. We spend the rest of the evening reading.
Stats:
Tuesday 26 May 2015 - Kingfisher Resort, North White Cliffs to Scarness Bay
As is becoming normal, it was calm overnight, perhaps even more so than the last week or so. Today is our 8th wedding anniversary, so it is a bit special for us to be here as one of our wedding vows was that we would be sailing and diving the Pacific Ocean once Michael retired. We have achieved that dream!
We get up at 0710 and while Michael takes Veto to shore, Kelly makes tea and coffee. Back on the boat we both have breakfast and then log off with Coast Guard Sandy Straits and log on with Volunteer Marine Rescue (VMR) Hervey Bay. Unfortunately Queensland still has a dysfunctional arrangement where there are multiple marine rescue organisations and they do not appear to be linked.
Despite our thoughts at the Gold Coast that they were well organised, they are not. We have to log off with one place and then log on with another, each time giving our full details again. Very annoying! The government should do what NSW did and amalgamate them all and make them work together. Michael's rant for the day.
We up anchor at 0825 and motor out into the channel. Within a few minutes we pull out the screecher and motorsail on one engine. We are doing 7 to 7.5 knots in a 7 knot south-westerly. There is a slight tidal current behind us. The wind later drops a bit and turns to the south and at 1000 we pass the northern tip of Woody Island. The chartplotter again freezes as we approach a waypoint, what the hell is causing this? We have to turn the power off and restart to get working again.
| | |
| --- | --- |
| | |
| Sailing along the Sandy Straits today | Catlypso anchored in Scarness Bay |
At 1100 we pull in the screecher as we will soon be in shallow water and also need to head back straight into the wind. The entrance to Scarness Bay from the channel is fairly shallow, at times we only have 1.5 metres under the hulls. We motor in towards the shore and at 1140 anchor off Pialba.
At 1200 we motor to shore, the tide is out so we have to skirt around a finger of rocks that juts out into the bay. We pull Thunderbird 2 up onto the beach. We are off a roundabout at Main Street which means we have a short walk to shops and a service station.
Michael heads off with three fuel containers and the trolley to get diesel. He fills up at the Shell station and comes back. Unfortunately the new trolley cannot hold the three containers, despite the advertised weight of 75 kilograms by Bunnings. He has to carry one of the containers back, so takes a while. Next time he will do two trips.
Once back at the beach, Kelly heads to the shops. Michael waits with Veto, he has to pull the boat up the beach every 10 or 15 minutes as the tide is coming in. Eventually he throws the anchor into the water and lets it float just off the beach. When Kelly comes back they load up Thunderbird 2 and go back to Catlypso.
| | |
| --- | --- |
| | |
| One of the many storms that we had today | Toasting our 8th wedding anniversary |
We have lunch and then relax. Soon a number of very dark looking clouds approach and we have about 75 minutes of rain, some of it very heavy. Michael puts on the radar so he can see what heavy rain looks like on it. When he does this he sees that the plug connector on the radar screen that holds in place one of the two plugs has broken. We probably will need to tape this up when we use it.
At 1600 after the rain has stopped, Michael takes Veto to shore for a run. The water is almost millpond as he comes back. We both have showers and then prepare dinner. As we mentioned, it is our wedding anniversary today, so we are having a nice dinner of roast lamb and vegetables. Michael also makes some garlic bread and we have this with our pre-dinner drinks.
The lamb is one of the marinated flat ones you can get from major supermarkets. They are cooked on the barbecue so it is quite easy to do. We crack open a bottle of Australian Chandon sparkling wine, it is excellent! We have a great meal to celebrate.
The weather is looking good for the next week, so with luck, we plan to go to Bundaberg tomorrow and then to Lady Musgrave Island. We will stay there till at least next Monday if the weather stays as forecast. We hope to get a lot of diving in out there.
After dinner we read for a bit and then go to bed. A great end to a special day.
Stats:
Click here for next part of this trip.